HOUSTON – (Sept. 29, 2022) – Online learners can follow Rice University biologist and author Scott Solomon into the wild through an engaging new series of courses focused on ecology, evolution and biodiversity.
Solomon's Introduction to Biology is the latest offering from Rice's Wiess School of Natural Sciences through Rice Online and Coursera. The three-course series allows learners to see nature the way a biologist does, with virtual field trips to help understand and appreciate the incredible diversity of life on Earth.
The courses are free to audit for all. For learners who wish to earn a shareable certificate (for a small fee), there are 17 module quizzes and three graded assignments to reinforce important concepts.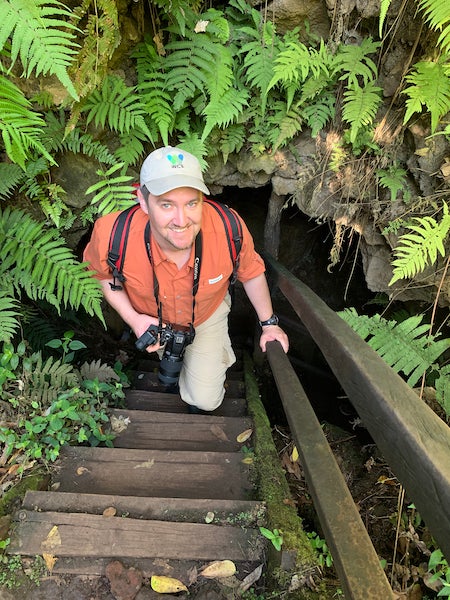 "We cover things like climate change and human evolution that people sometimes think of as controversial, so it's important to me to have reliable science information out there that's accessible," said Solomon, an associate teaching professor of biosciences at Rice.
Solomon is also an accomplished science communicator. His 2016 book, "Future Humans: Inside the Science of Our Continuing Evolution," led to appearances on National Public Radio, the BBC and NASA's "Unexplained Files" and a documentary series he co-wrote and co-produced called "Becoming Martian." His first experiences with online courses included two series for The Great Courses about evolution and insects.
The pandemic inspired Solomon to develop the courses with Rice Online and Coursera.
"Emerging from the pandemic, I realized that online learning could be done effectively and that it also provides new opportunities," he said. "I wanted to create an online biology series that felt fun and engaging by integrating high-quality lectures and demonstrations with virtual field trips.
"For instance, we get to visit the Houston Zoo facility where they're rearing endangered Houston toads," Solomon said. "It's not feasible to take a class inside, but with video, we can go in and handle the toads and make a connection."
Along with the zoo, Solomon filmed field trip segments at the Houston Museum of Natural Science, Brazos Bend State Park and the Houston Arboretum and Nature Center.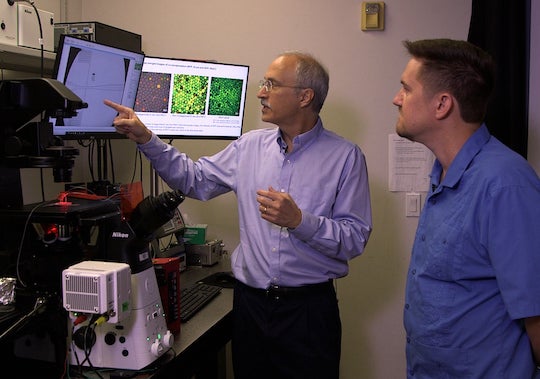 "I wanted to highlight Houston because I don't think people automatically associate the city with great nature opportunities," he said. "But we do have them and everything we learn here can be applied globally."
Solomon said videos that accompany the course can be resources for science and biology teachers at all levels who need supplemental classroom materials.
"Each of the three courses in the specialization has four to seven modules, and each module has, on average, four or five videos," he said. "So there's a lot of content. It doesn't cover all the material that we have in my semesterlong introductory biology course, but this is not intended to replace the course for our Rice students.
"But I see these videos as a resource that can reach a much broader audience," Solomon said. "People can do a deep dive and take all three courses, or just jump in and watch a video on one particular topic they might be curious about."
According to Coursera, the three-course specialization will take about four months to complete, with a suggested pace of three hours per week, but students auditing the series can go at their own pace. Those who need more time to finish will be automatically enrolled in the next session. Learners may also take individual courses.
Course details

Video

Produced by Rice Online Learning
Images for download

https://news-network.rice.edu/news/files/2022/09/1003_ROL-1-web.jpg

Rice University biologist Scott Solomon discusses endangered toads during a virtual field trip to the Houston Zoo for his Coursera series of courses focused on ecology, evolution and biodiversity. (Credit: Rice Online Learning)

https://news-network.rice.edu/news/files/2022/09/1003_ROL-2a-web.jpg

Rice University bioscientist Yousif Shamoo, left, discusses his work with biologist Scott Solomon for the Coursera series of courses on ecology, evolution and biodiversity. (Credit: Rice Online Learning)

https://news-network.rice.edu/news/files/2022/09/1003_ROL-3-web.jpg

CAPTION: Scott Solomon. (Credit: Rice Online Learning)

Related materials

Scott Solomon website: http://solomon.rice.edu

Rice Online Learning: https://online.rice.edu

Wiess School of Natural Sciences: https://naturalsciences.rice.edu
About Rice

Located on a 300-acre forested campus in Houston, Rice University is consistently ranked among the nation's top 20 universities by U.S. News & World Report. Rice has highly respected schools of Architecture, Business, Continuing Studies, Engineering, Humanities, Music, Natural Sciences and Social Sciences and is home to the Baker Institute for Public Policy. With 4,240 undergraduates and 3,972 graduate students, Rice's undergraduate student-to-faculty ratio is just under 6-to-1. Its residential college system builds close-knit communities and lifelong friendships, just one reason why Rice is ranked No. 1 for lots of race/class interaction and No. 1 for quality of life by the Princeton Review. Rice is also rated as a best value among private universities by Kiplinger's Personal Finance.