Rice University was nearly founded on Louisiana Street in what's now downtown Houston, but three Black homeowners in the Jim Crow era refused to sell their homes on the desired land and forced Rice's hand in choosing its current location.

That was one of the fascinating historical tidbits shared last week during the Scientia Lecture Series: Betterment of the World. The eight-part series is hosted by deans of Rice's colleges, and the latest edition featured faculty from the School of Humanities.

"Scientia brings together outstanding Rice faculty to examine broad themes that transcend disciplines this year. Our theme comes from Rice's mission statement, which aspires to 'pathbreaking research, unsurpassed teaching and contributions to the betterment of our world,'" said Anthony Brandt, Scientia Institute's director and chair of composition and theory in the Shepherd School of Music. "In a year of historic change in the university's leadership Scientia felt it was an ideal time to highlight the many ways that the schools and divisions across campus are addressing the complex challenges of our interconnected and interdependent world."

Kathleen Canning, dean of the School of Humanities and Andrew W. Mellon Professor of History, gave an introduction to the two guest speakers Nov. 15: Fay Yarbrough, associate dean of programs and special projects and professor of history, and W. Caleb McDaniel, chair of the history department and Mary Gibbs Jones Professor of Humanities. The lecture's focus was "Houston, Rice and Race: A History of the Fourth Ward."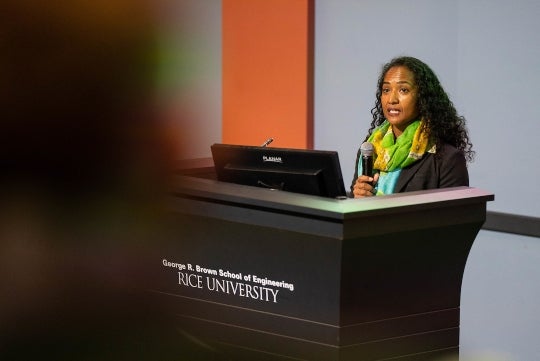 Yarbrough's section discussed a research project regarding "The Red Book of Houston: A Compendium of Social, Professional, Religious, Educational and Industrial Interests of Houston's Colored Population." The book, and her project, provide a snapshot of Black life in 1915.
"Through 'The Red Book' we can gather a lot of information about migration patterns, about the pursuit of education, the practice of religious life and business engagement," she said. "Entries in 'The Red Book' also include people's home address, so we can use this information to map not just Black Houston in 1915, but paired with other research, track population movement internal to the city as well."

Access to a digital copy of "The Red Book" is available through Fondren Library, and Yarbrough's team continues to expand its research into the stories of the people and places identified in it.

"The power of 'The Red Book' and the history it contains is that it helps us understand how African Americans built their lives and communities in Houston in the decades after the Civil War, which in turn explains the present landscape of the city," she said. "It demonstrates the value of history to talk about people's present experiences."

McDaniel's topic was another example of the past affecting the present, and one that shows Rice's history with segregation predates its founding in 1912. His story of the three Black landowners -- Laura Hardy, Bettie Leonard and Robert Shaw -- who thwarted the white-only institution's plan to build its campus on Louisiana Street, near the future location of the Enron building, is a David versus Goliath showdown.

"Clearly in addition to being a valuable asset, land meant something more to people who had survived in slavery," he said. "It represented heritage, autonomy, upward mobility, freedom and their rights as citizens worthy of respect even if their full enjoyment of that citizenship was so often denied in the Jim Crow South."
Rice went as far as to fence off the entryway to their street and host large events like a circus or Ku Klux Klan fundraisers that would leave trash and debris on their properties. Even though they were poor, they managed to hire a lawyer and take Rice to court seeking an injunction.

"Just think for a moment about what it signified that these three Black landowners were challenging the William P. Marsh Rice Institute in a court of law," McDaniel said. "Consider first what they were up against. Remember, all of this was unfolding in a Jim Crow city. By this time, Black Texans were not able to cast votes in elections, lynching and racial violence were common across the South, and racial segregation had been codified in countless ways governing everything from streetcars to schools to sidewalks."

"The main injustice alleged by Leonard, Hardy and Shaw against Rice was not their exclusion from classes at a university that did not yet even exist," he added. "Rather, they objected that the Rice Institute was trying to eject them from a place where they belonged."

The session concluded with a Q&A moderated by Alexander Byrd, vice provost for diversity, equity and inclusion and associate professor of history.

The next Scientia lecture, featuring faculty from the School of Social Sciences, is Jan. 24. For a complete schedule, click here.