Duncan College freshman Jamal Sayid has been selected as a Frederick Douglass Global Fellow, a fully funded international leadership program for students of color that takes place in Ireland and focuses on peace, social justice and conflict resolution. The fellowship was created in 2017 by the Council on International Educational Exchange (CIEE) as part of its commitment to increasing access to study abroad by students in underrepresented groups.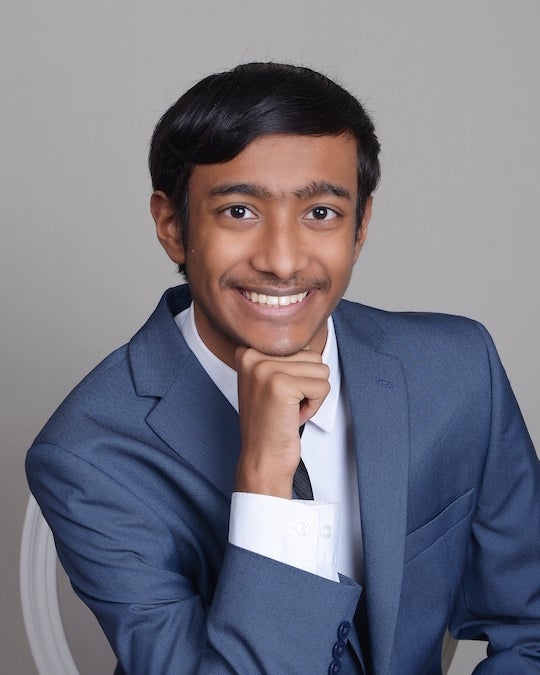 The 2022 cohort of Douglass fellows includes 16 U.S. college students selected from a record number of applicants based on demonstrated leadership and communication skills and an ongoing commitment to agitating for positive social change.
The Irish government and student exchange provider USIT Ireland are co-sponsoring this year's fellows in honor of the meeting between the abolitionist Douglass and Irish reformer Daniel O'Connell in Dublin in 1845. While in Ireland, the fellows will explore the life stories, leadership styles and legacies of Douglass and O'Connell as they engage in comparative studies of peace and conflict resolution through the lens of Ireland, the Middle East and South Africa.
A double major in political science and business, Sayid was selected for his academic excellence, communication skills and an early commitment to social justice. 
Among his community service and civic engagement efforts, Sayid founded the Global Diversity and Awareness Club, a nonprofit raising awareness of global issues while highlighting and promoting a mutual understanding of various cultures within the student body of his high school in Loganville, Georgia.
As the son of Somali refugees, Sayid explained in his application video that he's descended from enslaved people from East Africa and India, and has been moved by Douglass' work in his own life.
"Frederick Douglass' legacy has inspired me to advocate for diversity, inclusion, equity, and racial justice in hopes of fully achieving his mission of unity through diversity globally," Sayid said.
"The Ireland leadership program will enable me to uphold the morals and principles Mr. Douglass dedicated his life to and synergize my existing racial justice work here in the United States," he said. "I look forward to partaking in the fellowship and working with the Republic of Ireland and its government to promote social change and justice and exemplify Frederick Douglass' work here in the United States and internationally."
"The 2022 cohort of Frederick Douglass Global Fellows is an extraordinary group of students, representing a rich diversity of backgrounds, universities, academic majors and personal stories," said James P. Pellow, president and CEO of CIEE. "These leaders of tomorrow will be transformed through their experience in Ireland, as was Frederick Douglass in 1845, returning home with a global perspective on how to agitate peacefully for positive change in their communities and in our world."
"Ireland was so special to Frederick Douglass," said Nettie Washington Douglass, chairwoman and co-founder of Frederick Douglass Family Initiatives, and the great-great-granddaughter of Frederick Douglass and great-granddaughter of Booker T. Washington.
"The welcome and respect with which Frederick was greeted across his tour of Ireland affected him profoundly," Douglass said. "I can think of no better place for these exceptional young people to hone their leadership skills and prepare to be agents of change."