HOUSTON - (December 12, 2022) - In appreciation of the Alexander family of Houston's longtime support of Jewish Studies in the School of Humanities and the Woodson Research Center in Fondren Library, Rice will rename the Houston Jewish History Archive the Joan and Stanford Alexander South Texas Jewish Archives effective Jan. 1.
Aiming to dramatically expand its reach and mission, the archive will now seek to cover the entire South Texas region and to ramp up its online presence with interactive digital exhibits and an increased focus on record digitization. A further goal is to expand student and professional opportunities to work with the archive both on campus and in the field across South Texas.

The name change and regional expansion comes as Rice is set to host the 47 th annual conference of the Southern Jewish Historical Society, the leading professional organization dedicated to the study of Jewish life in the Southern United States, Oct. 20-22, 2023. The event will bring over 100 scholars and researchers to the university for a series of lectures, panels and tours — many of which will be open to the public — including a reception that will spotlight the archive's current collection and its road map for the future.
"None of what we've been able to achieve would be possible without the Alexanders' generous and steadfast support, and their commitment to inspiring a community of support has been critical," said Joshua Furman, the archive's curator and associate director of the Program in Jewish Studies. He first came to Rice in 2015 for a postdoctoral fellowship made possible by the Alexanders' patronage.
Matthias Henze, director of the Program in Jewish Studies and the Isla Carroll and Percy E. Turner Professor of Biblical Studies, echoed Furman's deep appreciation for the family's visionary philanthropy. "The Alexanders' longtime involvement with Rice, to Jewish studies in general and with the archive in particular, means that we simply wouldn't be where we are without them," Henze said.
Henze explained that Rice's Jewish history archive is a perfect encapsulation of how the School of Humanities and its Program in Jewish Studies are heavily invested in making the fruits of their scholarly pursuits accessible to the benefit of those outside the world of academia in Houston, South Texas and beyond.
"We're very much a part of the School of Humanities that is outward-looking, being academic first of all, but not exclusively," Henze said. "The archive is not just the crown jewel of our program — it embodies this collaboration between Rice and the community."
In that same spirit of community collaboration, Joan Alexander expressed her hope that the archive will be further sustained in the years to come by all those who recognize the importance of its mission, just as her late husband Stanford did.
"Stanford always advocated for community collaboration on everything we supported to ensure sustainability," she said. "I know he would be pleased to know the community will continue to support the Jewish archives at Rice."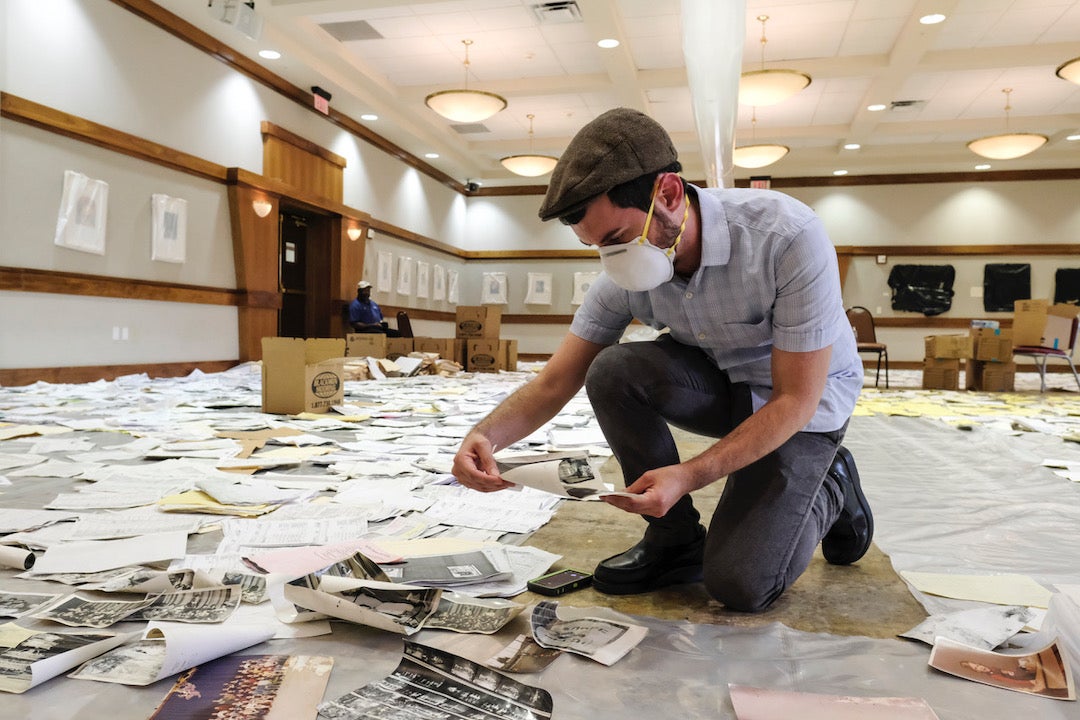 The archive's genesis dates back to the days after Hurricane Harvey hit Houston in August 2017. Furman along with Rice historians and archivists quickly scoured predominantly Jewish neighborhoods, among the hardest hit by Harvey, in search of historical documents at risk of being destroyed by the storm's floodwaters. Since then, the archive has amassed over 200 individual collections of materials, including such notable collections as the historical records of Houston's Congregation Beth Yeshurun — the largest Conservative synagogue in the United States — and an extensive set of oral history interviews of prominent Jewish Texans spanning four decades.
Four years after the Houston Jewish History Archive's official opening in 2018, the archive offers paid internships to provide hands-on training to students, and in recent years has embarked on an oral history program, giving Jewish Texans yet another way to immortalize their family stories.
Kathleen Canning, dean of the School of Humanities and the Andrew W. Mellon Professor of History, lauded the Houston Jewish History Archive's staff and supporters for their unceasing efforts to fulfill the archive's core mission while giving students unmatched opportunities to gain firsthand experience with the crucial work of historical preservation.
"As a historian and the dean of humanities, the Houston Jewish History Archive, supported by the generosity of the Alexanders and many others in the Houston Jewish community, is a treasure for Rice University," said Canning. "It not only preserves and curates the community's precious artifacts, but it provides meaningful opportunities for Rice students to engage in research with fascinating materials that would otherwise be inaccessible to them and to discover a vibrant part of Houston's history as a living local context for Jewish history."
To view the collection or to support with a donation, please visit https://jewishstudies.rice.edu/houston-jewish-history-archive and https://jewishstudies.rice.edu/supporting-hjha.
Follow Rice News and Media Relations on Twitter @RiceUNews.
Located on a 300-acre forested campus in Houston, Rice University is consistently ranked among the nation's top 20 universities by U.S. News & World Report. Rice has highly respected schools of Architecture, Business, Continuing Studies, Engineering, Humanities, Music, Natural Sciences and Social Sciences and is home to the Baker Institute for Public Policy. With 4,240 undergraduates and 3,972 graduate students, Rice's undergraduate student-to-faculty ratio is just under 6-to-1. Its residential college system builds close-knit communities and lifelong friendships, just one reason why Rice is ranked No. 1 for lots of race/class interaction and No. 1 for quality of life by the Princeton Review. Rice is also rated as a best value among private universities by Kiplinger's Personal Finance.