Rice's volleyball team dominated the final two sets to claim a 3-1 victory (26-24, 24-26, 25-16, 25-14) over the University of Colorado Boulder in the first round of the NCAA Tournament Dec. 1 in Waco, Texas, before dropping a five-set battle with Baylor University (16-25, 25-22, 25-23, 14-25, 15-11) in the second round Dec. 2.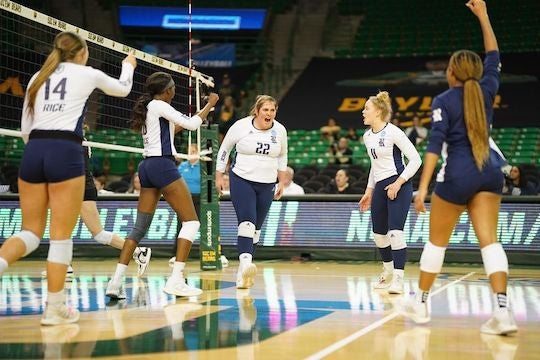 The fifth-seeded Owls finished 27-4 on the season. No. 4 seed and host Baylor (25-6) earned a trip to Louisville, Kentucky, for the Sweet 16.
Rice fifth-year senior Anota Adekunle had a match-high 22 kills against Baylor, equaling the program record for an NCAA Tournament match set a day earlier by Sahara Maruska against Colorado (20-11). Carly Graham led all players with 56 assists against Baylor; her 49 assists against Colorado put her over 4,000 for her career, making her the fourth Owl to achieve that feat.
For more, visit RiceOwls.com.