HOUSTON - (April 7, 2022) - Rice University professor Tomás Morín has won a 2022 Guggenheim Fellowship, an honor bestowed annually by the John Simon Guggenheim Memorial Foundation to a slate of the world's top scholars, artists, writers and scientists.
Morín, an esteemed poet, memoirist and translator, joined Rice's Department of English in 2020 as an assistant professor in creative writing. He's since taught courses on a variety of topics, including poetry writing, literary translation and narrative medicine.
"It's thrilling," said Morín of his latest award. "It's tremendous, especially because it's a mid-career grant. It feels like a wonderful pat on the back that says, 'Well done, and here's some help to keep doing what you've been doing.'
"It's hard to express how encouraging it is," he continued, before thanking his family for support.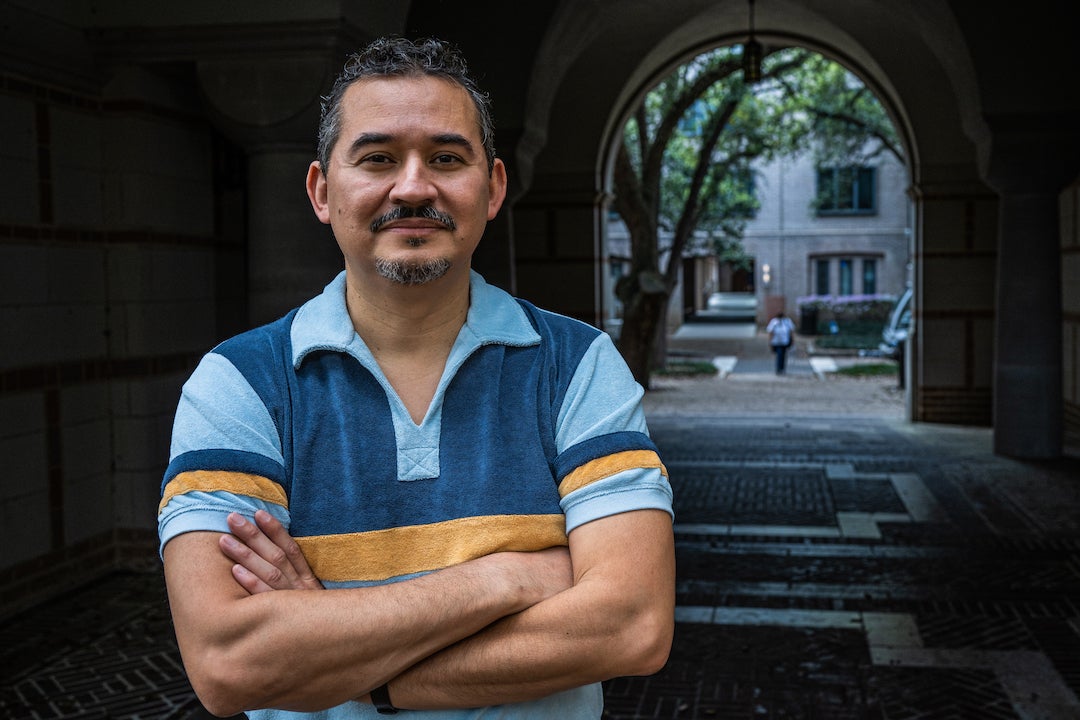 Morín published his third and most recent collection of poetry, "Machete," in October. His debut memoir, "Let Me Count the Ways," was published in March. Earlier this year, he was awarded a National Endowment for the Arts Fellowship.
In 2021, Morín's work was recognized by the Civitella Ranieri Foundation, which awarded him its prestigious annual fellowship for acclaimed international artists, writers and composers. Morín's first poetry collection, "A Larger Country," won the American Poetry Review/Honickman First Book Prize in 2012, and was runner-up for the PEN/Joyce Osterweil Award in 2013.
A common theme in Morín's writing is the question of how communities and individuals manage moments of prolonged crisis. Lest anyone assume his work is "hopelessly grim," Morín quickly points out "there's also a lot of humor. I feel like laughter is one of the ways in which we keep the spirit light and we find light in the world, and make light in the world for others when things just aren't OK."

Kirsten Ostherr, chair of Rice's Department of English and the Gladys Louise Professor of English, was elated to learn about Morín's Guggenheim Fellowship. "I was absolutely thrilled and delighted, and in a way, not at all surprised, because Tomás has been on quite a roll," she said. "His work has been recognized so widely and honored so much over just the past two years since he's been at Rice. This is truly a jewel in that crown."
"The Guggenheim Fellowship bestows upon Tomás Morín one of the very highest honors in the academy," said Kathleen Canning, dean of the School of Humanities and the Andrew W. Mellon Professor of History. "To win a Guggenheim at this career stage attests to Tomás' exceptional accomplishments as a poet and teacher."
"He is one of three new faculty who have recently joined our accomplished and exciting Creative Writing faculty and the second to win this prestigious fellowship," Canning continued. "We are inspired to see the creative arts take such a prominent place in the School of Humanities, also in terms of student demand for creative writing courses. We were thrilled when Tomás decided to join us at Rice and we are so proud of his achievements."
Established in 1925, the John Simon Guggenheim Memorial Foundation has awarded nearly $400 million to over 18,000 mid-career professionals at the top of their fields. Grant amounts vary.
A full list of 2022 Guggenheim Fellowship recipients is available online.
Morín joins a group of Rice Guggenheim Fellowship awardees that includes his Department of English colleague Lacy Johnson (2020), Earth scientist Cin-Ty Lee (2017) and computer scientists Krishna Palem (2015) and Luay Nakhleh (2012).
-30-
This news release can be found online at news.rice.edu.
Follow Rice News and Media Relations on Twitter @RiceUNews.
Located on a 300-acre forested campus in Houston, Rice University is consistently ranked among the nation's top 20 universities by U.S. News & World Report. Rice has highly respected schools of Architecture, Business, Continuing Studies, Engineering, Humanities, Music, Natural Sciences and Social Sciences and is home to the Baker Institute for Public Policy. With 4,052 undergraduates and 3,484 graduate students, Rice's undergraduate student-to-faculty ratio is just under 6-to-1. Its residential college system builds close-knit communities and lifelong friendships, just one reason why Rice is ranked No. 1 for lots of race/class interaction and No. 1 for quality of life by the Princeton Review. Rice is also rated as a best value among private universities by Kiplinger's Personal Finance.