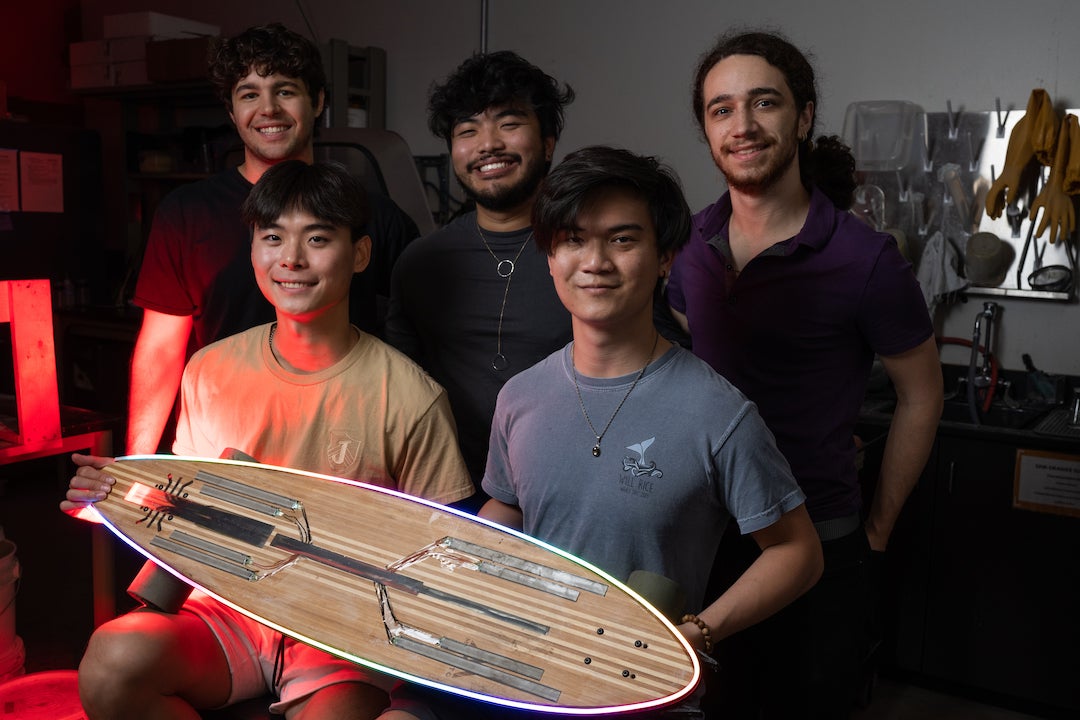 (HOUSTON, TX — May 2, 2022) Inventing a hands-free electric longboard was a passion project for the graduating Rice seniors on Team "Breadboard," all avid longboarders and skateboarders.
But rolling out of this year's George R. Brown Engineering Design Showcase with the 2022 Woods-Leazar Innovation Award for Excellence in Engineering — the top prize awarded at the annual competition, with a $5,000 cash payout — was a welcome reward for all the long nights and bumps in the road the team worked through along the way.
"I could instantly sense from everyone that the hard work that we put in the past year, and especially in the past week, really paid off," said Robert Chen, the student who first came up with the idea for the project during his junior year. "Personally, I was very satisfied when my teammates could easily ride our board during development, but when crowds formed to see everyday riders use our board flawlessly, I knew we had something special to display."
"The team is super stoked and honored to have received this award!" said a jubilant Will Coben, one of Chen's four teammates. "We felt confident in our electric longboard and presentation coming in, but we didn't expect to get the top prize with so many impactful projects and competent presenters at the showcase."
Among the team of five Rice seniors — electrical engineering majors Chen, Andrew Xavier and Tristan Mansfield and mechanical engineering majors Coben and Chris Hong — two members had grown frustrated by the electric longboards they owned, which rely on often-flimsy handheld remote controls. Xavier mentioned that his longboard no longer brakes because of the damage done when he dropped his remote.
The Breadboard — a punny title named after the rectangular plastic circuit boards used for prototyping electronic devices — is decked out with a front-facing light for visibility, a red brake light and a dazzling array of multicolored LED lights that surround the board's outer border and run across the device.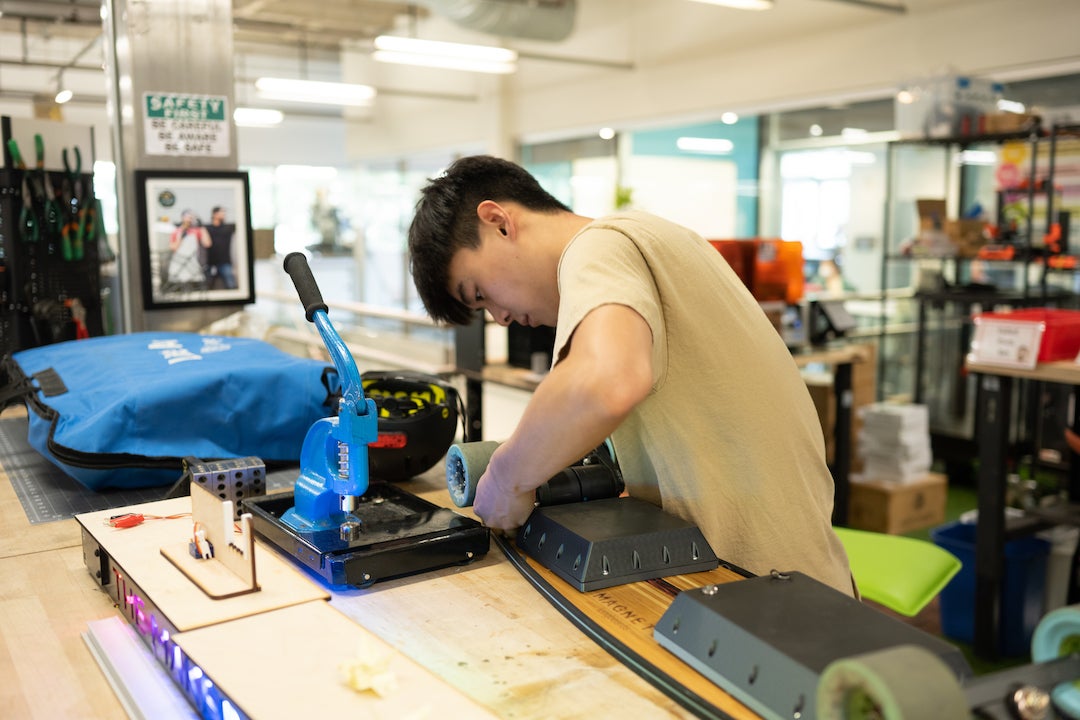 The rainbow-colored lights aren't just for show; various sections turn on and off to show how the rider's weight is being distributed, how the board accelerates when the rider leans forward and how it brakes when pressure is applied to the back of the board. The Breadboard tops out at just over 20 miles per hour.
"While it feels awesome to have an award that recognizes the hard work we put in, it was even more awesome to see how excited folks were by the product we put together," Coben said. "Exciting and inspiring people is what really motivated us as a team throughout the year, and we had a great time interacting with the awesome, curious people who came by our table.