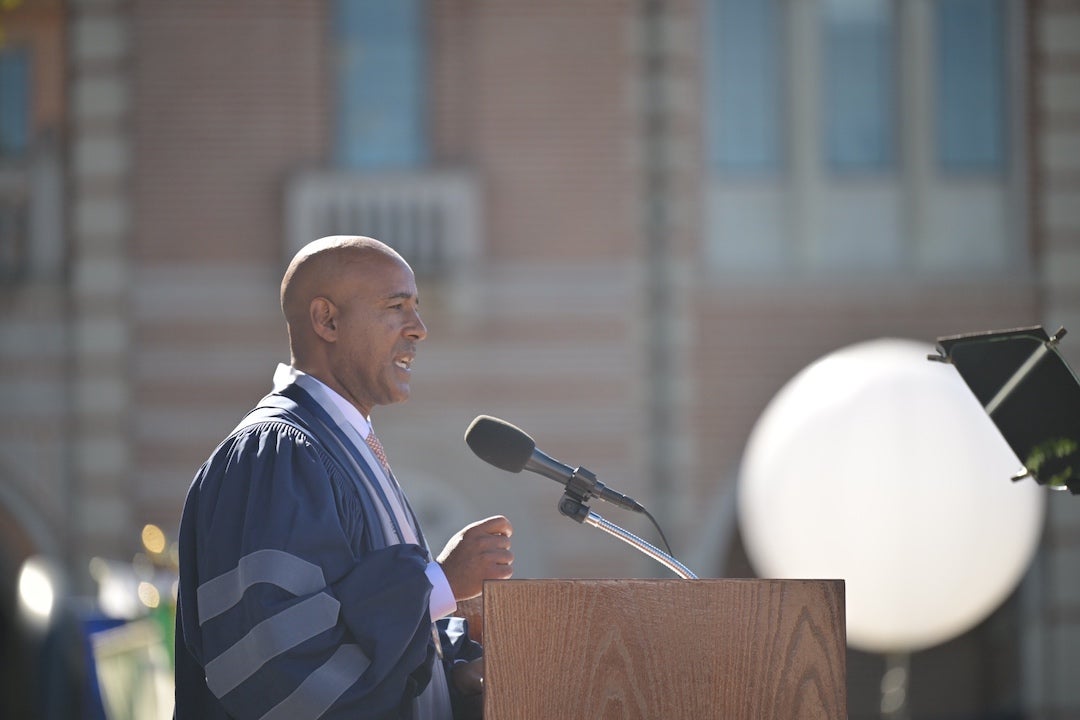 Rice University celebrated the latest chapter in its storied history Oct. 22 as Reginald DesRoches was formally inaugurated as the school's eighth president in 110 years during a sun-kissed investiture ceremony.
It was a thrilling day for both the university as a whole and for DesRoches himself, the Haiti-born and Queens, New York-raised civil engineer who previously served as chair of the School of Civil and Environmental Engineering at the Georgia Institute of Technology before being named Rice's William and Stephanie Sick Dean of Engineering and, later, university provost.
Though DesRoches assumed his post in July, his inauguration marked his official recognition as the university's chief executive. DesRoches, Rice's first Black president, is also the first immigrant and the first engineer to lead the institution since its founding in 1912.
"As an engineer, I am someone who solves problems. But Rice is not by any means a problem to be solved," DesRoches said. "Engineers build things, small and large, and engineers make things better, stronger and more efficient. As president, I've been given the opportunity to build a stronger university starting with the firm foundation that Rice has today.
"Presidents, like engineers, do not do their work alone," he continued. "I will need the help of all of you — your ideas, your support, your hard work and your dedication — as we build a better university that helps build a better world."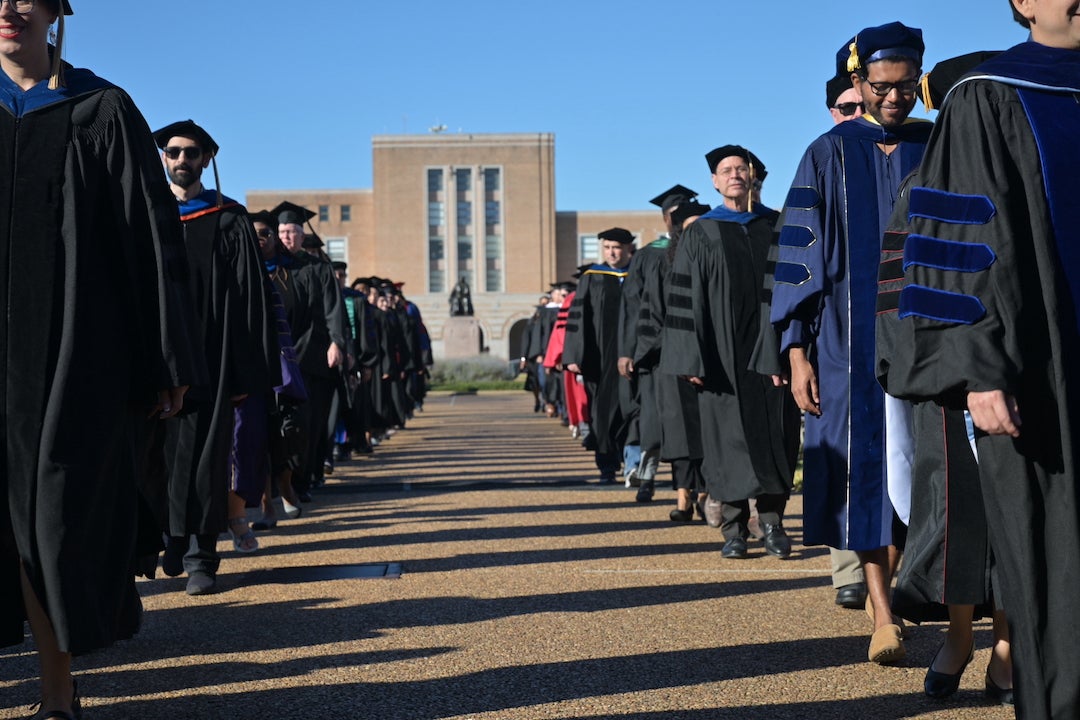 In addition to the trustees and members of the Rice faculty, staff and student body in attendance, Board of Trustees Chairman Robert Ladd '78 welcomed the representatives of over 150 colleges, universities and learned societies who bore witness to the day's historic events. Ladd made special note of the presence of Elizabeth Gillis, widow of Rice's sixth president Malcolm Gillis; Rice's seventh president David Leebron along with his wife and former university representative Y. Ping Sun; and DesRoches's wife, Paula.
The foundation has been laid. The journey has begun. We only need the creativity and the courage that we hold in our hearts and an unwavering commitment to excellence to take Rice to the next level.
Reginald DesRoches, President of Rice University
DesRoches was lauded by speakers representing all corners of the university: undergraduate Student Association president Gabrielle Franklin, Graduate Student Association president Joshua Moore, Association of Rice Alumni President Toya Cirica Bell, Staff Council Chair Korin Brody and Faculty Council Speaker Alexandra Kieffer.
"We trust that you will guide us to remain true to what we are: a university that fosters an environment of respect, understanding and growth for all students," Franklin said.
Keynote speaker Ruth Simmons — the trailblazing president of Prairie View A&M University and Rice trustee emerita who previously led Brown University as the Ivy League's first Black president — was touched to be part of the day's proceedings given her mentorship of DesRoches over the years.
"By inaugurating Reginald DesRoches as its president, Rice is vaulted into a position of national leadership," Simmons said. "Not simply of universities, but also of a nation in need of leaders who possess the cultural competence to heal rather than divide.
"The nation is calling for leadership, and this university has answered," she continued.
Simmons expounded on the significance of DesRoches's ascendance to Rice's presidency. She framed his appointment in light of both university founder William Marsh Rice's generosity in bequeathing his fortune to establish an ambitious university in Houston as well as his desire that the university bearing his name would admit only white students, a provision of Rice's will that was overturned decades later.
"Given this historic context, what does it mean to have a president of Reginald's race and background assume responsibility to carry on the legacy of William Marsh Rice's vision?" Simmons asked.
"I think it means everything," she said. "His appointment proves once again that whatever the limitations of our vision in our time, future generations can never be permanently bound by them."
After he was bequeathed his official presidential robe and the presidential medal that signified his formal inauguration, DesRoches gave a rousing address to the crowd of hundreds spread out across the Academic Quadrangle.
"I am truly honored. I am truly humbled, for as I look around, what I see is excellence," DesRoches said.
DesRoches expressed his gratitude to Simmons and two other key mentors — Emory University President Gregory Fenves and University of California, Davis Chancellor Gary May — for their steadfast support, as well as his Georgia Tech colleagues.
Turning to family, he thanked his wife Paula, "a brilliant, accomplished health care professional" who he remarked has "been by my side through both successes and setbacks," as well as their children Andrew, Jacob and Rice senior Shelby for teaching him the meaning of both unconditional love, "and yes, at times, patience," he quipped. DesRoches also recognized his siblings, as well as his late mother and 90-year-old father who was in attendance. "None of my accomplishments would have been possible without the sacrifices of my parents," he said, who with DesRoches left Haiti in the late 1960s for the United States to provide a better life for their family.
Rice's newest president recognized his predecessor, Leebron, whose vision "to push Rice outside the hedges has forever changed our university," and whose efforts to make the university a more inclusive, equitable institution provided the foundation on which DesRoches intends to build in the years ahead, he said.
DesRoches spoke of his own bold vision for the future of Rice, sharing that his decision to join the school back in 2017 was borne out of his belief that it had "the potential to be among the premier full-spectrum research universities in the world, with a continued commitment to a broad-based liberal arts undergraduate education."
"My appointment here has been characterized in the media as historic, in that I'm the first Black, the first immigrant and the first engineer to become president of Rice University. And while those are distinguishing characteristics of which I am very proud, they are not what defines me," DesRoches said. Instead, he explained that what defines him are the traits he shares with every member of the Rice community — "hard work, perseverance, humility and gratitude, and respect for others" — as well as the values of "curiosity and courage" he hopes to demonstrate throughout his presidency.
"While still evolving, our direction is clear," DesRoches stated. "In the coming years, Rice will significantly increase its visibility and impact as a premier research university. We will have graduate programs of the same distinction as our undergraduate programs while strengthening what Rice is known for: an unparalleled undergraduate education.
"And this university will be grounded in all that we do by the values of diversity, equity and inclusion," he continued, "a place known for its culture of care, tolerance and understanding."
Those values, DesRoches argued, are what will propel Rice toward helping solve some of the most pressing issues facing the world, from curing intractable diseases like Alzheimers to accelerating the global transition to clean sources of energy, from partnering with Houston toward a future of inclusive prosperity to recommitting to the importance of arts and the humanities in building the empathy needed to tackle such stark challenges.
"The foundation has been laid. The journey has begun. We only need the creativity and the courage that we hold in our hearts and an unwavering commitment to excellence to take Rice to the next level," DesRoches said.
The ceremony ended with the first ever performance of New Dawn, an original composition by Texas native and undergraduate composition major Alex Moreno-Gonzales, brought to life by an ensemble of fellow Shepherd School of Music students.
Vibrant and bold, its triumphant trills made for a fitting finale to such an historic day.
It sounded like a new beginning.