James Hurley will join Rice's Office of Development and Alumni Relations (DAR) as its assistant vice president of alumni relations. He will assume his new role Aug. 1.
Hurley comes to Rice from New York University, where he served as a senior director on the development and alumni relations team. He's a graduate of Iona College, Queen's University Belfast, the University of Oxford and NYU, where he studied political science and history, legislative studies and philosophy and earned his master's in business administration, respectively.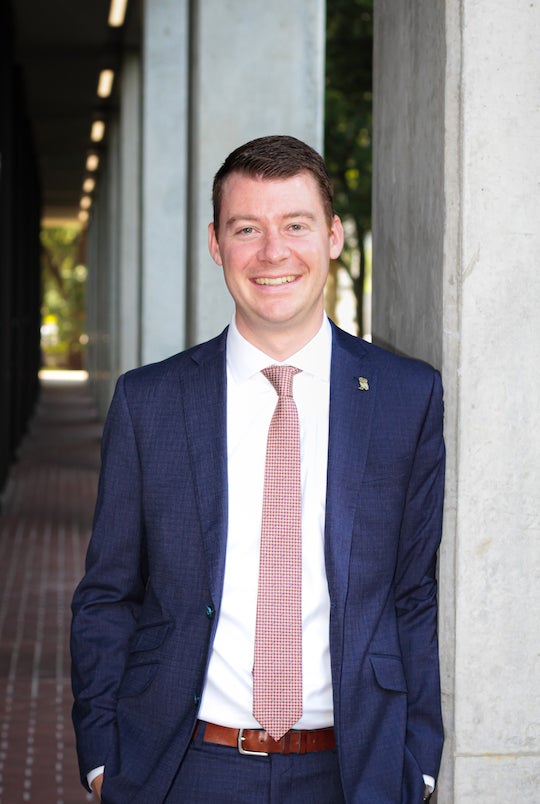 "I am honored and humbled to join the Development and Alumni team at Rice," he said. "Over the last few months, I have been so very impressed with the depth and breadth of alumni programming DAR has sponsored in partnership with the Association of Rice Alumni. I am excited to work alongside the ARA, the alumni relations team, the entire DAR family and colleagues from across the university to build on those successes and deepen our engagement with Rice's 60,000-plus alumni even further in support of the ARA, in support of the Be Bold campaign and in support of Rice alumni worldwide."
"I am excited to welcome James to Rice and to Houston," said Vice President for Development and Alumni Relations Kathi Dantley Warren. "He brings great energy and will be a wonderful strategic partner for the ARA and its board. He has a clear vision for enhancing lifelong alumni engagement and broadening our outreach nationally and internationally at a pivotal moment in Rice's history as we prepare for our next president."
While working at NYU, Hurley managed the team tasked with creating programming for the school's alumni the world over. He oversaw all alumni relations activities for NYU's two portal campuses in Shanghai and Abu Dhabi, and successfully integrated both the domestic and international teams in addition to bringing alumni and development programs under a single organizational umbrella.
The first recipient of the US-UK Fulbright Program's joint award with the Northern Ireland Assembly and the Queen's University of Belfast, Hurley also previously worked as a consultant with EAB in Washington, D.C., where he conducted research related to fundraising in higher education.
Hurley explained he was enticed to head to the Gulf Coast for his new role not only by Rice's reputation and Houston's diversity, but also by the fact that the university is at "a pivotal time in its history."
"With the selection of incoming President (Reginald) DesRoches, the efforts of the Be Bold capital campaign, the efforts of the Rice Investment, and the vision for both undergraduate and graduate student expansion, there was such a clear and exciting vision to be part of," he said.