Rice University physicist Marc Robert, a professor in the Department of Chemical and Biomolecular Engineering for 38 years, died peacefully at a local hospital Sept. 2 from complications of COVID-19. He was 72.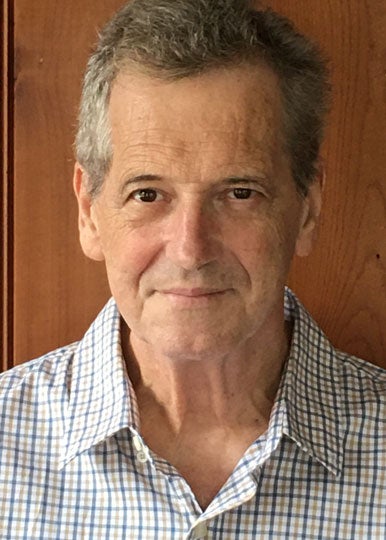 "Marc loved being with students, undergraduate and graduate alike, and he became very close with many of them," said Matteo Pasquali, the A.J. Hartsook Professor of Chemical and Biomolecular Engineering. "He also loved the intellectual and multicultural environment at Rice, and he loved his research, although he was very particular about it. He took on relatively few problems, and advised relatively few Ph.D. students. He liked to go very deep in fundamental areas."
Robert was born, raised and educated in Switzerland.
"Marc's mother was an American serving in the secret service in Bern during World War II and met Marc's father, who was an engineer," said Andre Droxler, professor emeritus of Earth, environmental and planetary sciences and a close friend of Robert's for more than three decades. "Marc's mother was an excellent musician, and the entire family, I believe eight siblings, became musicians."
Marc Robert's younger brother, George Robert, who died in 2016, was a jazz saxophone recording artist and founding member of the Jazz Department at Switzerland's Lausanne Music University.
"To me, he was an amazing friend," Droxler said of Marc Robert. The two Genevans had family roots in the same neighborhoods and quickly became friends after Robert joined Rice in 1984. "He was very much from Geneva. I mean, if you are Swiss, you knew that Marc was from Geneva."
Robert's research specialty was statistical mechanics. He used analytical and computational methods to investigate various problems of interfaces, colloidal systems, magnetic phenomena, liquid crystals, carbon nanotubes and other materials and systems. Prior to joining Rice, he worked as a postdoctoral fellow in the laboratory of Cornell University physical chemist Benjamin Widom.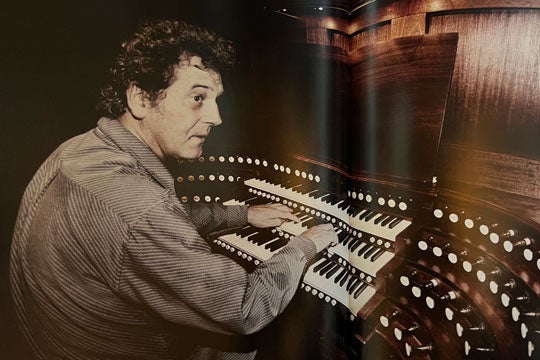 "Marc pursued research with utmost rigor and teaching with utmost passion," said Michael Wong, professor and department chair in Chemical and Biomolecular Engineering. "These qualities were the first things I noticed when I joined the department. Being around Marc all these years made me a better scientist and teacher."
Robert also loved music, especially jazz, and was described by Rice Magazine in 2014 as "a polymath, who is equally at home teaching and researching thermodynamics, statistical mechanics and quantum field theory as he is playing the piano and pipe organ."
Robert frequently played piano, and dinner parties at his home were liable to turn into concerts with impromptu performances by professional and semi-professional jazz and classical musicians. Droxler said Robert often played the pipe organ late at night in Rice Chapel.
"Somehow, he found a way to get a key, and he was going there in the middle of the night," Droxler said. "I mean, Marc had a very special schedule. He was not a regular 9-to-5 guy for sure."
Robert earned his undergraduate degree in physics from the Swiss Federal Institute of Technology in Zurich and his doctorate in physics from the Swiss Federal Institute of Technology in Lausanne. It was at Lausanne that he met his first wife, Behnaz Payandeh, an Iranian graduate student who was also studying physics. The two would collaborate on a number of published studies prior to her death in 2009.
"Both of them were very intense, and both were into theoretical physics," said Droxler. "He told me that Behnaz, at some point, kind of put herself in a room and did her Ph.D. in three weeks."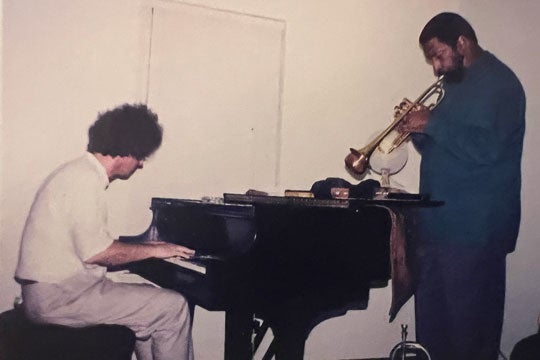 The marriage cemented Robert's lifelong connection to Iran. He loved Persian food, poetry and art and taught many Iranian graduate students. During a 2013 sabbatical in Tehran, Robert met and fell in love with architect Farzaneh Meybodi. They married in Switzerland, and she joined him in Houston in 2016.
Meybodi said Robert's non-musical hobbies included birdwatching and playing foosball, or table soccer, which is very popular in Switzerland. But his love was teaching.
"Teaching. Teaching. Being involved with his students all the time," she said. "He would do whatever he could for students, especially Iranian students.
"He was a real teacher," she said "He was also a teacher for me. He taught me to play piano."
Droxler and Pasquali each recalled how Robert almost single-handedly brought several notable speakers to campus in the mid-2000s, including famed Houston heart surgeon Michael DeBakey, French Nobel laureate physicist Pierre-Gilles de Gennes, noted organist and composer Naji Hakim, British mathematician Andrew Wiles, and Nobel Peace Prize winner Shirin Ebadi, an Iranian human rights activist and attorney.
"These people came to Rice only because of Marc," said Droxler, who served with Robert on the committee that invited speakers for the President's Lecture Series. "Marc had, always, these unbelievable names. But he would not only have names, he would just go for it. The physicist, de Gennes, Marc went to Paris to convince him to come. He went to Tehran to convince Ebadi to come."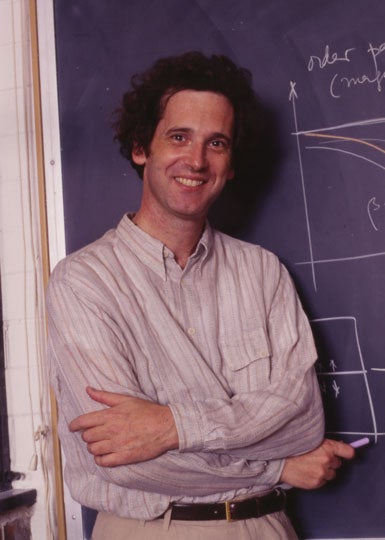 Pasquali said Robert waited outside Ebadi's office until late in the day, after she'd finished meeting all her other visitors and clients. She told Robert she had no interest in visiting the United States and had turned down speaking invitations at Harvard and other Ivy League schools.
"Marc responded that Ebadi did not need to speak at Harvard, where people already shared her views, but she would have an impact in Houston," Pasquali recalled. "Wiles was harder to convince, as he hated traveling. Marc was able to find his home phone number and kept calling, almost daily, and engaging Wiles in conversations."
Wiles, who'd become famous for solving Fermat's Last Theorem in 1994, recounted Robert's dogged pursuit when he visited Rice in 2008 and spoke to a standing-room only crowd in Grand Hall.
"Wiles said that he would change his phone number, and Marc would find the new phone number," Pasquali recalled. "Marc said he asked Wiles whether it made sense to keep wasting his time on 30-minute phone calls when he could just come to Houston for a couple of days and be done with it."
Robert had "an uncanny devotion to excellence and pursued his goals relentlessly," Pasquali said. "But one at a time. Many times he told me that he was not able to pursue too many goals at once. He liked to focus on one thing at a time and do it well."
Meybodi said, "Honestly, his life was his career. His life was his students. His life was Rice University. And I want to tell you till the last minute Marc was working. And he caught the virus, and he couldn't continue, and I still cannot believe that he passed."
A celebration of Robert's life will be held Oct. 1 in Geneva.