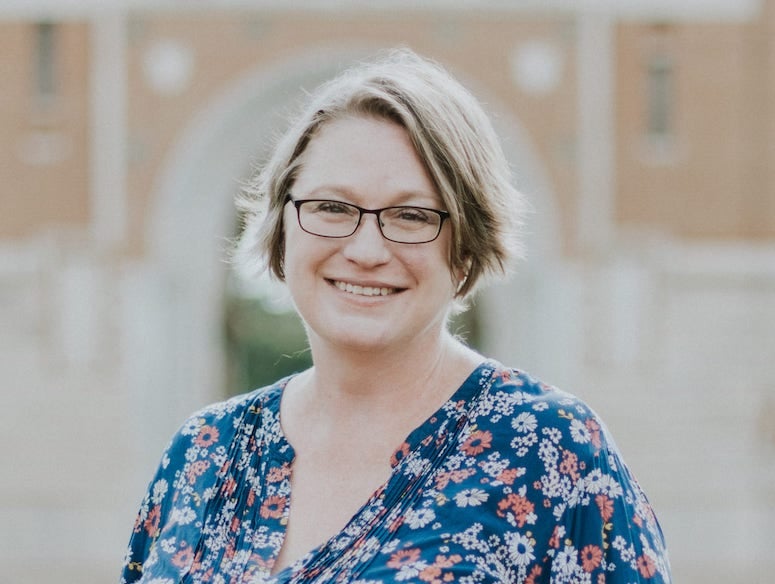 Kelley Lash, a beloved mentor and colleague who served as Rice's director of student media, died Feb. 21 of a pulmonary embolism. She was 46.
Her sudden passing stunned students and alumni who relied upon Lash's advice and guidance. The student newspaper dedicated an issue in her honor; an entire page was devoted to remembrances from past editors and other Rice media alumni.
"Kelley made an immeasurable impact on my life," wrote Miles Kruppa '16, a former Thresher editor-in-chief. "When I received an offer for my dream job in journalism, she was my first call – mostly because I knew it never would have been possible without her guidance and encouragement years earlier."
Lash earned bachelor's degrees in English and journalism and a master's degree in literature from Georgia Southern University in Statesboro, Ga. While working at GSU's student newspaper, Lash developed a passion for college media. She eventually became GSU's director of student media before coming to Rice as director of student publications in 2010.
Lash also served the College Media Association (CMA) in many capacities, including a two-year term as president between 2015 and 2107. She remained active with the CMA post-presidency and was an integral part of the national college media landscape far beyond the hedges.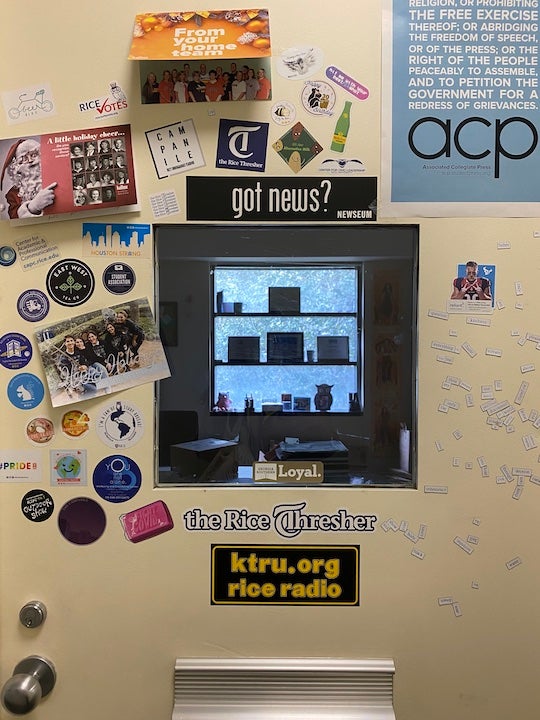 Lash impacted countless young lives in the dozen years she stewarded the Rice Thresher, the Campanile yearbook and KTRU, the student radio station. Lash also served as an active McMurtry College associate, where she was known to host craft nights; handmade greeting cards were one of her favorite gifts. Lash hosted an O-Week group dinner every year and, as McMurtry College coordinator Jackie Carrizales recalled, O-Week advisors would request Lash because they knew it would mean a fun night for them and their new students.
In the Rice Thresher's tribute to Lash, alumni recalled a committed and dedicated mentor who provided students an endless supply of baked goods and thoughtful, serious critiques of their work, often delivered with a hug and a smile. Lash's office in the Rice Memorial Center was bursting with pop culture memorabilia — she was a devoted fan of Joss Whedon, the Backstreet Boys and "This Is Us" — and was a warm, welcoming space where students could count on finding fresh cupcakes and good advice.
"Her dedication to students encouraged them to compete on a national level, and culminated in multiple awards for student media as well as awards and accolades for her years of advising," said Dean of Undergraduates Bridget Gorman in an email to the Rice community. "She said her favorite part of the job is 'when students come to me for advice. I love developing real relationships with them, outside of the work setting.'"
Associate Dean of Undergraduates Catherine Clack recalled Lash as more than just an employee. "She was both a colleague and a true friend," Clack said. "She earned respect and accolades wherever she went."
Former colleagues also shared memories of Lash across social media, where she was active on Twitter and Facebook. "She was a real-life Ted Lasso, being one of the most kind and sincere people one could meet," wrote fellow GSU alum and journalist Zack Damon. Current CMA president Chris Whitley called Lash "the epitome of what college media is about."
Lash's last Twitter post defended Texas A&M University students now rallying behind their embattled campus newspaper, The Battalion. "(S)tudent media staffers believe in something fundamental and pure," she wrote.
It was "fitting that this was her final tweet," said Emily Bloch, president of the Society of Professional Journalists in Florida. "Kelley Lash was a fierce defender of student media. She was a unicorn of a human and brought out the best in people."
Lash is survived by her husband Andrew Lash, customer relations assistant at Gibbs Recreation Center, and daughter Riley Callaway. A memorial service will be held March 5 at 1 p.m. at Pittman Park United Methodist Church in Statesboro.
Memorial gifts may be made to the Kelley Lash Memorial Fund of Rice University. Gifts may be made online at giving.rice.edu or sent to Rice University, Office of Development MS-81, 6100 Main Street, Houston, TX, 77025.