In 2021, the U.S. government released a preliminary report on unidentified aerial phenomena (UAP), more commonly known as UFOs, following decades of denial and disinformation regarding the existence and investigation of these unexplained experiences. This year, Rice will host a major international conference on the academic study of these UFO phenomena, extrasensory perception and other paranormal phenomena.
"Opening the Archives of the Impossible," set for March 3-6 on campus and online, will be free and open to the public. The conference will feature eight plenary addresses by the world's foremost scholars, researchers and writers on the paranormal.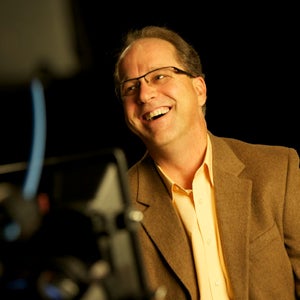 The conference was organized by Jeffrey Kripal, associate dean in the School of the Humanities and the J. Newton Rayzor Chair in Philosophy and Religious Thought at Rice. Kripal is also associate director of the Center for Theory and Research at the famed Esalen Institute in Big Sur, California.
"I understand that the word 'paranormal' generally makes academics uncomfortable, but what we will show is that the original French word — which meant something like 'super natural' — and its related categories were all created by scientists and academics at places like Cambridge, Duke and Harvard," Kripal said. "In short, this enterprise is an intellectual one, and it is of profound scientific, social scientific and humanistic interest to this day. The response to the event is a clear sign of the same."
Kripal will also hold a series of live webinar conversations with leading scholars in the field ahead of the conference: Priscilla Wald, the R. Florence Brinkley Distinguished Chair of English at Duke University, will speak Feb. 15 at 4 p.m., and Hussein Ali Agrama, associate professor of anthropology at the University of Chicago, will speak Feb. 24 at 5 p.m.
Included among the four days of the conference is a spotlight on the "Archives of the Impossible" themselves: a wealth of research and significant document collections related to the study of paranormal experiences housed at Fondren Library's Woodson Research Center.
These extensive archives include the Edwin C. May Laboratories for Fundamental Research papers, Richard F. Haines' ufology papers — which span the 1970s to 2010s and contain UFO photos with notes and photo analysis and audio interviews with UFO witnesses — and Jacques Vallée's UFO and paranormal phenomena papers, embargoed for 10 years.
Due to limited capacity for in-person attendance, online registration will include live broadcasts of the plenary speakers. Other conference events will not be broadcast live, but will be recorded and shared online at a later date.
Speakers include: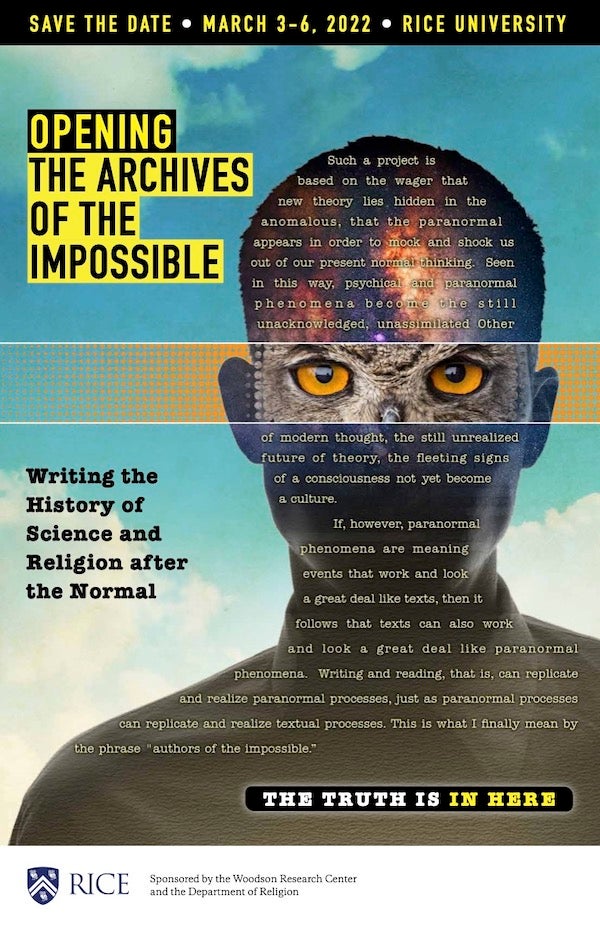 Vallée: Founder of Documatica Research and an information scientist with a background in astrophysics and artificial intelligence, Vallée served as one of the architects of social networking on the early internet and as a founder of international venture capital funds in Silicon Valley, including NASA's Red Planet Capital. His early interest in the UFO phenomenon and psychical research led to a series of books and technical papers in many languages, and he recently developed the largest existing UAP "data warehouse" for a classified project.
Leslie Kean: An investigative journalist, Kean co-wrote a pivotal 2017 New York Times story that revealed the existence of a secret Pentagon UFO program. Kean has covered the paranormal in mainstream publications for over 20 years and is currently working on a documentary series on UFOs for CNN. She is the author of the New York Times bestseller "UFOs: Generals, Pilots, and Government Officials Go on the Record" and "Surviving Death: A Journalist Investigates Evidence for an Afterlife," which became the basis for a 2021 documentary series on Netflix.
Edwin May: The president and founder of the Laboratories for Fundamental Research in Palo Alto, California, May was a scientist with the U.S. government's secret ESP program popularly known as Star Gate from 1976 to 1995, and was the director of the program from 1985 to 1995. He is the author of several articles in the nuclear physics literature, many papers in the technical journals of parapsychology and over 300 technical final reports on ESP to the government. May received his doctorate in experimental nuclear physics from the University of Pittsburgh in 1968.
Whitley Strieber: The author of "Communion," the best-selling book about close encounters, Strieber has since written many follow-up books and has hosted the weekly radio show/podcast "Dreamland" since 1998. His latest works include "The Afterlife Revolution," about the possibility of extraphysical consciousness, and "Jesus: A New Vision," a reconstruction of the life and teachings of Jesus.
Diana Pasulka: A professor of religious studies at the University of North Carolina Wilmington, Pasulka's research spans Catholic history to new religious movements. She is lead investigator on an ongoing study of Catholic manuscripts and saints at the Vatican Secret Archive and the Vatican Space Observatory. Pasulka's recent books include "American Cosmic: UFO's, Religion, Technology" and the forthcoming "Contact 21: Encounters with Non-Human Intelligence."
John Phillip Santos: A Rhodes scholar, writer, journalist and documentarian, Santos has created TV documentaries on religion and culture for CBS News and PBS. He teaches writing and mestizo cultural studies in the honors college at the University of Texas at San Antonio. He is currently working on the last installment in his trilogy of memoirs and collaborating with Chicano musician Alejandro Escovedo on a memoir of his life in punk rock and beyond.
Sebastiano De Filippi: An Italian Argentinian musician, author and scholar, De Filippi is music director of the National Congress Chamber Orchestra and artistic director of the Latin-American Orchestra Conducting Academy. He's also a researcher of fringe phenomena, publishing hundreds of papers and articles over the last 25 years.
The "Opening the Archives of the Impossible" conference will begin March 3 at 4:30 p.m. in the Hudspeth Auditorium at the Anderson-Clarke Center at Rice's Glasscock School of Continuing Studies. Kripal will offer opening remarks and welcome attendees ahead of the first plenary session at 5:30 p.m., which will feature Vallée.
The conference continues March 4 with a 9 a.m. digital tour of the "Archives of the Impossible" held at the Woodson Research Center, followed by a 10 a.m. panel of archivists that includes Amanda Focke, Woodson's head of special collections.
"So many people here at the university — from faculty and students to administrators, artists and alums — have given so much of themselves and their talents," Kripal said. "People are very excited and I am deeply grateful."
A full schedule of events is available online. For more information, visit the "Opening the Archives of the Impossible" website at impossiblearchives.rice.edu.