Rice University bioengineers, synthetic biologists and others gathered Nov. 10 to celebrate the opening of the Genetic Design and Engineering Center (GDEC) at Rice's BioScience Research Collaborative.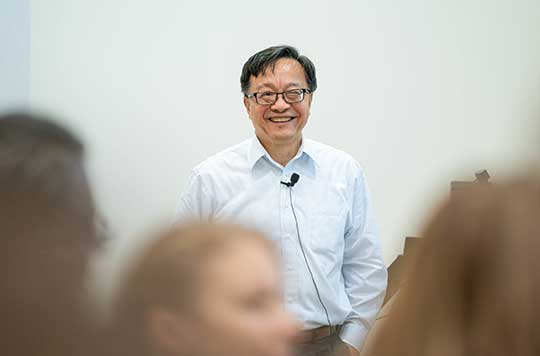 The new facility is a "one-stop shop" where researchers from Rice and the Texas Medical Center can collaborate on the design, assembly and testing of custom DNA constructs for the study and treatment of cancer.
Funded by a $4 million grant from the Cancer Prevention and Research Institute of Texas (CPRIT), GDEC has state-of-the-art equipment for making and validating "DNA constructs," synthetic strands of genetic code that can reprogram cells for the development of cancer vaccines, cell and gene therapies, immunotherapies and research into cancer genetics, cell biology and more.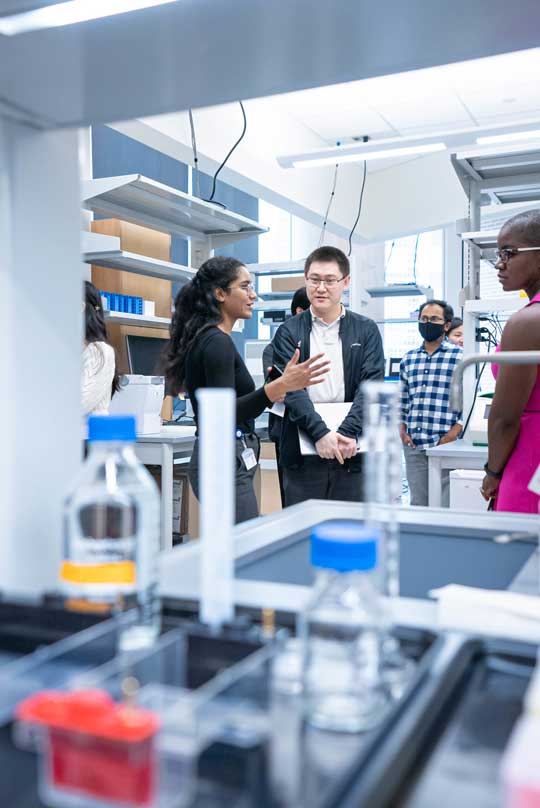 Gang Bao, chair of Rice's Department of Bioengineering, GDEC director and principal investigator on the CPRIT grant said GDEC has already initiated collaborations with Baylor College of Medicine, the University of Texas M.D. Anderson Cancer Center and Houston Methodist Academic Institute. Bioengineering faculty members Caleb Bashor and Jeff Tabor are GDEC's associate directors, and the center is managed by bioengineering's Elizabeth Gardner.
Bao said efficiently generating and testing DNA constructs can be challenging and time consuming, especially for translational researchers and clinician scientists. He said GDEC is designed to make it easy for researchers to draw on Rice's expertise in synthetic biology and bioengineering and to utilize GDEC's state-of-the-art equipment, including robotic liquid handlers and DNA sequencers that will accelerate discovery.
GDEC is the first CPRIT Core Facility at Rice. It is open to collaborating with researchers from labs at Rice, in the Texas Medical Center and beyond. Its services include: building and validating DNA constructs according to customer-provided designs; design consultation, cloning and DNA construct validation; and large-scale design and cloning in support of multi-investigator and multi-institutional projects, with applications such as engineering microbiomes and proteins; developing vaccines, cell and gene therapies for cancer; and investigating the basic biology of genomics and epigenomes.
For more information, visit gdec.rice.edu.