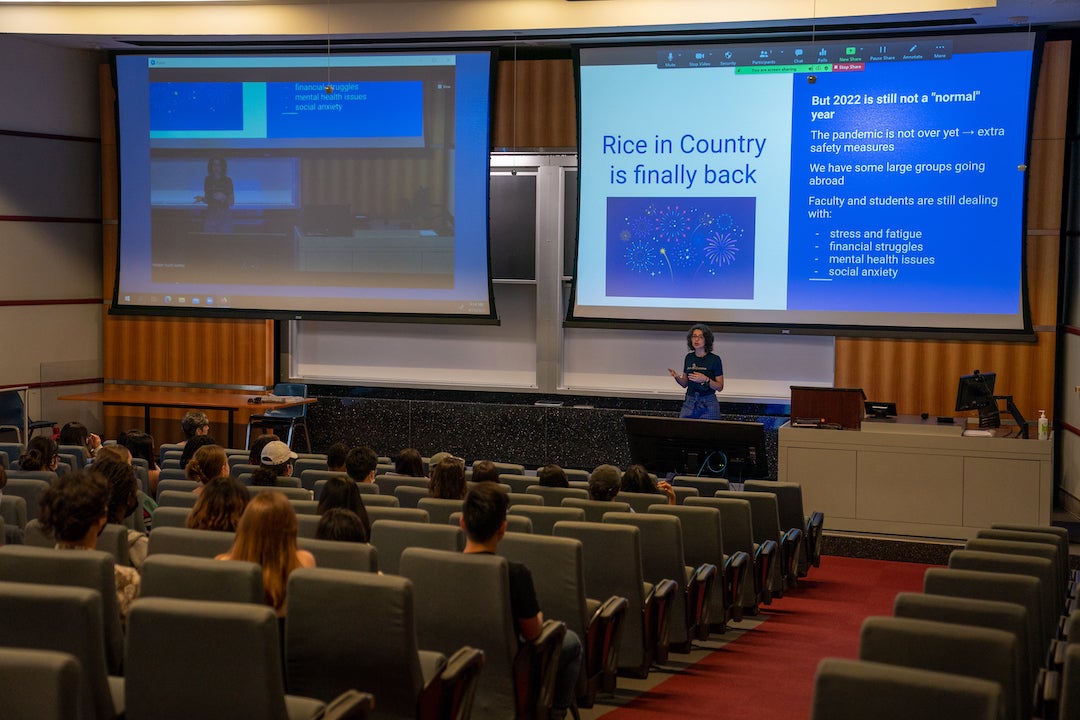 After being scuttled for two straight summers due to the coronavirus pandemic, the popular Rice in Country study abroad programs hosted by the Center for Languages and Intercultural Communication (CLIC) are once again back in action.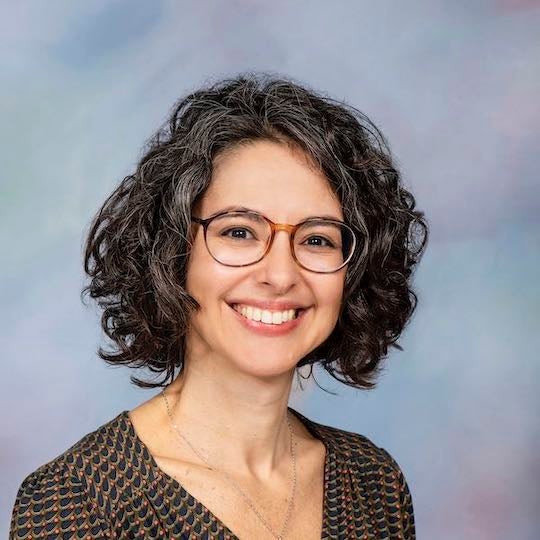 "We are extremely happy to see Rice in Country back, especially for the students who didn't get to go in the summer of 2020 and are finally going now," said Hélade Scutti Santos, CLIC's director of language instruction.
This summer, CLIC will host Rice in Country programs in France, Spain, Costa Rica and South Korea. A total of 74 current Rice undergraduates will participate in this year's programs, which are supported by the Elizabeth Lee Moody International Fund in the Humanities and the Arts. Each professor-led program lasts six weeks, allowing students to immerse themselves in a foreign culture through coursework, stays with host families, community engagement and cultural excursions.
"In 2020, Rice in Country got canceled after the students had been accepted into the programs so it was extremely disappointing for everyone," Santos said. "It's hard to express how happy the students are, and seeing them get ready to go fills my heart."
While Rice in Country is finally back, she said "it's definitely not going to be a 'back to normal' situation'" given the extra COVID-19 protocols students and professors will have to navigate to make these trips safe and successful. "I trust that our faculty leads are very prepared and up for the challenge to take our students abroad," Santos said.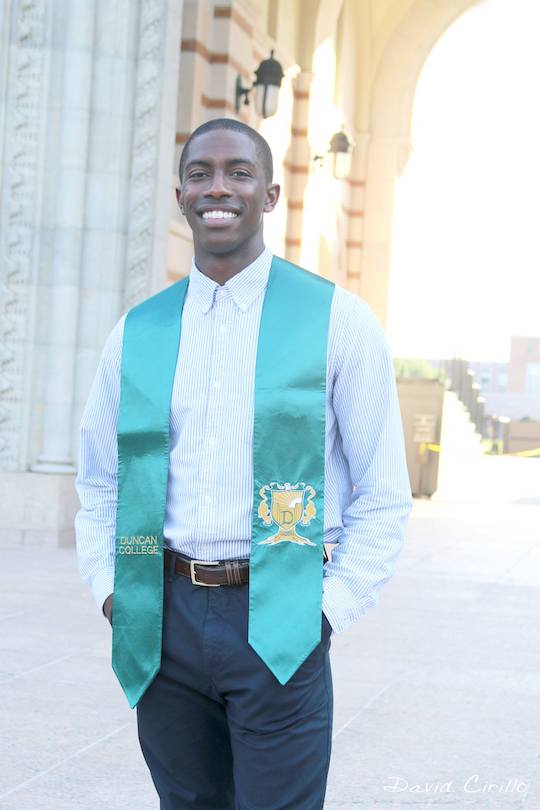 Alum Craig Joiner '18, who studied materials engineering and Asian studies while working toward a certificate in Language and Intercultural Communication, took foreign language courses and participated in both the Rice in China and Rice in Japan programs offered by CLIC. He learned that language-related careers might be the perfect fit for him.
"Of course engineering is challenging and it was fun, but foreign language is what I really had a passion for," Joiner said.
After taking a fifth year to earn his Asian studies degree abroad, Joiner eventually accepted a job at a consulting firm in Osaka, Japan, where he worked until he became an English teacher in the country. Now back in the states, Joiner is set to begin his career with the U.S. Department of State as a Charles B. Rangel International Affairs Fellow. After completing a congressional internship as part of the program this summer, Joiner will continue on to Georgetown University, where he'll finish work toward a master's in foreign service.
"Now that I'm back, I have a completely different perspective," Joiner said of his time abroad. "It's definitely been a positive in how I approach things, because I can now solve a problem quicker and in a different way, in a more unique way, than most people would think of doing. … Studying a foreign language was the key to gaining that perspective."
Current Rice students Linda Wu '23 and Myritney Saint-Cloud '23 hope their upcoming Rice in Country experiences will have the same type of life-changing impact as Joiner's.
Wu, a member of Baker College majoring in psychology and the study of women, gender and sexuality with a minor in biochemistry and cell biology, hopes her time with Rice in Spain this summer will prove a pivotal stepping stone on her path toward becoming a doctor.
Inspired to sign up for the opportunity by her medical Spanish professor — Thais Díaz Montalvo, who will lead this summer's Rice in Spain program — Wu is thrilled to be immersed in the language and pick up valuable skills she hopes will help her better communicate with Spanish-speaking patients down the line.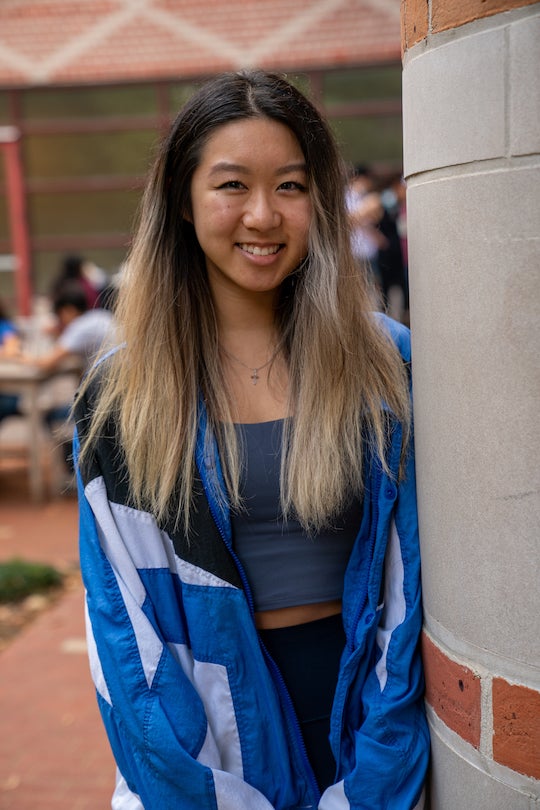 Wu realized just how important that goal is through her work with the Patient Discharge Initiative at Rice, which places students in Ben Taub Hospital to work with patients from typically underserved backgrounds, many of them who speak only Spanish. "When I first started volunteering with this group, it hit me that to truly be able to connect with these patients — and especially in the future, as a doctor — I want to be able to earn their trust through not only speaking their language, but through also understanding how their culture may impact their experiences of health and health care," Wu said.
Saint-Cloud, a member of Wiess College studying cognitive sciences with a concentration in neuroscience, also hopes her summer experience with the Rice in Korea program will benefit her in her future medical career. The daughter of Haitian immigrants, Saint-Cloud grew up surrounded by the mix of French, Spanish and English that is Haitian Creole, which gave her a subconscious head-start on her language studies years later.
Introduced to Korean culture by a close Korean friend in the sixth grade, Saint-Cloud found herself intrigued by the intricate dances of K-Pop music groups and by the Korean dramas they watched together. She began taking Korean classes this past academic year.
"When COVID hit, I for sure thought that I would graduate before the program would be able to return, so I'm very grateful to have this opportunity," Saint-Cloud said.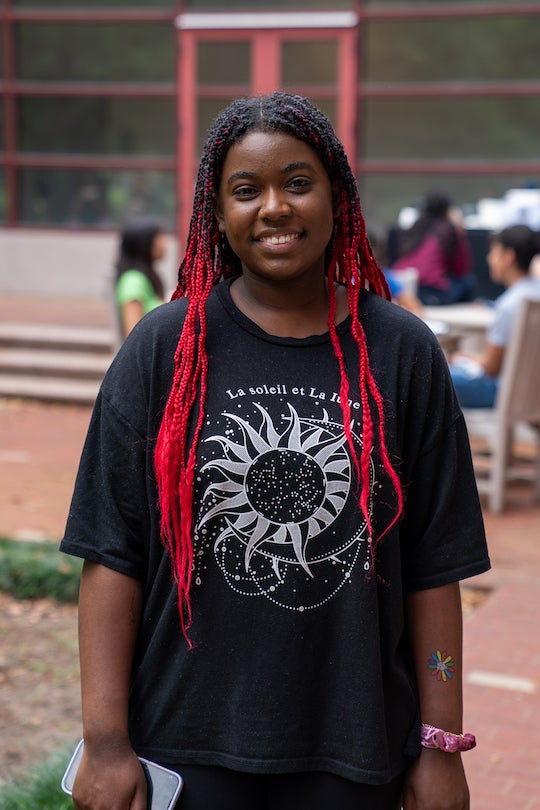 She's especially thrilled about the portion of Rice in Korea where she and her fellow students will teach young children English every Tuesday afternoon. "In the future I hope to be a doctor, leaning towards a specialty in pediatrics," Saint-Cloud said, "and I believe that being able to understand everyone no matter what their background is is crucial to be able to provide the best care possible."
For Wu, this year's trip is a long time coming — she had been originally selected during her freshman year to participate in Rice in Spain the summer of 2020. "Because our cohort has been included in this year's cohort as well, it's a slightly larger group," she said. "But I think it's also more fun that way since it's a group of students from all grades now, with a wide array of knowledge, interests and experiences."
To Santos, the most exciting part of these programs "is not the language learning that happens in six weeks, which is in itself quite impressive, but it is how this linguistic and cultural experience affects these students.
"The experience changes them and therefore changes their relationship with the language and the country where they were," Santos said. "This kind of transformation is powerful and it is beautiful to see."
Saint-Cloud, a first-generation college student, is thrilled to have been selected for Rice in Korea, knowing full well it could be a once-in-a-lifetime opportunity.
"I truly believe that there is going to be no other time in my life where I will be able to go on a trip with a group of people my age who are just as ready to explore and live life, accompanied by our professor to serve as a guide, and also be supported financially by the university," Saint-Cloud said. "I cannot think of any other time in my life when this opportunity would present itself again, so I told myself that I could not let this opportunity pass me by."