HOUSTON - (Sept. 8, 2022) - Three years after Rice anthropologists Cymene Howe and Dominic Boyer received worldwide media attention for hosting a funeral for Iceland's first major glacier lost to climate change, their project has inspired a Belgian performance artist to replace 1 ton of ice on the site of the former glacier. The researchers are available to discuss the ongoing impact of the memorial.
It's not the first time the memorial has inspired creative expression to raise awareness for climate change. The project has been the impetus for artwork, musical compositions and more. And now, the memorial to Okjökull has led to "The Debt" by Floris Boccanegra. 
"In early 2021 I was preparing an art project that would take place in Iceland," Boccanegra wrote on his website. "While I was booking my flight online, I was asked if I wanted to neutralize the CO2 emissions of the aircraft. Intrigued by this question, I was curious about the real impact I would have on the environment by taking this flight. After using an online carbon footprint calculator, I finally got my answer: 1 ton of ice. That would be the amount of ice I would (indirectly) melt if I went to Iceland by plane."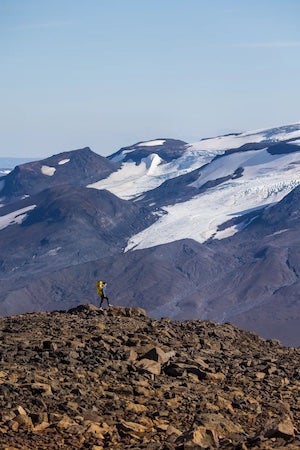 Between Sept. 5-11, Boccanegra has committed to personally putting all the ice back on Ok mountain, where the glacier was located until it officially lost that status in 2014. To do this, he collected a total of 1000 liters of melt water (coming from Icelandic glaciers), and refroze it in 200 ice bars of 5 kilograms each. He is currently hiking up and down the mountain with a team of volunteers until he has returned one ton of ice. 
"Three years after we climbed to the top of Ok mountain to lay a memorial for Iceland's first glacier lost to climate change, this artist is making the same journey, multiple times over, to symbolically restore the ice that was once there," Howe said. "As an anthropologist, I know the value of ritual and symbols, and this is a magnificent combination of both: showing us that restoring our environment is a daunting task but one that we need to do."
Howe said there is much commentary surrounding "offsetting" carbon emissions through donations to environmental organizations.
"This is a good thing in principle," she said. "But what it misses is that industries, like the airline and fossil fuel industries, are placing the blame on individuals rather than taking responsibility for their own far more massive and damaging emissions. It is a game of blame-shifting that actually slows our response to the climate crisis on the whole; what you and I do individually matters a little, very little. What the executives at major polluting industries do in their corporate actions matters a whole lot."
Boyer said that while the project is somewhat tongue-in-cheek, it is a sincere expression of the need to engage in more caring and reparative relationships with the planet. 
"One of the things I find compelling about the project is that the artist is taking on a serious commitment to physical exertion to bring the ice up to the top of a mountain," he said. "It draws attention to the scales and intensities of energy that we take for granted in modern life."
"It will take global, collective action to slow the catastrophic melting we now see in the Arctic, but symbolic and artistic acts like this show us the power of the human imagination," Howe said. "And that is something we need more of to tackle the climate crisis."