HOUSTON – (Nov. 14, 2022) – Clean energy startups that are ready for investments and pilot programs will showcase their work during The Rice Alliance Clean Energy Accelerator's Nov. 17 Demo Day.
The event hosted by the Rice Alliance for Technology and Entrepreneurship will present quick pitches from 17 companies as well as networking opportunities. Startups will showcase work in areas including advanced materials, energy storage, energy efficiency, hydrogen, wind, wave and geothermal energy. Anyone interested in attending should register here.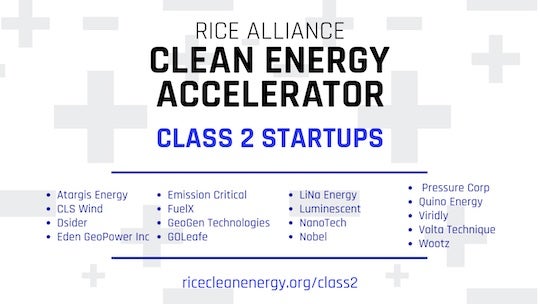 The startups in Class 2, selected from a pool of global applicants, are located in seven states and four countries. Over the last 10 weeks, these companies have progressed through a rigorous curriculum, mentoring from industry experts and individualized support as they prepare to fundraise, launch pilots and accelerate the adoption of their technologies.
While a key goal is to prepare companies to raise the funds they need to grow, this year's ventures have already raised a collective $61 million. Among the achievements from Class 2 during their time in the accelerator are the following:
The 17 companies in Class 2 are: Atargis Energy, CLS Wind, Dsider, Eden, Emission Critical, FuelX, GeoGen Technologies, GOLeafe, LiNa Energy, Luminescent, NanoTech, Nobel Works, Pressure Corp, Quino Energy, Viridly, Volta and Wootz.

Read more about all 17 companies here.
The mission of the Rice Alliance Clean Energy Accelerator is to support the success of emerging, tech-enabled ventures advancing decarbonization solutions and efficiency strategies that accelerate the transition to a clean energy economy. Since launch in 2021, 29 startups through two classes have participated in the global program. The Rice Alliance for Technology and Entrepreneurship has a 20-year history of supporting startups, tech and the innovation ecosystem. Since its inception, more than 975 energy tech ventures have participated in its forums and raised more than $7.2 billion in funding.