HOUSTON – (Aug. 4, 2022) – The Rice Alliance Clean Energy Accelerator's second annual class will put a spotlight on 17 early- to mid-stage startups that collectively have already raised more than $54.5 million.
The annual 10-week program, which kicks off alongside the university's Rice Alliance Energy Tech Venture Forum in September, is Houston's preeminent clean energy startup accelerator. Much of the programming will be delivered virtually, with three visits to the city — including the Demo Day on Nov. 17.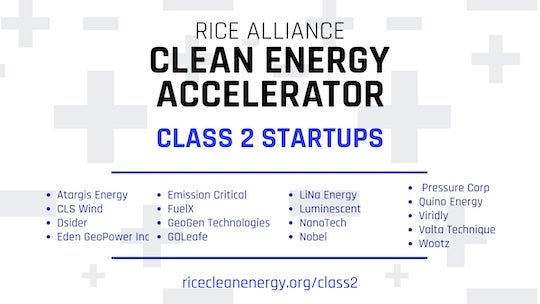 The Clean Energy Accelerator helps startups from around the world raise funds, launch pilots, win adoption into the marketplace and expand their reach through a robust curriculum, customized mentor relationships and targeted corporate and investor introductions.
The 2022 application season sought startups looking to scale their companies and leverage the Houston market, which is a leader in the global energy transition. Selected from an impressive pool of applicants, the Class 2 startups — which come from seven states and four countries — are driving innovation in advanced materials, digital technology for energy, energy efficiency, energy storage, geothermal energy, hydrogen, waste heat to power, wave energy and wind energy.
Atargis Energy is developing an innovative twin hydrofoil-based wave energy converter technology combined with a proprietary feedback control system that combines real-time sensors, predictive algorithms and machine learning to make possible the first predictable, low-cost, utility-scale baseload electricity sourced from ocean waves for utilities and other electricity providers.
CLS Wind is developing a unique system to lift any size wind turbine component to any height using smaller-capacity cranes, an efficient, safe and economical solution to a lack of available high-capacity cranes and vessels.
Dsider is developing a low code solution for climate minded organizations to visualize and analyze their carbon pathways to plan, prioritize and operate sustainably and economically.
Eden GeoPower Inc. is developing electrical reservoir stimulation technology to help geothermal, petroleum and mineral resource developers solve issues with low-permeability reservoirs by effectively increasing permeability in a way that uses less water and emits less CO2 than traditional stimulation methods.
Emission Critical is developing an integrated software-as-a-service carbon accounting and management platform to trace product carbon footprints, analyze abatement opportunities and streamline climate disclosures with their industry-specific approach.
FuelX has developed solid-state hydrogen power systems to help transportation manufacturers meet their customers' growing performance requirements by using high-energy-density systems that outperform batteries and other pure hydrogen solutions.  When coupled with a green hydrogen raw material, FuelX systems provide zero-carbon power. 
GeoGen Technologies is developing a new kind of geothermal that allows oil and gas companies to convert end of life oil and gas wells to economic geothermal.
GOLeafe uses organic materials and non-energy or capital-intensive equipment to produce graphene oxide — the world's strongest, thinnest and most conductive material — through a process that's 10 times more cost efficient and eco-friendly using readily available materials such as hay, sugar and wood chips.
LiNa Energy is commercializing safe, sustainable, solid-state sodium batteries that contain no lithium or cobalt.
Luminescent is building an isothermal expansion heat engine for waste heat recovery along gas transmission pipelines.
NanoTech is developing advanced materials to help businesses and individuals solve fireproofing and thermal insulation challenges with new world particles.
Nobel improves fuel efficiency for gas-fired power plants with drop in, reliable supersonic combustion technology.
Pressure Corp is developing waste pressure power systems to help midstream gas companies solve how they reduce emissions by providing the technology, capital and expertise required to achieve their environmental, social and governance goals.
Quino Energy produces low-cost, long-lifetime aqueous organic flow batteries for grid storage applications. The charge is stored in specially designed organic molecules called quinones, which are produced from cheap chemical precursors in a proprietary, zero-waste process.
Viridly is developing geothermal power plants with patent-pending generator technology alongside geothermal greenhouses to provide the first financially viable way to confidently deliver and scale up the development of baseload geothermal electricity.
Volta Technique's compressed air storage and management technology addresses the unpredictable and ever-increasing cost of energy for large commercial and industrial electricity users while enabling decarbonization of the electricity grid through higher integration of renewable energy.
Wootz is developing a scalable manufacturing process to produce sustainable, cost-effective, high-performance carbon nanotube materials at commercial scale to replace or enhance traditional metallic conductors.
The Rice Alliance for Technology and Entrepreneurship, host of the Clean Energy Accelerator, has a 20-year history of supporting startups, tech and the innovation ecosystem. Since its inception, more than 975 energy tech ventures have participated in its forums and raised more than $7.2 billion in funding.
Class 1 of the Rice Alliance Clean Energy was delivered virtually last summer. The 12 startups in that inaugural class have raised a combined $6.5 million in funding, identified and launched pilots, met investors, hired staff and moved their offices to Houston.
The accelerator is made possible through founding sponsor Wells Fargo and supporters BP, Baker Botts, Chevron, ExxonMobil, Halliburton Labs, Equinor, Microsoft, NRG, Saudi Aramco Energy Ventures, Shell Ventures, Sunnova, TotalEnergies, Tudor Pickering Holt, Canadian Consulate, TC Energy, Phillips 66 and ENI Next.
Learn more about the Rice Alliance Clean Energy Accelerator at ricecleanenergy.org and follow the Rice Alliance on Twitter and LinkedIn to stay connected with the startups' progress.