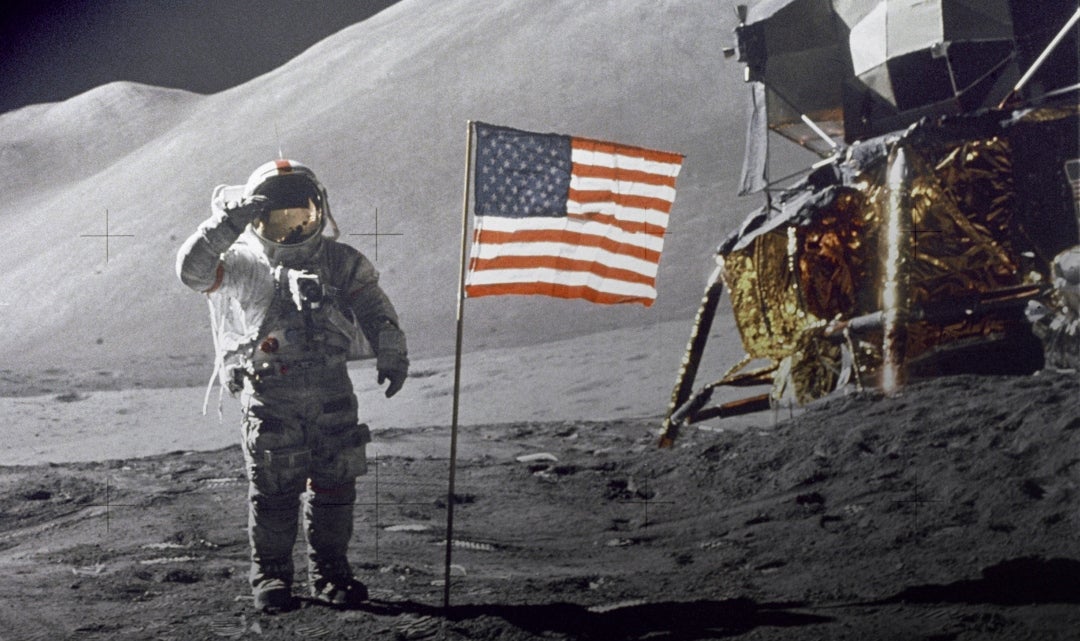 "We choose to go to the moon."
When President John F. Kennedy spoke those seven words on Sept. 12, 1962 to a Rice Stadium echoing with cheers, he forever made Houston synonymous with America's pioneering trek to another world. The rallying cry cemented his ambitious goal: for the United States to land the first person on the moon.
As Rice and NASA prepare to celebrate the 60th anniversary of Kennedy's historic speech, some of the alumni and guests who heard the president's speech are planning to return to the campus for the memorial event. Many of them remember that distant day as a transformative experience.
For Rodney Griffin, a student at Houston's Jack Yates Senior High School who witnessed the event, he realized this speech was something more than just a field trip.
"A group of us boarded the yellow school bus and came across town. The yellow bus rolled into Rice stadium and rolled into history as well," he said. "His call to action about the difficulty of the future moonshot endeavor got my attention."
Griffin's sentiments were matched by other attendees.
"I clearly remember that bright, beautiful day," said Charles Helpinstill '66. "All of us were dressed in white short-sleeve shirts with skinny ties, now seeming to foreshadow Mission Control and the people who would one day engineer the president's proposal."
Even before Kennedy began his speech, the crowd was primed.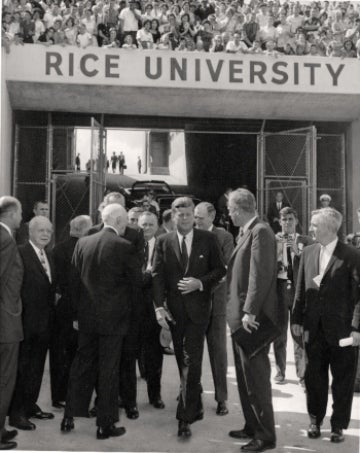 "An open-top limo came out of the south end zone entry with JFK in the back seat," said Homer Walker '66. "The crowd went wild cheering for him. It was a remarkable demonstration of his charisma, before he even said a word."
"I was at Rice Stadium in Houston when President Kennedy committed us to the moon," recalled journalist Dan Rather, who was then a CBS News correspondent stationed in Dallas. "And it was, without apologizing, a thrilling moment."
Kennedy's speech deftly played to the crowd, complimenting the city, the state and the university as he addressed the challenge ahead.
"We meet at a college noted for knowledge, in a city noted for progress, in a state noted for strength, and we stand in need of all three, for we meet in an hour of change and challenge, in a decade of hope and fear, in an age of both knowledge and ignorance," Kennedy said.
"The theme of the speech contained several examples of what made the challenge hard, and he injected local color. 'Why does Rice play Texas?'" Helpinstill recalled.
"I brought my new, miniature reel-to-reel recorder," Helpinstill added. "I thought I would record class lectures on it, and I recorded President Kennedy's speech."
Of course, Helpinstill wasn't the only student in the crowd who recorded the day for posterity. Geoff Winningham '65, who would later become Rice's Lynette S. Autrey Chair in the Humanities and professor of photography, took yearbook photos for the Campanile.
"It means so much more now than it did then," Winningham said. "It seemed so abstract at the time."
The speech's legend has only grown in the decades since. The Apollo 11 moon landing in 1969 was followed by decades of space exploration and feats of human ingenuity that showed what the United States could accomplish when its people banded together for a common goal. NASA has launched more than 100 crewed shuttle flights, landed rovers on Mars and launched telescopes into galactic depths to photograph the cosmos.
The year of Kennedy's speech also marked Rice's 50th anniversary, featuring visits from other dignitaries such as the celebrated cultural anthropologist Margaret Mead to the acclaimed British actor Basil Rathbone. But the crown jewel was Kennedy.
And his address would have a lasting impact on many of the spectators who sat in Rice Stadium on that hot September day. The charismatic young president inspired a lifelong interest in politics for Terry O'Rourke '68 '72, who rode his bicycle to the stadium that day.
"I was a sophomore in high school. I wanted to be in his presence, and as a result, I got in touch with my congressman," O'Rourke said. "The next summer, I was standing on the White House lawn while shaking hands with President Kennedy."
For a mere 20-minute talk, the speech captured the zeitgeist of a nation and ignited America's commitment to planting its flag on the lunar landscape.
Kennedy's address also proved prophetic for the future of Rice and Houston.
"This region will share greatly in this growth," he predicted. "What was once the furthest outpost on the old frontier of the West will be the furthest outpost on the new frontier of science and space. Houston, your city of Houston, with its Manned Spacecraft Center, will become the heart of a large scientific and engineering community."
Rice University's 60th anniversary of Kennedy's "Moonshot" speech will take place Sept. 10- 12. For more information, visit rice.edu/jfk60.