Ramamoorthy Ramesh, vice president for research, has been elected as a National Academy of Inventors (NAI) Fellow, the highest professional distinction awarded to academic inventors.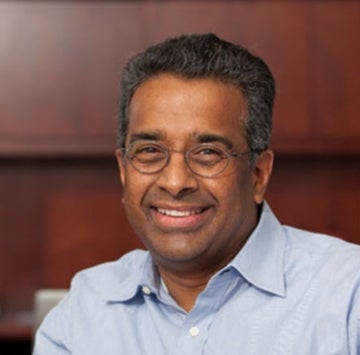 The 2022 fellow class of 169 inventors hails from 110 research universities and governmental and nonprofit research institutes worldwide. They will be honored and presented their medals at the NAI's annual meeting June 27 in Washington, D.C.

Ramesh, a professor of materials science and nanoengineering and of physics and astronomy who oversees Rice's internal and external research ventures, is known for his research on complex functional oxides including ferroelectric materials, work that holds promise toward potentially replacing traditional semiconductor transistors in computer chips.

He possesses vast experience in research and industry, including earning a Ph.D. in materials science and engineering from the University of California, Berkeley, and serving as founding director of the Department of Energy's SunShot Initiative during the Obama administration. He has held a number of influential leadership positions, including director of the Berkeley Nanosciences and Nanoengineering Institute, deputy director of science and technology at Oak Ridge National Laboratory and associate laboratory director at the Lawrence Berkeley National Laboratory.

Ramesh has received numerous honors for his research, including election to the National Academy of Engineering and the American Academy of Arts and Sciences. He is also aforeign member of the Royal Society and a foreign fellow of the Indian National Science Academy.