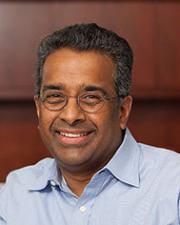 Ramamoorthy Ramesh, a condensed matter physicist and materials scientist with more than 25 years in academia, industry, national labs and government service, has been named Rice University's vice president for research.
Ramesh currently serves as the Purnendu Chatterjee Chair in Energy Technologies and is also a professor of physics and materials science and engineering at the University of California, Berkeley. His appointment comes at a time when Rice, under new President Reginald DesRoches, plans to strengthen its commitment to research.
As vice president for research, Ramesh will oversee the institution's internal and external research ventures. He will partner with Rice's senior leadership — together with deans, faculty and staff — to bolster the university's research infrastructure and propel productivity to new heights.
Ramesh will assume the position Aug 15. He will succeed Yousif Shamoo, who served as vice provost for research for eight years, and Doug Natelson, who has served on an interim basis since June.
"Ramesh comes to Rice with a distinguished research career and a wealth of experience and knowledge in various types of research enterprises," DesRoches said. "I am confident he will be a transformational leader who can strengthen Rice's reputation as a center of increasingly impactful and broad-based interdisciplinary research that retains a deep commitment to pedagogy and the student experience."
Ramesh said he is excited about coming to Rice and joining a strong research team that values the pursuit of a broad scientific and technological framework to solve the most pressing problems of our generation.
"Building upon its rapidly rising research portfolio, Rice has the potential to further strengthen and expand its engagement with public and private funding agencies and be the science and technology beacon for the world," he said. "I look forward to helping make that happen and to engaging on behalf of the university at various state, national and international fora of relevance to the Rice research enterprise."
Ramesh is an internationally recognized leader in materials science and physics with
applications to energy. He has held a number of leadership positions at Berkeley, including director of the Berkeley Nanoscience and Nanoengineering Institute, founding director of the U.S. Department of Energy SunShot Initiative, deputy director of science and technology at Oak Ridge National Laboratory, and associate laboratory director at the Lawrence Berkeley National Laboratory.
On the SunShot Initiative, Ramesh worked under former energy secretary and Nobel laureate Steven Chu to lead a $300 million-a-year initiative aimed at bringing the cost of solar electricity down to grid parity, without the assistance of federal or state subsidies. He set the science and technology agenda, established the funding priorities and oversaw the solar research and development activities at the U.S. national laboratories. The program has been lauded for bringing solar electricity into large-scale deployment around the world.
In his role at Oak Ridge, Ramesh oversaw one of the nation's largest research and development programs in materials and physical sciences, energy and engineering, computational sciences, biological and environmental science, neutron science and global security. The laboratory's annual research portfolio at the time was about $1.5 billion.
Ramesh's appointment at Rice comes after a nationwide search was launched in January and conducted by Isaacson, Miller, one of the country's leading executive search firms. The effort was spearheaded by an 11-member committee of faculty, staff and trustees led by Edward Knightly and Peter Rossky. Knightly is the Sheafor-Lindsay Professor of Electrical and Computer Engineering and a professor of computer science. Peter Rossky is the Harry C. and Olga K. Wiess Professor of Chemistry and a professor of chemical and biomolecular engineering.
"Ramesh has the perfect track record and leadership skills to help launch Rice's research to new heights," Knightly said.
"In addition to his remarkable depth and range of experience, Ramesh brings an exceptional level of personal dynamism that will undoubtedly energize the Rice research enterprise across campus," Rossky said.
Ramesh earned a bachelor's degree in chemistry from Madras University, a bachelor's degree in metallurgy from the Indian Institute of Science, Bangalore, and a master's and Ph.D. in materials science and engineering from UC Berkeley.
Prior to returning to Berkeley in 2004, Ramesh was a member of the technical staff at Bell Communications Research, and served as an associate professor, professor and eventually distinguished University Professor in materials science and engineering at the University of Maryland.
Ramesh has more than 600 publications and 98,000-plus citations. He has given more than 300 invited/plenary/keynote talks and received many honors. He was named a Citation Laureate for his research on multiferroics in 2014 and was elected a member of the U.S. National Academy of Engineering in 2011. He was also named a Foreign Member of the Royal Society of London in 2020 and a Fellow of the American Academy of Arts and Sciences and the Indian National Science Academy in 2022. He is a fellow of the American Physical Society, the American Association for the Advancement of Science and the Materials Research Society.