By Patrick Kurp
Special to the Rice News
Jamie Padgett, the Stanley C. Moore Professor in Engineering and chair of Rice University's Department of Civil and Environmental Engineering, is one of five United States researchers to be named a National Science Foundation (NSF) BRITE Fellow.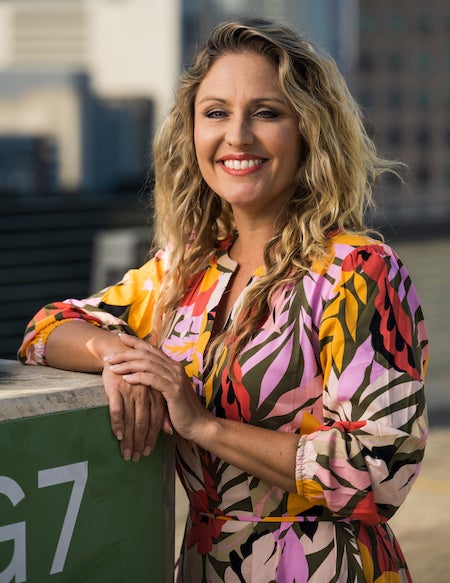 BRITE stands for Boosting Research Ideas for Transformative and Equitable Advances in Engineering. Padgett will receive a five-year, $1 million grant.
The BRITE Fellows program targets established researchers who are leaders in their field and enables them to pursue high-risk, high-reward research.
"In my case, the grant provides the opportunity to rethink the way we approach disaster resilience modeling, particularly as it pertains to the performance of critical infrastructure in communities," Padgett said.
Padgett's proposal is titled "A New Paradigm of Equitable and Smart Multi-Hazard Resilience Modeling." With the funding, she will develop methods for infrastructure resilience modeling in response to uncertain, evolving conditions resulting from earthquakes, hurricanes, flooding and other disasters.
Padgett intends to address inequities in data collection and algorithms to create just, intelligent, adaptable models that result in more confident predictions. "By embracing this transition toward smart, evolving information, we hope to support goals of equitable disaster resilience and climate justice," she said.
Padgett joined the Rice faculty in 2007 and became department chair on July 1. Her research has focused on risk assessment of structures and infrastructure exposed to multiple hazards.
Applications of her work include resilience of transportation infrastructure, from bridges to intermodal systems, and industrial infrastructure, including tanks and petrochemical facilities. Her research helps characterize multihazard fragility and reveals strategies to enhance resilience from the structure to community scale.
Padgett is a fellow of the Structural Engineering Institute of the American Society of Civil Engineering (ASCE) and was founding chair of its technical committee on multihazard mitigation. She received a 2011 NSF CAREER Award and the 2017 ASCE Walter L. Huber Civil Engineering Research Prize. In 2019 she was named the ASCE Engineering Mechanics Institute's Objective Resilience Distinguished Lecturer.
Padgett has published more than 200 articles in journals or archived conference proceedings in the field of structural response, reliability and life-cycle assessment. She is a member of several national technical committees within ASCE, including leadership of the Technical Council on Performance, Safety, Reliability and Risk of Structural Systems. Earlier this year she was named to a four-year term on the executive board of the International Association for Structural Safety and Reliability.
The BRITE program is funded by the Division of Civil, Mechanical and Manufacturing Innovation in the NSF Engineering Directorate.
Patrick Kurp is a science writer for the George R. Brown School of Engineering.
Abstract

BRITE Fellow: A New Paradigm of Equitable and Smart Multi-Hazard Resilience Modeling (ENSURE):

https://www.nsf.gov/awardsearch/showAward?AWD_ID=2227467&HistoricalAwards=false

Image for download

https://news-network.rice.edu/news/files/2022/12/1212_PADGETT-1A-WEB.jpg

CAPTION: Jamie Padgett. (Credit: Jeff Fitlow/Rice University)
Related materials

Padgett Research Group: https://padgett.rice.edu

Department of Civil and Environmental Engineering: https://cee.rice.edu

George R. Brown School of Engineering: https://engineering.rice.edu

About Rice

Located on a 300-acre forested campus in Houston, Rice University is consistently ranked among the nation's top 20 universities by U.S. News & World Report. Rice has highly respected schools of Architecture, Business, Continuing Studies, Engineering, Humanities, Music, Natural Sciences and Social Sciences and is home to the Baker Institute for Public Policy. With 4,240 undergraduates and 3,972 graduate students, Rice's undergraduate student-to-faculty ratio is just under 6-to-1. Its residential college system builds close-knit communities and lifelong friendships, just one reason why Rice is ranked No. 1 for lots of race/class interaction and No. 1 for quality of life by the Princeton Review. Rice is also rated as a best value among private universities by Kiplinger's Personal Finance.