The Rice volleyball team rallied to defeat host and three-time defending champion Western Kentucky University 3-2 Nov. 20 to claim its first Conference USA tournament title since 2018 and book a trip to the NCAA Tournament.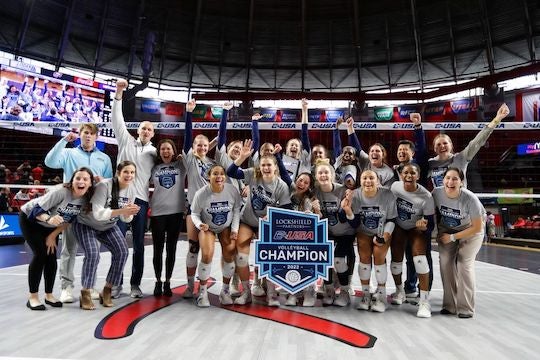 After 3-0 sweeps against Florida International University in the quarterfinals and the University of Texas at El Paso in the semifinals, the Owls (26-3) faced a Hilltoppers team (28-3) that had defeated them on the same floor Nov. 11. Trailing 2-1 in the fourth set, Rice denied two Western Kentucky match points before prevailing 28-26 thanks to kills from Lola Foord and Sahara Maruska, assisted by tournament MVP Carly Graham. The Owls took the final set 15-11 to secure victory.
Graham, Maruska, Nia McCardell and Anota Adekunle were named to the all-tournament team. The Owls will learn where they're headed for the NCAA Tournament during a selection show Nov. 27.
"I'm just overwhelmed with joy because this team just makes me so proud and I'm happy that they're getting to reap the benefits of all their hard work," Owls head coach Genny Volpe told RiceOwls.com. They have bought in from day one to this program and to each other and, it's just nice to see them finish it off with a championship and earn it because they certainly did."
For more, visit RiceOwls.com.