Mezzo-soprano Jennifer Johnson Cano '08, fresh off her Houston Grand Opera debut as Mother Marie in Poulenc's "Dialogues of the Carmelites," found herself back on a familiar stage Jan. 21 to speak with some of the Shepherd School of Music's aspiring opera stars.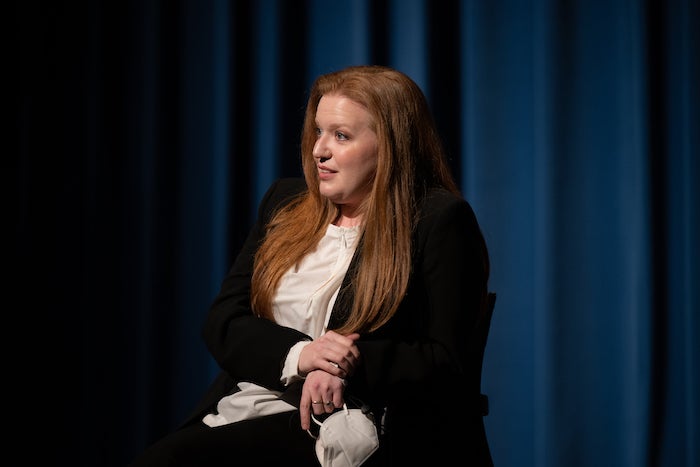 "Whenever I'm in a city where I went to school I always like to visit and ask, 'What questions do you have as you enter this wild and wonderful vocation?'" Cano said with a laugh as she took the stage before a rapt audience.
Cano came to Rice for her master's degree in opera performance after graduating from Webster University in St. Louis. During her second year at the Shepherd School, she won the ultra-prestigious Metropolitan Opera competition, which has launched the careers of some of the biggest stars in the opera world. She was also invited to be part of the Met's esteemed Lindemann Young Artist Program. Shortly after, she started life as a working singer in New York City, something that was "a great relief" to her parents, she said, chuckling.
Since then, Cano's been in high demand for her stage presence and artistry, receiving critical acclaim for her performances of new and standard repertoire. The Shepherd School students peppered her with a variety of questions, from how to land gigs to what she wished she knew before launching her career.
Cano said having a strong sense of self-awareness will serve students well as they navigate the profession..
"When I went to New York, it was very helpful that I had a strong sense of who I was, what I wanted and what I thought I was capable of," she said. "As a result, I was able to make the most of my interactions with all of these different people, as opposed to not having that center, not feeling grounded, and then feeling like you're having to please people … at every turn, and … having to sacrifice parts of yourself."
When asked about a favorite role, Cano said it was difficult to name just one.
"I really love everything that I have had the chance to do," she said, noting that she's performed Beethoven's Symphony No. 9 frequently and loves watching the audience react to it. "I would repeat almost anything that I've done again."
After about an hour, Cano thanked the Shepherd School students for the opportunity to connect with them and wished them the best and "the most beautiful careers."
"I hope you have whatever success it is that you dream of," she said.
To learn more about the Shepherd School's Department of Opera Studies, visit https://music.rice.edu/departments-and-ensembles/opera .