HOUSTON – (March 30, 2022) – OpenStax, Rice University's educational technology initiative, is now accepting applications for colleges and universities to join its Institutional Partner Program for the 2022-2023 academic year. The deadline is May 2.
The OpenStax Institutional Partner Program provides institutions with free coaching and training on using open educational resources (OER). Schools have seen an average 150% increase in the number of students using OER in the first year after they adopt the program, which has saved students a combined $19.6 million and put more flexible course materials in the hands of educators.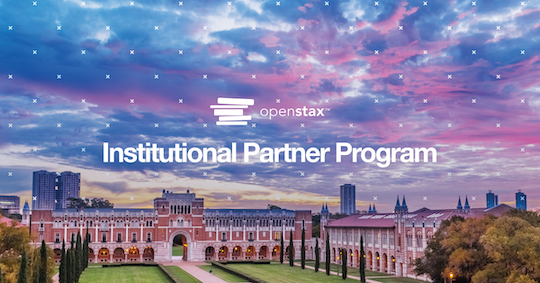 The program provides guidance and support to a dozen new schools each year as they work to expand their use of OER. Since 2015, OpenStax has helped more than 70 colleges and universities do so.
"We provide individualized guidance and a community of peers to the schools that join the Institutional Partner Program because we know that their OER initiatives will be more successful if they don't have to go it alone," said Sonya Bennett-Brandt, assistant director of institutional relations at OpenStax. "Any U.S. college or university that is interested in bringing more free, open educational resources to its students is encouraged to apply."
Schools participating in the Institutional Partner Program develop their own strategies for increasing OER, then work with OpenStax to create a plan for implementation, all while having access to peer-to-peer support and guidance.
Learn more about the program and access the application form here.