After days of campuswide fêtes and the formal investiture of Reginald DesRoches Oct. 22, Rice's eighth president and his family were honored at a glittering inaugural gala, where DesRoches was touted for his leadership, compassion and grand vision for the university's future.
The celebration, held in the 20,000-square-foot Inauguration Pavilion constructed for the occasion, punctuated three days of revelry. The postcard-perfect weather was topped only by the joyous reception for Rice's new president.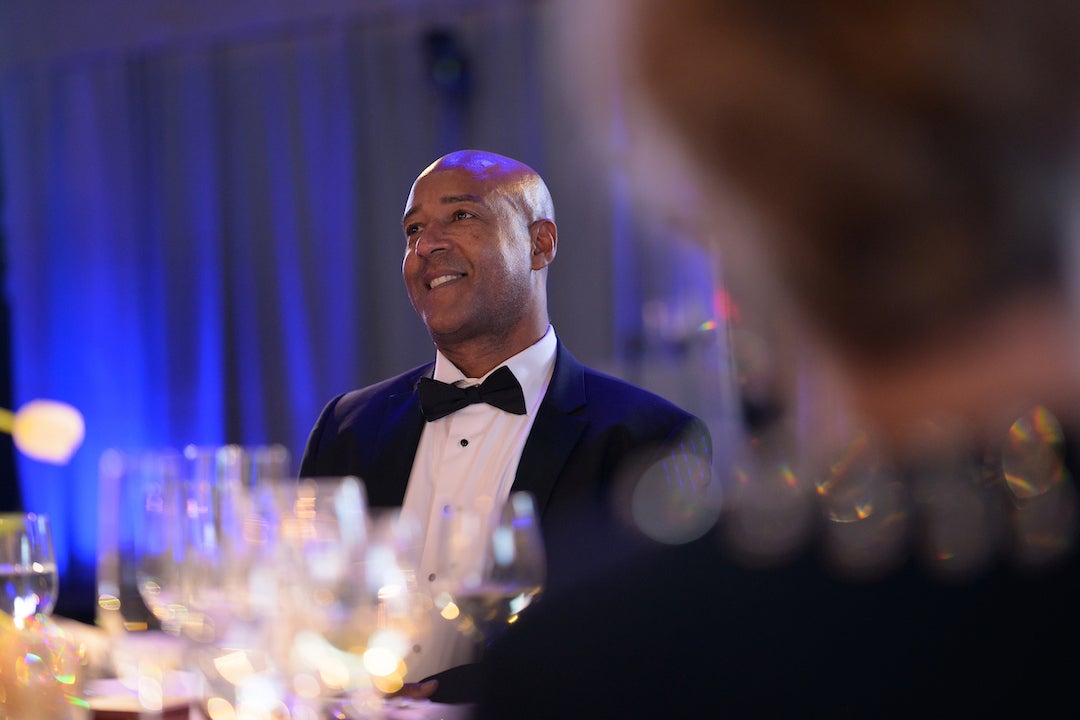 "I think he's the man for the time," said Jim Crownover, former chair of the Rice Board of Trustees. "He's the appropriate person to lead us forward. We've accomplished so much, and we'll do the same under Reggie. I thought his remarks today were absolutely perfect."
"It's been an incredibly historic day," said Howard R. Hughes Provost Amy Dittmar. "It's been so great to see all of the enthusiasm of the alumni, the students, the faculty and the staff come together at this moment that's really all about Rice's future."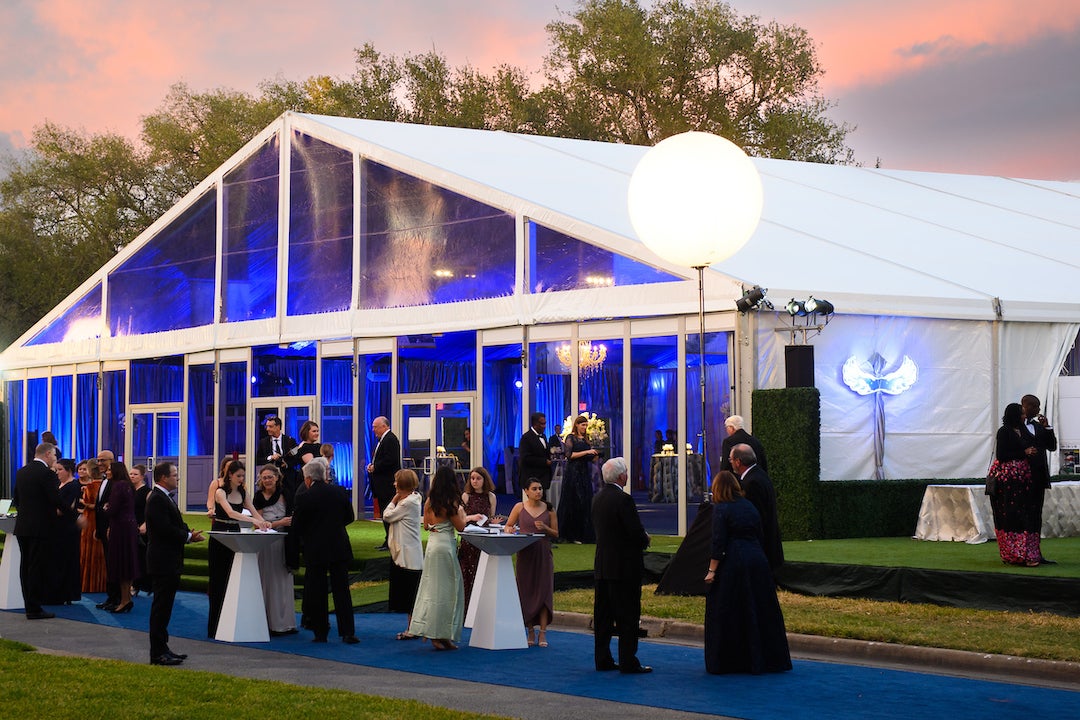 Rice Board of Trustees Chair Robert Ladd welcomed everyone to the event, recognizing the many special guests assembled to celebrate.
"It was a special weekend at Rice, and it's been a wonderful time here on campus," he said.
It was an evening of heartfelt reflections from those who know and love DesRoches best, whether it was onstage, in a video tribute or among the approximately 400 guests. Visibly moved by the anecdotes delivered onstage, in video tributes and face to face by attendees, DesRoches described the inaugural events as "overwhelming."
"It's been amazing, I'm just so overwhelmed with appreciation, and honored and humbled," he said. "I have such a great appreciation for how incredible the community is. We're just so excited."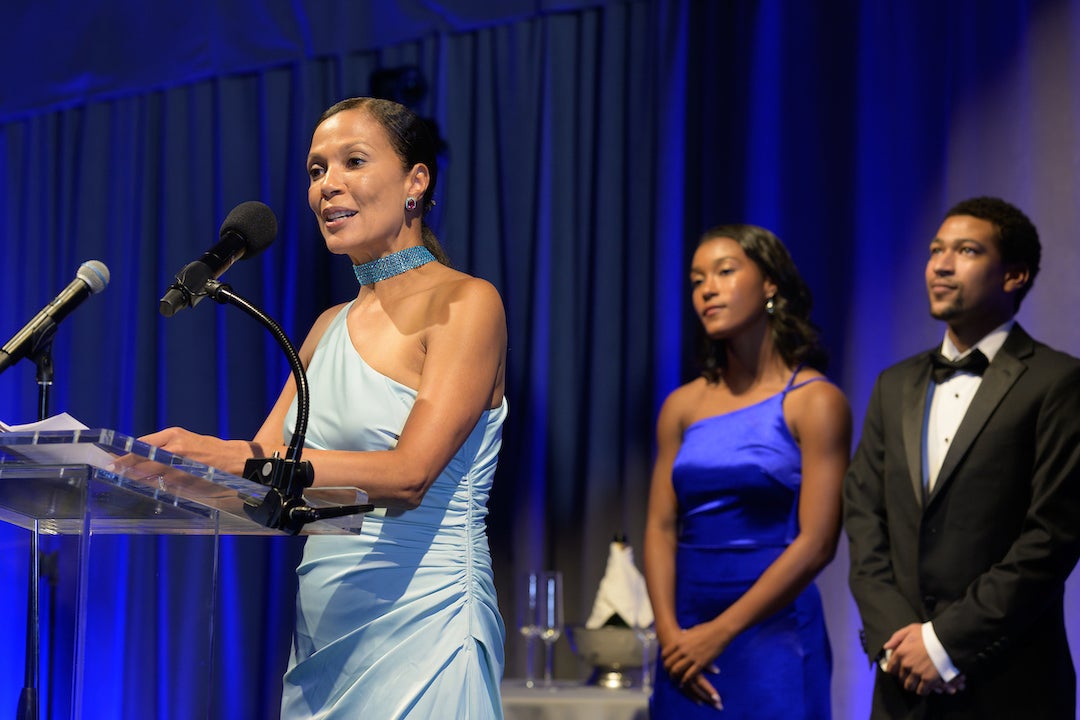 And while DesRoches was lauded throughout the event for his intellect, leadership abilities, career accomplishments and desire to give back to the community, he was also celebrated as a devoted father, thoughtful husband and supportive colleague who always puts others before himself — "qualities that will create a positive impact on this university and define his tenure at Rice as a president," said his wife, Paula DesRoches.
"I really love how Reggie stresses the importance of caring about others," said Ruth López Turley, director of Rice's Kinder Institute for Urban Research and a professor of sociology. "I just think it's so important. As a university, we want to excel, but we want to value the importance of caring, and that is very inspiring to me."
"I've known Reggie for several years now. One of the things I like most about him is he's really down-to-earth, really approachable," said Clemente Rodriguez, Rice's chief of police, director of public safety and a member of the inauguration committee. "I'm just excited. I really think the events of the past few days have been great, and really speak to how excited the whole community is for Reggie, and his tenure as a president."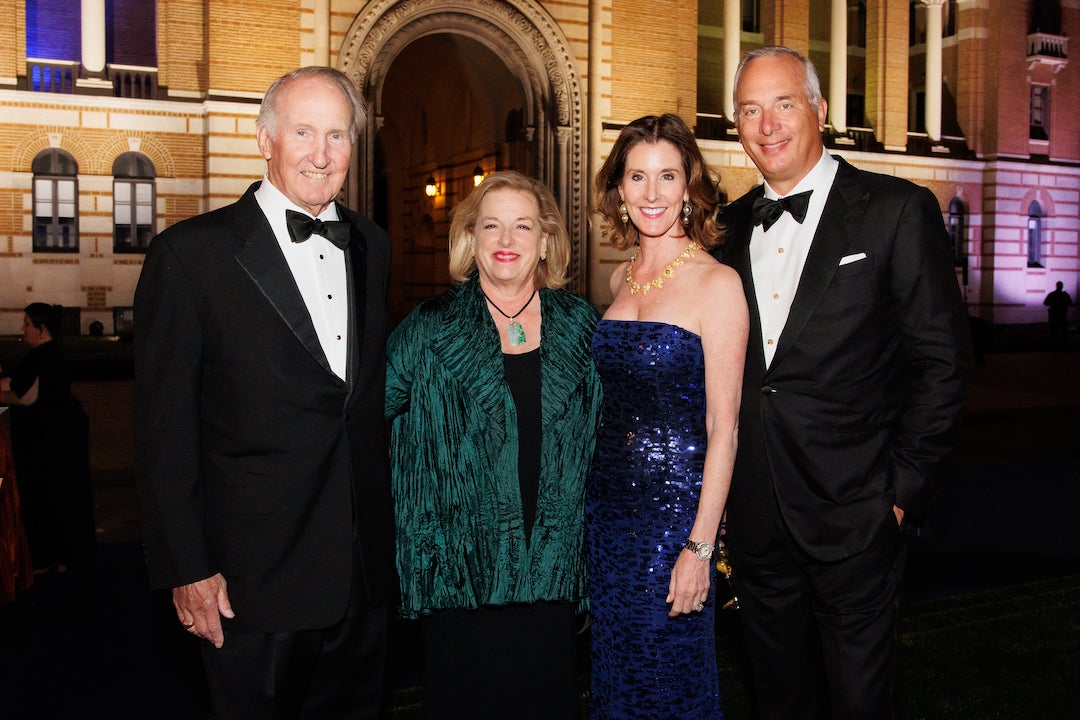 One memorable example of DesRoches' service-oriented nature highlighted during the event was his work in Haiti, the country of his birth, following the devastating earthquake that hit Jan. 12, 2010. DesRoches, a renowned structural engineer, served as the key technical leader in the United States' response. He emerged as a caring, compassionate voice of reassurance to the Haitian community in the U.S. and in Haiti.
"I was never as proud of him as I was at that time, and what he did was something that the country needed," said DesRoches sister, Maggie DesRoches Austin, in a video message. "And he recognized that and he wanted to put that trip together and wanted to be able to help."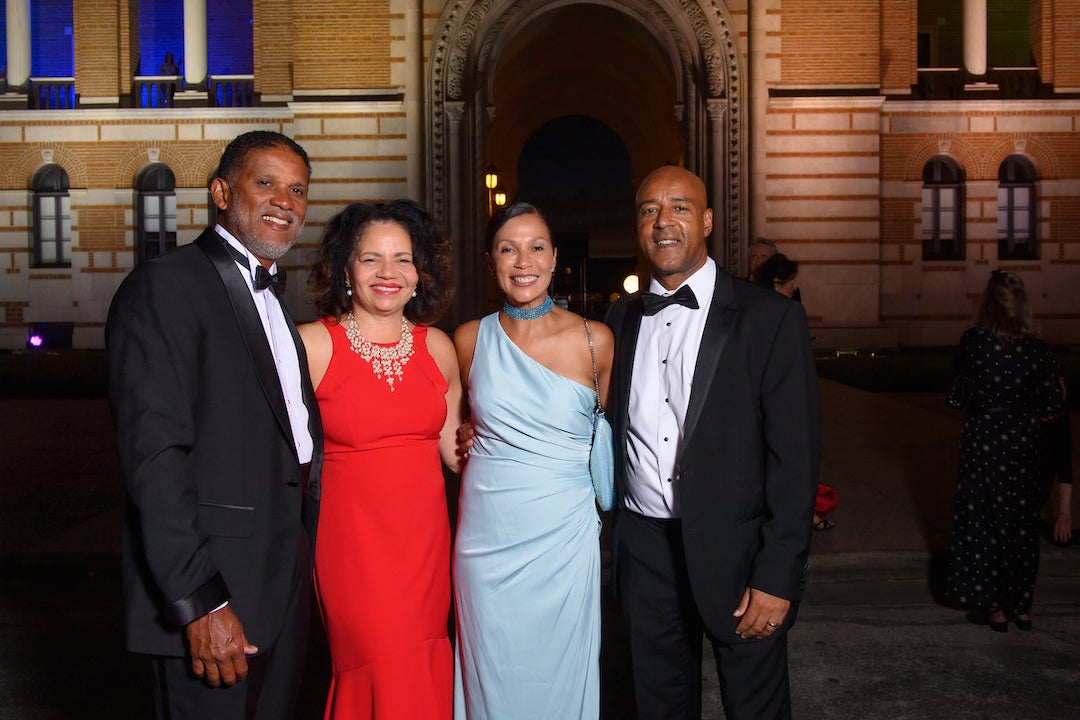 Gary May, chancellor of the University of California, Davis, took the stage to reflect on his 35-year friendship with DesRoches, whom he met when they were students at the University of California, Berkeley and worked with at the Georgia Institute of Technology. While he lauded DesRoches for his career achievements and leadership, he spoke most movingly about his kindness, steadfast support and the "great blessing" of his friendship.
"I honestly cannot think of anyone more deserving or more prepared to lead Rice University," he said. "With this inauguration, Reginald DesRoches will carry on a long and proud tradition of excellence at Rice University. But I expect he will do much more than that. He's a person with a grand vision for the future. And he has the charisma and the compassion to inspire others to work collectively for the greater good. He chooses to serve, to innovate, to lead, not because it's easy, but because it's the right thing to do — and because it will serve students, faculty and staff and alumni, and will make Rice University, higher education, Houston and the world better."
In his remarks to the gala attendees, DesRoches thanked everyone for the "incredible events" connecting him to all the different members of the Rice family.
"Each of you plays a very pivotal role in the success of this great university," he said. "And I stand on the shoulders of the many great leaders that came before me."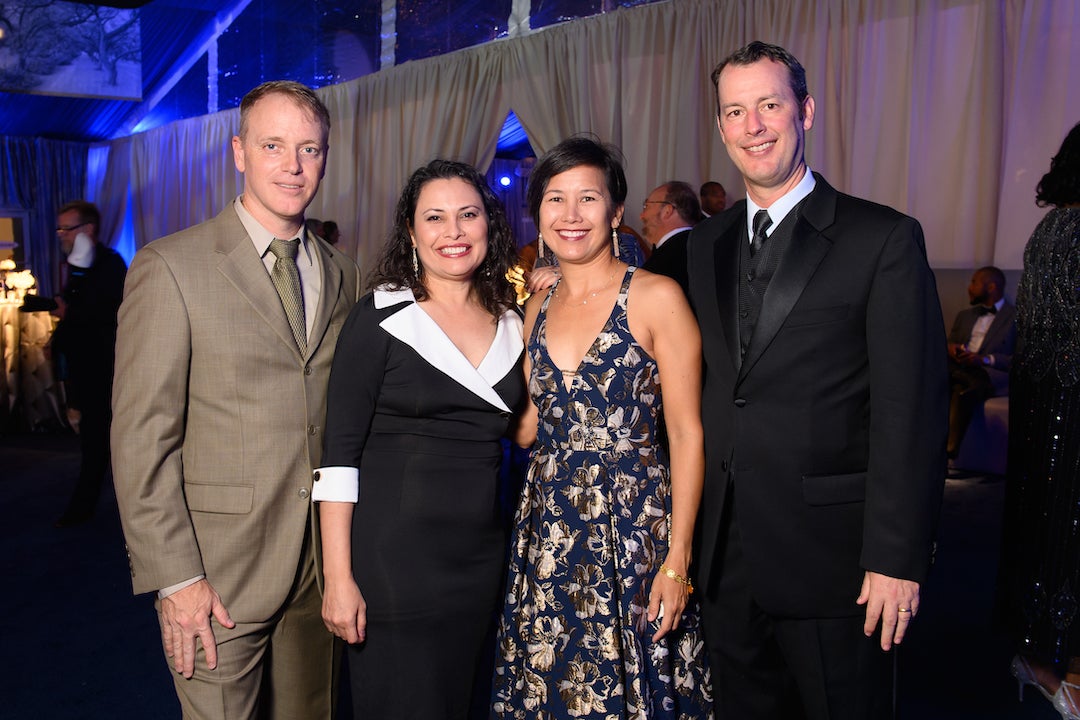 The event, which also featured performers from the Shepherd School of Music, concluded with a 10-minute drone show above the academic quad and dessert, champagne and mingling outside the Inauguration Pavilion.
"What was nice about today was the inauguration was about his vision, where he wants to take the school, and about leadership and why that's important now," said David Rhodes '96, a member of the Rice Board of Trustees. "The gala was more personal in sharing about who he is, and how he and his family are going to approach this (next chapter)."
"I'm just really proud of Rice and all that this means for our future," said Trustee Emeritus Donald Bowers '91 of DesRoches' presidency.
Gloria Tarpley '81, a member of the Rice Board of Trustees and co-chair of the inauguration committee, called it "such an honor" to lead the celebration with co-chairs Elle Anderson '01, a fellow trustee, and Fred Oswald, the Herbert S. Autrey Chair in Social Sciences.
"The genuine enthusiasm of the various constituencies at Rice — alumni, students, staff and faculty — was palpable," Tarpley said. "It was a joy to help create avenues of celebration for all the different groups."
"It was an incredible weekend, celebrating with everybody," Anderson added. "But I think the best part was how genuinely happy Reggie and Paula are about being at the university. Just to see how excited they are and wanting everyone to feel like they're part of Rice, whether it's inside or outside the hedges, that's really one of their priorities. And I feel like this weekend was did a good job of kind of building on that."