HOUSTON – (Aug. 1, 2022) – Computer scientists from Rice University, in collaboration with the University of Texas at Austin and the University of Washington, have received a $3 million grant from the National Science Foundation to develop runtime programmable networks that can respond to real-time changes rapidly and without interruption of service.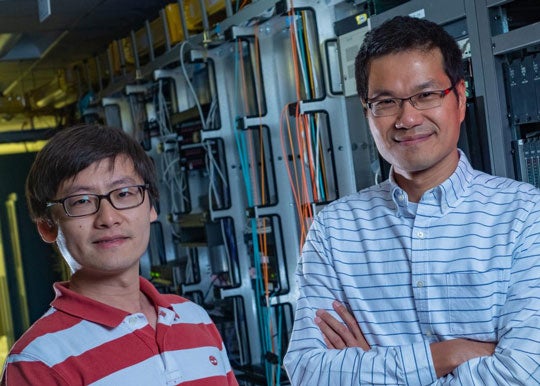 At present, changing networks is intrusive, making it a challenge to address issues that require a fast response, such as reacting quickly to cyberattacks.
"Runtime programmability aims to transform the way cloud infrastructure is used and operated due to its fast response to live changes,"said Rice's Ang Chen, principal investigator on the four-year grant from NSF's Division of Computer and Network Systems.
Rice's Eugene Ng, a co-principal investigator, said, "In today's network programming paradigm, developing new features is already easier than ever, but deploying these new features into a running network requires broad maintenance to avoid disruption of service."
Chen, an assistant professor of computer science, and Ng, a professor of computer science, each have joint appointments in Rice's electrical and computer engineering department. Their collaborators on the grant are UT Austin's Aditya Akella and UW's Arvind Krishnamurthy and Thomas Anderson.
Deploying new features in a running network "requires meticulous planning well ahead of time," said Akella, the Regents Chair in Computer Science at UT Austin. "We aim to remove this barrier by developing runtime programmable networks which can effect a desired change in seconds without downtime."
"FlexNet has the potential to deliver a wide impact to society," said Krishnamurthy, the Short-Dooley Professor in UW's Paul G. Allen School of Computer Science and Engineering. "We hope to increase the manageability of cloud networks and deliver new technologies faster. In particular, the ability to reprogram the network in real time will enable flexible security protections against fast-changing attacks."
Anderson, the Warren Francis and Wilma Kolm Bradley Chair of Computer Science and Engineering at UW, said, "We call this vision FlexNet, and we're collaborating closely with leading industry players to realize it and deploy the technologies."
The FlexNet team will hold a kickoff workshop at Rice on Aug. 25-26 that will be attended by industry partners from 11 companies, including Microsoft, Google, AMD and Ericsson.
Grant information

"Collaborative Research: CNS Core: Large: Runtime Programmable Networks" | National Science Foundation

Image download

https://news-network.rice.edu/news/files/2022/07/0801_FLEXNET-b-lg.jpg
CAPTION: Rice University computer scientists Ang Chen (left) and Eugene Ng are collaborating with researchers at the University of Texas at Austin and the University of Washington to develop programmable networks that respond to change in seconds without downtime. (Photo by Jeff Fitlow/Rice University)

About Rice

Located on a 300-acre forested campus in Houston, Rice University is consistently ranked among the nation's top 20 universities by U.S. News & World Report. Rice has highly respected schools of Architecture, Business, Continuing Studies, Engineering, Humanities, Music, Natural Sciences and Social Sciences and is home to the Baker Institute for Public Policy. With 4,240 undergraduates and 3,972 graduate students, Rice's undergraduate student-to-faculty ratio is just under 6-to-1. Its residential college system builds close-knit communities and lifelong friendships, just one reason why Rice is ranked No. 1 for lots of race/class interaction and No. 1 for quality of life by the Princeton Review. Rice is also rated as a best value among private universities by Kiplinger's Personal Finance.