Update on Rice's EarthCam: We received positive feedback on the livestream image of the Academic Quad, but we also heard from people who have concerns about it. In response, we decided to turn the camera off and leave it off until we have an opportunity to hear more from both those who have praised it and those who are concerned about it, which will allow us to better assess the situation.
HOUSTON – (Jan. 6, 2022) – A live television shot of one of the most iconic sights in Houston is now streaming at all hours of the day and night, providing 24/7 video of Rice University's Academic Quadrangle.
Television producers and meteorologists are welcome to use the shot during news and weather broadcasts. The camera mounted atop Rice's Fondren Library is linked to EarthCam, the leading network of livestreaming webcams deployed around the world.
The live video can be found at https://www.rice.edu/earthcam.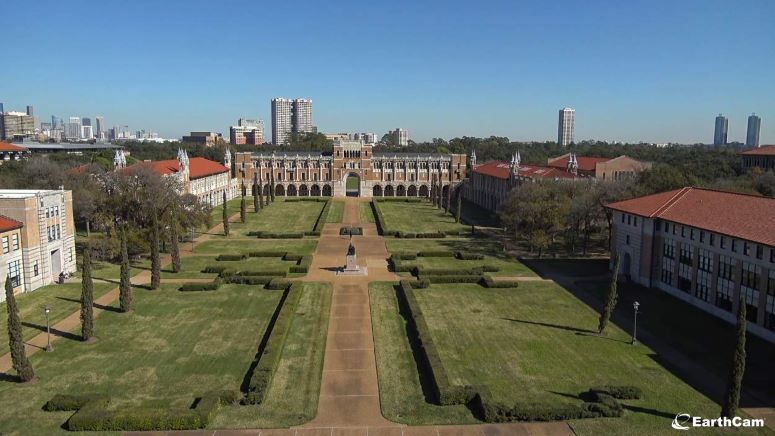 The image is dominated by Lovett Hall, Rice's original building opened in 1912, and the green landscaped grounds of what students affectionately call the Quad. Hermann Park and downtown Houston's skyline are visible in the background.
Every morning, the camera shows the sun rising over the campus and Hermann Park. In the evening, the setting sun casts a warm glow on Lovett Hall's red bricks made of clay excavated from Buffalo Bayou, the pink Texas granite trim and the gray Ozark marble incorporated in campus architecture. At night, the illuminated campus buildings are bathed in a golden glow.
"In the late afternoon, just before sunset, Lovett Hall to the east takes on a magical quality," wrote John Boles, a retired Rice professor of history, who made a point of claiming an office directly below the spot where the live camera is now mounted.
A video of the retired professor showing off the view from his window can be found at https://www.youtube.com/watch?v=AvwEXHDTfiw .
-30-
Located on a 300-acre forested campus in Houston, Rice University is consistently ranked among the nation's top 20 universities by U.S. News & World Report. Rice has highly respected schools of Architecture, Business, Continuing Studies, Engineering, Humanities, Music, Natural Sciences and Social Sciences and is home to the Baker Institute for Public Policy. With 4,052 undergraduates and 3,484 graduate students, Rice's undergraduate student-to-faculty ratio is just under 6-to-1. Its residential college system builds close-knit communities and lifelong friendships, just one reason why Rice is ranked No. 1 for lots of race/class interaction and No. 1 for quality of life by the Princeton Review. Rice is also rated as a best value among private universities by Kiplinger's Personal Finance.
​