If you're one of the most prominent public intellectuals in France, like Éric Fassin, it means you're regularly featured on popular late-night television shows and in daily newspapers. It also means you become a lightning rod for animosity and threats from people who disagree with you, which Fassin has famously experienced during his years as an essayist, scholar and professor in France.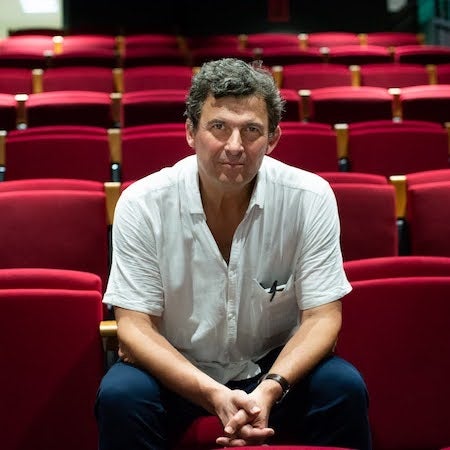 Fassin will give a lecture March 21 at 4 p.m. in Rice's Kraft Hall and via webinar that's free and open to the public. His talk, "In the Name of Freedom: Authoritarian Neoliberalism Against Academic Freedom," will take place in person and is co-sponsored by the Department of Modern and Classical Literatures and Cultures (MCLC), the Program in Politics, Law and Social Thought (PLST), the Humanities Research Center and the School of Humanities.
Fassin argues that academic freedom is under threat, not only in illiberal regimes such as Hungary, Turkey and Russia but also in such supposedly liberal countries as Britain and France. The culprit is a thorny combination of neoliberal reforms reducing the pursuit of knowledge to purely economic factors and ongoing campaigns against such topics as critical race theory. All of it, Fassin says, fuels the political anti-intellectualism embodied by figures like Brazil's Jair Bolsonaro or former U.S. President Donald Trump, which itself is a reaction to the rise of minority politics.
"What's at stake is democracy itself," said Julie Fette, associate professor of French studies. Students in her 400-level course on immigration and citizenship, taught entirely in French, have spent the semester studying French campaign videos and other materials ahead of the country's April elections.
Fette's students will be among those Fassin will address ahead of his lecture, and the professor  anticipates plenty of questions for Fassin, who previously taught at Brandeis University and New York University before returning to France in 1994. He currently serves as a professor of sociology at the Paris 8 University Vincennes-St-Denis. He has regularly written articles in English for publications such as "French Politics, Culture & Society," and "Contemporary French Civilization" and is the author, with brother Didier Fassin, of "De la question sociale à la question raciale?" ("From the Social Question to the Racial Question").
"Eric Fassin doesn't just speak to French studies, but speaks to the whole university," Fette said.
In October 2020, a French teacher named Samuel Paty was beheaded outside his school by a man angry that the teacher had shown controversial cartoons of the Prophet Mohammad from French magazine "Charlie Hebdo" during a lesson on freedom of expression. (In 2015, two terrorists killed 12 "Charlie Hebdo" journalists and injured 11 others in an attack over the same cartoons.) Following Paty's murder, Fassin began receiving public threats of decapitation from people who accuse academics like Fassin of "Islamo-gauchisme."
"Islamo-gauchisme is a right-wing accusation against academics such as sociologists, political scientists, historians who study race and Islam and exclusion and the failures of French society to integrate others," Fette said. "Such scholars are accused of being apologists for radical Islamist terrorism."
In response to Paty's murder, French Minister of National Education Jean Michel Blanquer declared "Islamo-leftist" academics like Fassin to be "the intellectual accomplices of the crime."
Fassin "is a target for so many people who are struggling to explain their world, including academics," Fette said.
Both Blanquer and French president Emmanuel Macron have been outspoken about educators and intellectuals discussing race and discrimination, which they claim creates division and undermines France's ideal of a united society. And last summer, French Minister of Higher Education Frédérique Vidal provoked outrage when she told a reporter during an interview that "Islamo-leftism not only pollutes universities but the whole of society."
Vidal ordered an investigation into those "looking at everything through the prism of wanting to fracture and divide," which was met with a swift backlash from universities across France. The McCarthy-esque investigation has since been dropped by government authorities, but threats to academic freedom remain real in France.
"Political discourse on the right and in most of Western Europe has become far more radicalized than it was only a few years ago," said Christian Emden, the Frances Moody Newman Chair and Professor of German Studies, who serves as MCLC's department chair and was one of the founding directors of PLST. "Fassin is not a professional politician in any way, but he shows how public intellectualism plays an important role in French politics in a way that is sadly not the case of the English-speaking world."
In a country that, in many ways, sees itself as a post-racial, colorblind society, simply writing and talking about structural racism within France paints a target on Fassin's back. Yet as anti-intellectual rhetoric and political violence grow across the Western world, these conversations are more important than ever.
"Having an outsized public intellectual coming to Rice is very special of course, but his talk also shows the enormous political relevance of the work and the discussions that are taking place in the humanities and social sciences," Emden said. "We deal with really fundamental questions that affect all of us."
"In the Name of Freedom: Authoritarian Neoliberalism Against Academic Freedom," March 21, 4 p.m. Kraft Hall and via webinar. Register online.