Hailed as "wonderful leaders" and "a positive force for Rice," President David Leebron and his wife, Y. Ping Sun, were celebrated with a gala at the Ion April 29 honoring nearly two decades of service to a university that, as one attendee put it, "is better for all they have invested in our institution."
"It's a mixture of happiness and sadness," said J.D. "Bucky" Allshouse '71, an emeritus member of the Rice Board of Trustees. "Happiness as I always love to see David and Ping, but sad to know that they're going on to a new venture. But I know they'll be around a lot. I feel honored and privileged to be here tonight at this great event celebrating them."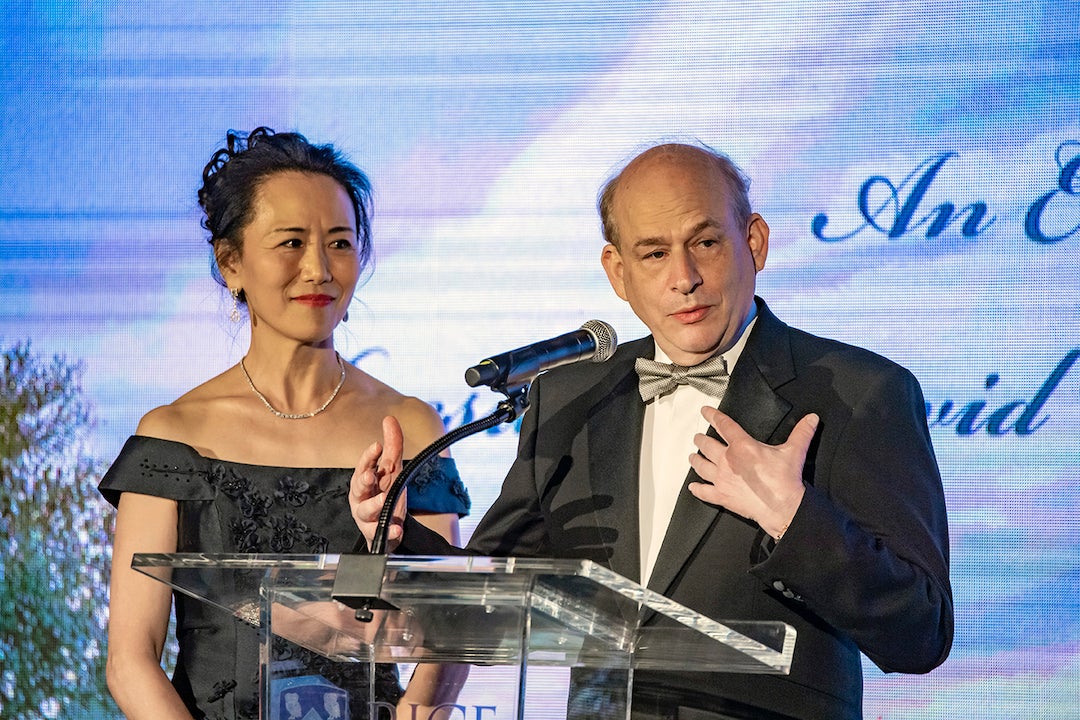 It was an evening of sentimental grace for the couple, spanning Leebron's recruitment for the role of president at Rice to his final months in office, highlighted by anecdotes from those who knew them best. Hundreds of guests including present and past trustees, alumni, other supporters of the university, Rice faculty, staff, community leaders and friends gathered to honor Rice's second-longest-serving president -- second only to Edgar Odell Lovett -- and Sun for their vast contributions to the university, the city of Houston and beyond.

"This is a different Rice than the Rice I experienced in the 1970s when I was an undergrad," said former Houston Mayor Annise Parker '78. "This is even a different Rice than the Rice I experienced as mayor of Houston. It has changed and evolved tremendously. David Leebron has had a huge role in that shift. The most exciting part is how much more integrated and connected to the broader Houston community Rice is. We were proud back in the 1970s of being behind the hedges, and now we're proud of a worldwide university that is also intimately involved in the daily life of Houston."
"I'm super excited to be here tonight," said Ruth López Turley, professor of sociology at Rice and director of the Kinder Institute for Urban Research's Houston Education Consortium; she will assume the directorship of the Kinder Institute July 1. "I think it's a big celebration of all that David has done over the last many years, and it's also a big celebration of Ping, because she has contributed so much to the university. They're both so phenomenal."
David Rhodes '96, the head of international business development at Sky News who flew in from London for the event, welcomed everyone before turning the microphone over to Jim Crownover, former chair of the Rice Board of Trustees. Crownover headed the search committee that recruited Leebron while he was dean of Columbia University Law School and eventually selected him as the university's seventh president. He lauded Leebron's communication and teambuilding skills, as well as his ability to inspire a sense of purpose into the Rice community.
"David and Ping, you've just had such a profound impact on Houston and Rice," he said.
Houston Mayor Sylvester Turner took a moment to praise Leebron and Sun on their contributions to the Bayou City, including their partnership on Hurricane Harvey relief efforts, service on countless boards, support of tech and innovation efforts, addressing climate change in the energy capital of the world and much more.
"You have taken this institution to a heightened state and because of what has taken place at Rice, Houston is a stronger and more sustainable city because of your incredible service over the last 18 years," he said.
Turner then proclaimed April 29 "David Leebron and Y. Ping Sun Day."
Anne Chao took the stage after Turner to talk about her close friendship with Sun, who she said has "far exceeded her official capacity as university representative."
"Ping is kind, energetic, beautiful, gracious, brilliant and wildly popular," Chao said. "She has mentored countless Rice students, and treated faculty, staff, trustees and friends of Rice University with equal respect and care. Ping made Rice more visible internationally and more relatable beyond the hedges. And her board services are as numerous as her legions of admirers."
Following Chao's remarks, Rhodes invited Leebron and Sun to the stage as he read a personal note from Leebron's law school classmate, U.S. Supreme Court Chief Justice John Roberts.
"Congratulations as you conclude your distinguished 18-year tenure as president of Rice University," Roberts wrote. "When we met 45 years ago, you were already building a career as an energetic legal scholar and gifted administrator. In the ensuing years, you've grown your vision and extended your reach, propelling Rice to the forefront of academic institutions. As a result of your presidency, Rice University has established a global reputation for excellence. You should indeed be proud. I send every good wish to you and Ping in your next chapter."
As the crowd toasted the couple, Leebron took the microphone for his own remarks, peppered with the dry wit that has become his trademark during 18 years with Rice.
"I appointed (Roberts) as managing editor for (Harvard) Law Review," Leebron said. "It was the first time I had a title 'president,' which gave me this title envy. But I did take complete responsibility for every appointed position that he has had since, with which he heartily agrees," he said, prompting laughter from the audience.
Leebron said he was attracted to Rice by a century-old vision put forth by its founding president, Lovett, and the board's commitment to realizing and exceeding that vision.

"I saw this opportunity to be part of something that spans the breadth of human endeavor and ideas," he said. "And I was really excited about that."
Leebron then thanked members of the Rice and Houston community for their work and partnership throughout the years.
"To all of you, and so many others who contributed to our university in many different ways, I think we have created new possibilities and new areas of excellence," he said. "Everybody in this room made that possible. Thank you from the bottom of our hearts."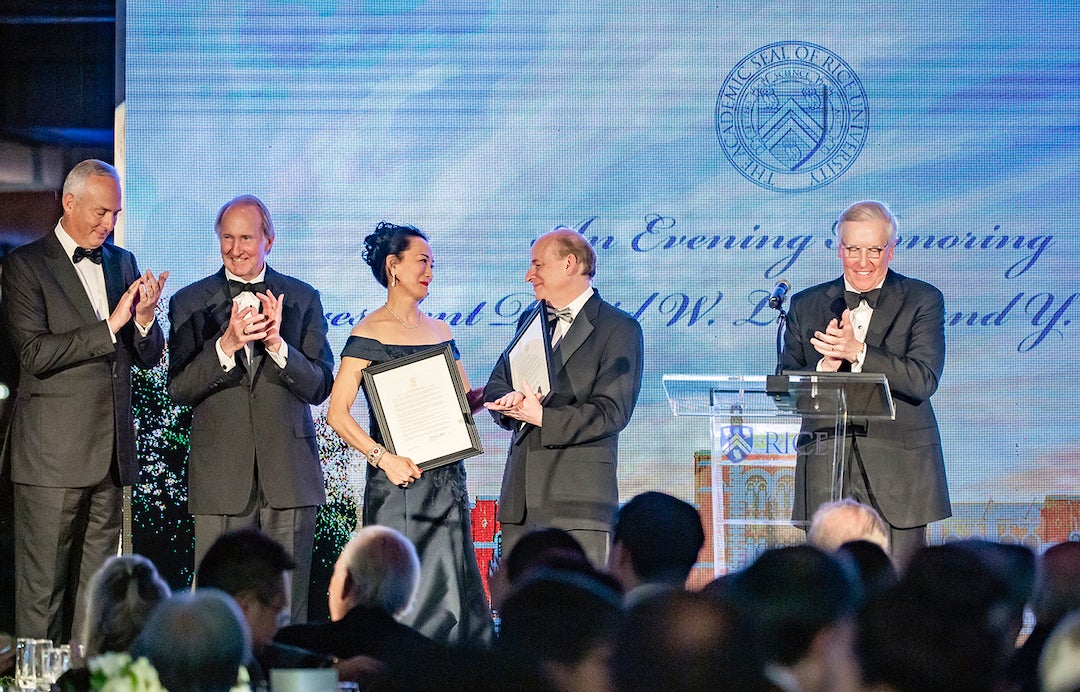 Sun echoed his praise for the university and Houston communities. She closed her remarks with words of admiration for her husband.

"He is amazing," she said. "He is the best husband and the best father one can ask for. He is so honest yet understated, with a warm heart. He's a wonderful person, and I'm so lucky to be his partner."
Rice Board of Trustees Chair Robert Ladd closed the evening with praise for Leebron as "an incredible intellect" who was "calm in moments of crisis and patient in making important decisions." Ladd was joined onstage by former Board of Trustee chairs Bobby Tudor and Crownover to honor the couple with special recognition.

First, Ladd announced that Leebron, who will return to the faculty after June 30, has been awarded the rank of university professor. In addition, a university professorship has been endowed in his honor. And a new annual award has been created in honor of Sun, who he said has "increased (Rice's) local and global impact in lasting ways." The award will recognize a member of the Rice community who, like Sun, has made a meaningful impact on the city of Houston.
A final Champagne toast capped off what Tudor called "a great evening" in celebration of Leebron and Sun's "remarkable run" at Rice and in Houston.
"One of the really cool things is the degree to which they really impacted Houston broadly, and not just what happened within Rice," he said. "It's to their credit that, like so many people who come here from other places, they really just took to it and loved it and grabbed it and made it their own. And it's really made for a fantastic partnership between Rice and Houston."