HOUSTON – (Feb. 14, 2022) – Tom Kolditz, director of Rice University's Ann and John Doerr Institute for New Leaders, has announced his departure from Rice effective June 30, 2022.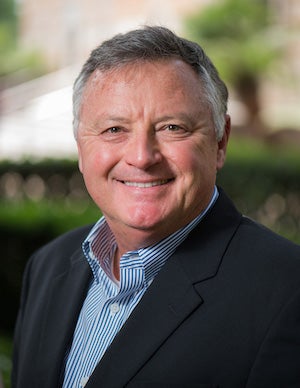 He will remain with the institute as a member of its external advisory board.
The Doerr Institute was founded in the fall of 2015 with a goal to create the most comprehensive, evidence-based university leader development program in the world. Just four years later, in 2019, the Association of Leadership Educators recognized the institute as the top program.
"In six wonderful years Tom and the team at the Doerr Institute have brought world-class, personalized leader development to all interested Rice students -- and the Rice community at large," said John Doerr, who founded the institute with his wife Ann, both Rice alumni. "Nationally, they've formed an innovative consortium of 152 universities potentially serving 2.8 million new leaders. This expansion shows how now more than ever our world needs more leaders, better leaders and ethical leaders – and the vital work of Tom and the Doerr Institute team."
Kolditz, a retired brigadier general, said he helped found the institute because he believes developing students as leaders should be a core function of universities, and that more needed to be done to ensure leadership development touched more than just business school students. Through objective assessment of its evidence-based techniques taught by accredited leadership professionals, the institute is constantly evaluating how to best nurture the next generation of leaders.
The institute's CoachRICE program, for instance, has grown from a training course for professional coaches to a sought-after curriculum licensed for use by other universities to develop their faculty and staff under Doerr Institute supervision and review.
The Doerr Institute also manages a reform movement aimed at improving leadership development in higher education across the nation. The Consortium for Improvements in Leadership Education and Development is a community of scholars and practitioners committed to the sharing of best practices.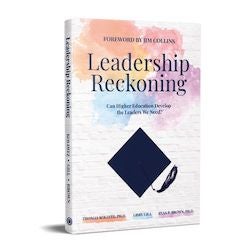 "Leadership Reckoning," a 2021 book co-authored by Kolditz and Ryan Brown, managing director for measurement at the Doerr Institute, and award-winning author Libby Gill, challenged American colleges and universities' approach to student leadership development. It was sent to institutions around the country to encourage a reevaluation of their programs, and dozens of chancellors, presidents and provosts reached out to the institute for collaboration and support.
In March, Kolditz and his team are launching the Carnegie Elective Classification for Leadership for Public Purpose, created in partnership with the Carnegie Foundation for the Advancement of Teaching and the American Council on Education. The classification will be available to every college and university in the U.S but will require them to provide evidence of extraordinary institutional commitment to receive the foundation's endorsement.
Rice and the Doerr Institute have launched an international search for Kolditz's successor.
"Tom's work at Rice and campuses across the country has elevated the leadership development discipline as a whole," said Rice President David Leebron. "Rice and the Doerr Institute have benefitted immensely from Tom's vision and leadership. I have seen firsthand with our students the impact the Doerr Institute has had on their abilities and aspirations. Tom is leaving the institute in outstanding shape for the next director, who will have the help of a team of passionate, innovative people to continue its mission and example. Rice and our students are extremely grateful for what Tom has achieved."
"As our team transitions into refining and expanding both its service to Rice and its national and global impact, a new director will bring energy, creativity and a fresh look to the challenges it faces," Kolditz said. "The next phase of my work life will be as an independent leadership writer, consultant and coach.
"There is no greater honor than to lead a team of high performers in the pursuit of noble goals," Kolditz added. "Serving at Rice has been the most joy-filled and satisfying leadership role imaginable."
-30-
To schedule an interview with Kolditz, or for more information, contact Avery Franklin, media relations specialist at Rice, at averyrf@rice.edu or 713-348-6327.
Related materials:
Follow Rice News and Media Relations via Twitter @RiceUNews.
This news release can be found online at news.rice.edu.