New York-based artist Kate Shepherd will give an artist talk at the Menil Drawing Institute Feb. 17 to discuss her work: richly toned works on paper and paintings known for their exquisitely fine lines, spatial complexity and attention to the saturation of the paint. Two of Shepherd's works are currently on view in "Spatial Awareness: Drawings from the Permanent Collection at the Menil Drawing Institute," which runs through March 13.
But here at Rice, a new wall painting by Shepherd has joined the university's permanent collection of public art. "Tricycle Red, Pelican Gray etc., partial octagons" was installed over a week in December in the lobby of McNair Hall at the Jones Graduate School of Business.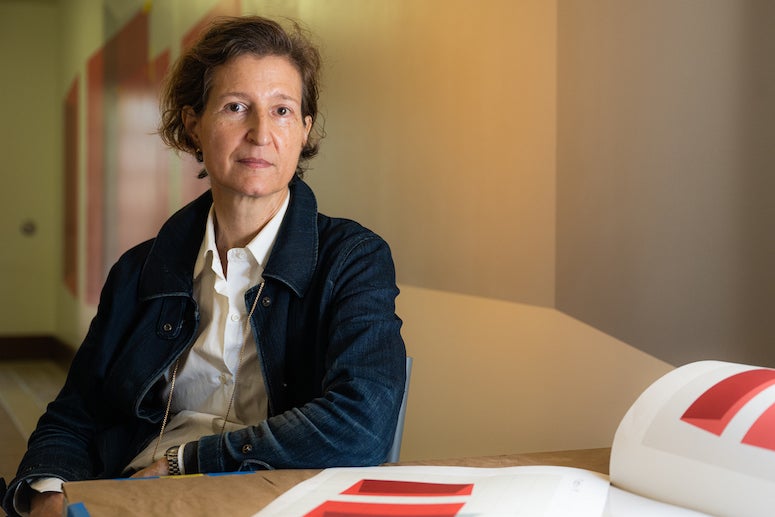 It is Shepherd's first permanent wall painting in a public space and an important acquisition by a living female artist whose work has been exhibited at museums and galleries across the United States and Europe since 1994. Shepherd's work is also included among the permanent collections of the Museum of Fine Arts, Houston, the Menil Collection, the Baltimore Museum of Art, Los Angeles County Museum of Art, the Museum of Fine Arts, Boston, and the Albright-Knox Art Gallery in Buffalo, New York.
"Tricycle Red, Pelican Gray etc., partial octagons" joins the work of other significant artists whose wall drawings have been installed on campus, including Sol LeWitt in the Glasscock School for Continuing Studies and, more recently, Ganzeer's murals in the Baker Institute for Public Policy. As the title suggests, Shepherd's piece features a striking assemblage of red and gray panels that were inspired by the octagonal rotunda of McNair Hall and the reddish hues of St. Joe brick buildings across campus.
Shepherd was commissioned to create the wall painting by the Jones School as part of the Rice Public Art collection, and worked closely with Frauke Josenhans, curator at the Moody Center for the Arts.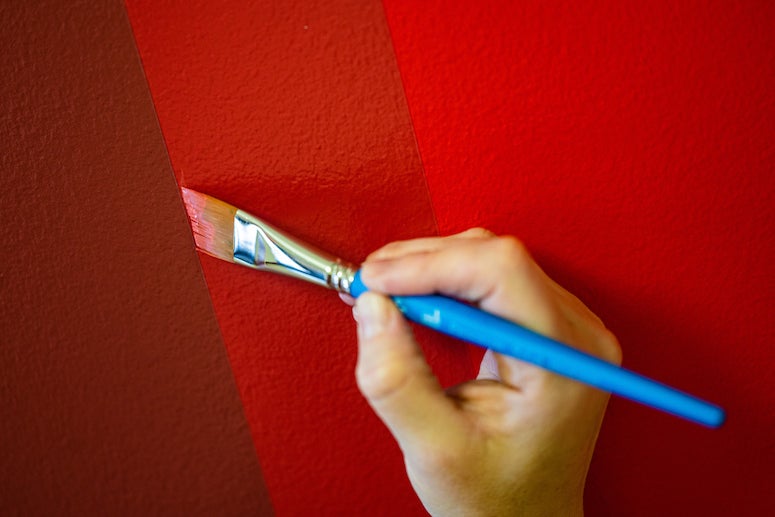 "I hope that we succeeded in activating the space," said Shepherd. "I think the mission statement was so clear, and it was inspiring to follow suit."
The resulting artwork welcomes those entering the Jones School at a pivotal point on campus, just across from the student center and central quad.
"The mission statement was to activate the space with something that felt architectural and something colorful, very lively and something to really greet the people entering with a great sense of complication and joy," Shepherd said.
The soaring rotunda of the Jones School is a bold architectural statement, the artist said, making it an obvious reference for her own work. Trained in both fine art and architecture, her work often illuminates inherent visual relationships between form and space.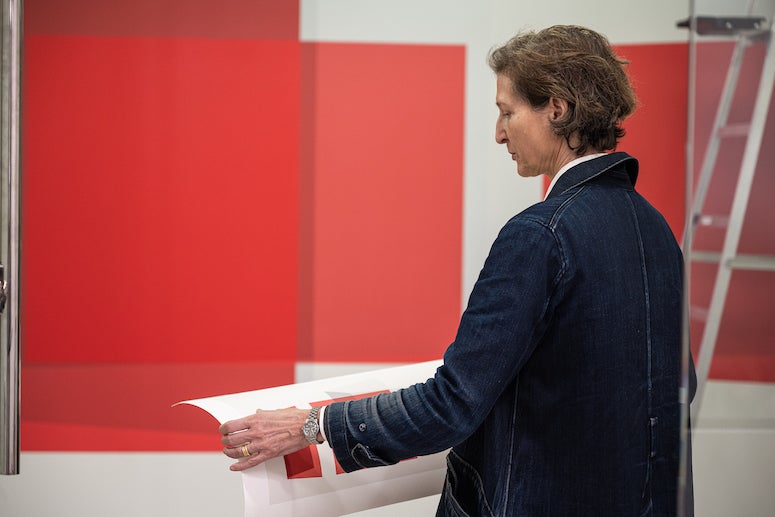 "It was really fortuitous, because I always like to work off something in the space and as a source of inspiration, and also to make sort of a partnership with the architecture," Shepherd said.
In both her paintings and works on paper, Shepherd superimposes a matrix of delicate lines on chromatic, planar fields that seem to create three-dimensional spaces. The highly saturated layers of paint — she prefers Benjamin Moore — create a gleaming, almost reflective surface. Despite the minimal means and pared-down forms, her works function on an emotional level, with the large planes of color emanating an almost hypnotic power. 
"I think it creates space within space," Josenhans said of "Tricycle Red, Pelican Gray etc., partial octagons." Indeed it almost seems as if one could step into the wall itself, the planes creating roomlike shapes before your eyes.
"And there's something pretty incredible about the fact that this is her first permanent public piece," Josenhans said. "It's very exciting, and we are extremely honored to have Kate Shepherd's work here on campus where everyone can enjoy it."