HOUSTON – (Nov. 9, 2022) – Life science innovators, academics and investors – including those specializing in health tech, medical devices and therapeutics – convened at Rice University this week to discuss Houston's role in the future of health care and give awards to top early-stage life science companies.
The 11th annual Texas Life Science Forum, co-hosted on Nov. 8 by BioHouston and the Rice Alliance for Technology and Entrepreneurship in partnership with the Texas Medical Center (TMC) and JLABS @ TMC, is the premier life science and health tech event in Texas. Attendees heard pitches from innovative, early-stage life science companies and attended panels and keynote presentations from more than 40 speakers.
The 48 presenting companies — about half of them based in Houston — pitched to more than 500 venture capitalists, corporate innovation groups, angel networks, industry leaders, academics and service providers. These companies have already raised a combined total of more than $252 million in funding.
The investors selected Bairitone Health as the winner of the Michael E. DeBakey Memorial Life Science Award, established by BioHouston to honor the groundbreaking Houston cardiovascular surgeon. Bairitone Health is developing a passive acoustic approach to perform airway anatomy assessment at home for better sleep.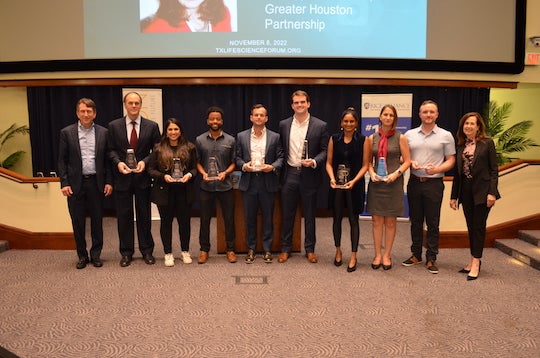 For the first time in the forum's history, attendees at this year's event voted for their favorite company, also granting the "People's Choice" award to Bairitone Health.
Ten other entries were chosen by investors as the Rice Alliance Most Promising Life Science Companies, presented by the Greater Houston Partnership:  
Steradian Technologies employs deep-photonics technology to diagnose respiratory diseases in seconds, all for the price of a latte.
InformAI develops AI-based medical image diagnostic tools and uses large dataset synthesis to develop clinical outcome predictors for physicians, hospitals and medical imaging/medical device companies.
March Biosciences is working to impact the most challenging lymphoma and leukemias.
Prana Thoracic is a medical device company developing minimally invasive early intervention in lung cancer.
TYBR Health makes a hydrogel that protects tendons and improves patient outcomes.
bEHR Health Systems delivers medical, lifestyle and social solutions to health for African-Americans.
Autonomize is an artificial intelligence platform that pairs human context with data to better inform health care personnel.
MRG Health-SmartCare 360 is a virtual-care management technology and services company that improves patient access to care and clinical outcomes for people with one or more chronic diseases.
Voythos is making medical records work for today's health care in a smartphone application.
EMPIRI developed a novel cancer care technology that accurately predicts each patient's response to treatment empirically, enabling doctors to make the optimal selection for each patient's treatment. 
This year's forum was made possible by more than 50 industry, academic and community partners including the TMC, Lonza, Insperity, Pearland Economic Development Corporation, Perkins Coie, JLABS, Proxima Clinical Research and Shearman and Sterling.
To learn more about the Texas Life Science Forum visit txlifescienceforum.org.