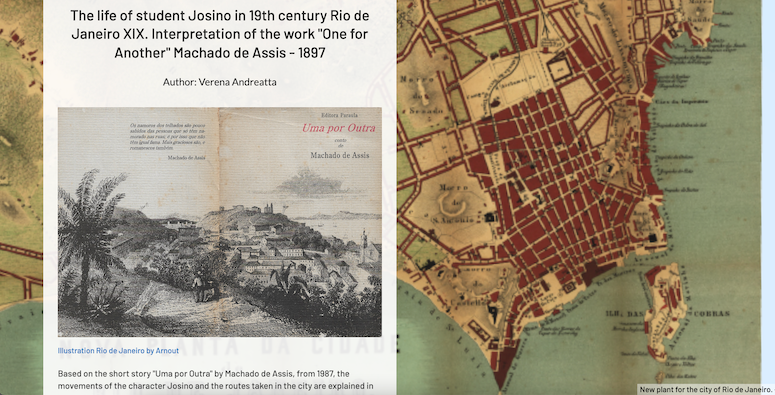 Imagine you could pick a corner in a city you once knew, zoom in on a map and see in lush detail how that block looked in the past, preserved in a photo or a painting. This is just one creative visualization imagineRio allows for the city of Rio de Janeiro in Brazil. And now, Rice has redesigned the site with even more powerful tools for both teaching and learning.
Initially developed by professors Farès el-Dahdah and Alida Metcalf in collaboration with the Center for Research Computing's Spatial Studies Lab, the imagineRio platform — a searchable digital atlas of Rio over space and time — illustrates the evolution of the Brazilian city over five centuries of maps, site plans, photographs, watercolors and more.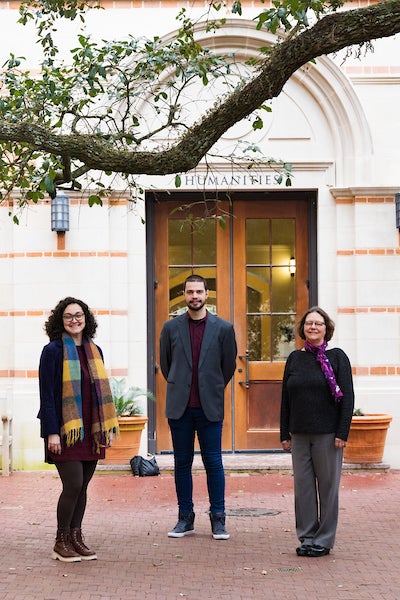 A recent update to imagineRio, supported by a grant from the Getty Foundation, which funded a collaboration between Rice and the Instituto Moreira Salles (IMS) in Brazil. The update added over 3,000 geolocated photographs of the city from the 19th and 20th centuries. Taken by some of the country's most iconic photographers, the images were drawn from the extensive collections at IMS and show many of Rio's most famous sites over time, from Christ the Redeemer atop Corcovado Mountain to Copacabana Beach.
But in order to add the photographs, el-Dahdah, Metcalf and their team had to redesign certain aspects of the project, and in the process created a whole new version. As with the first two, this third version of imagineRio is entirely bilingual, available in English and Portuguese.
"This is a major rebuild, and that's really important for a digital humanities project because they can get dated, grants run out and then they don't get updated and so forth," said Metcalf. "It was very exciting to re-update the site and make it possible to do research on images and photographs within imagineRio."
Two Brazilian scholars affiliated with Rice are excited about the update too: Visiting scholar Deborah Fontenelle, assistant professor of history at Fernando Rodrigues da Silveira Application Institute of the State University of Rio de Janeiro, and Rice Department of History graduate student Bruno Buccalon, the former project manager of the Getty Digital Art History grant "Situated Views."
Their new web environment offers creative ways for scholars, students and residents of Rio to visualize the past using historical and modern imagery against an interactive map that accurately presents the city since its founding in 1565.
"That's Sugarloaf Mountain," Buccalon said, pointing to a rough mound on a map that depicts a nascent Rio drawn by Renaissance cartographer Jacques de Vau de Claye in 1579.
The imagineRio site orients the map and overlays its perspective on a modern-day map of Rio, just as with its other plans, photos and paintings. They're stored in IIIF format, which Buccalon insisted on; it's an open standard for delivering high-quality, attributed digital objects online at scale.
"Another feature for this new version is that you can change the year of the map while selecting a range of what kind of images you're looking for, the period that you're looking for, and filter the results on the base map," Buccalon said. "You can also see all about each building in the different photographs and find out other information about them in the database."
Rio has "a vast iconography," Metcalf said, available across books, in photo collections, museums and elsewhere. "But the key was linking it to the map and to specific dates so that you really see it in the context."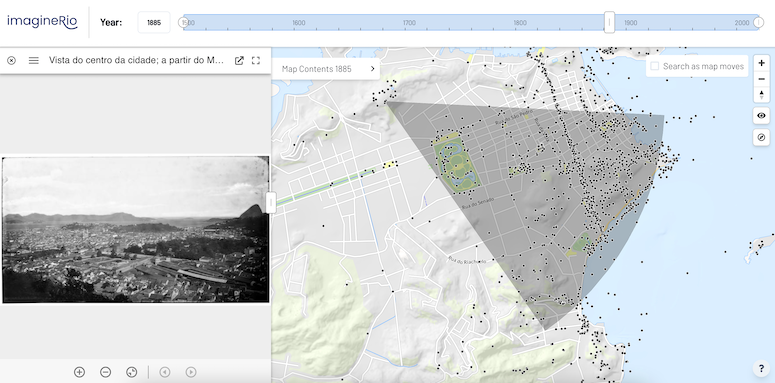 Toggling between antique views and the newly added photos from the 19th and 20th centuries reveals a city that's changed swiftly and dramatically over five centuries.
Rio has remade itself over just her lifetime, Fontenelle said. Events like the 2014 FIFA World Cup and 2016 Olympics brought both demolition and construction, while the population has nearly tripled since 1950, when only 5 million people lived in the city. Today, many of Rio's more than 13 million residents never knew the favelas that were plowed over nor the mountains that were literally moved to create the Rio of today.
"We not only see this change but feel it as well, as people who live in the city; suddenly you have to move because it's too expensive, or because they're going to build something and demolish your house," Fontenelle said.
That moved mountain, Morro do Castelo, was the center of Rio's economic, social and political life for the first few centuries of the city. Rio razed the mountain and all of the historic buildings that were built atop it in 1921, citing a need to "clean up" and modernize the city.
"It's crazy to think about the fact that the first spot where the city started to be built doesn't exist anymore," Fontenelle said. "It's a huge part of our history that just doesn't exist anymore, and we have a lot of things like this in Rio."
With imagineRio, you can also visualize Rio as it might have been — a city in which Morro do Castelo still exists, perhaps.
"What's exciting about our project is that you can go back and see the city as it was but we also have plans for the city in here, showing how the city was imagined to be restructured, rebuilt, reformed," Metcalf said. "That's part of imagineRio; you're imagining the past but you're also imagining the way Rio was imagined in the past."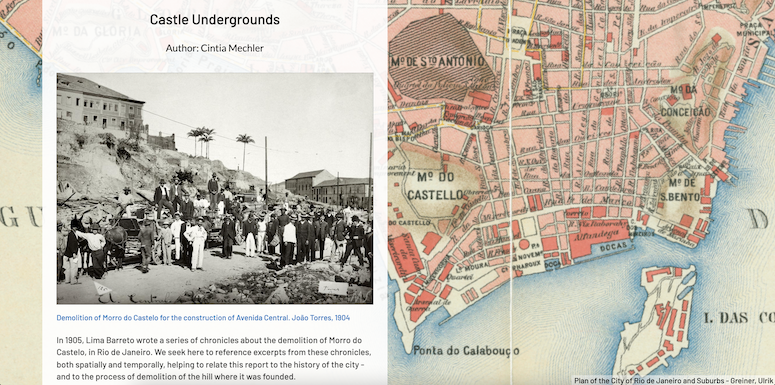 Last semester, Metcalf and el-Dahdah taught a class on Rio that made use of another upgrade: a new narrative tool available in both English and Portuguese.
Over the course, students chose Rio-related topics such as 19th-century coffee shops, samba schools, outbreaks of plague and cholera at the turn of the 20th century, Jewish cultural institutions in Rio, beaches and the displacement of favelas during highway construction for their final presentations. Using imagineRio's narrative tool, the students created story maps that displayed their spatial data in a compelling visual format.
"We think it's going to be very useful for teaching," Metcalf said. "I think it would be super interesting for students in Rio as well, because they will know the city in a much more intimate way."
Fontenelle agreed. Having worked and researched at Rice since September, she's eager to return to Brazil next month.
"I can't wait to use it in my classes back in Rio," she said. "It's such a powerful tool, and it changes the way that we get to teach and they get to learn."
Learn more at imaginerio.org