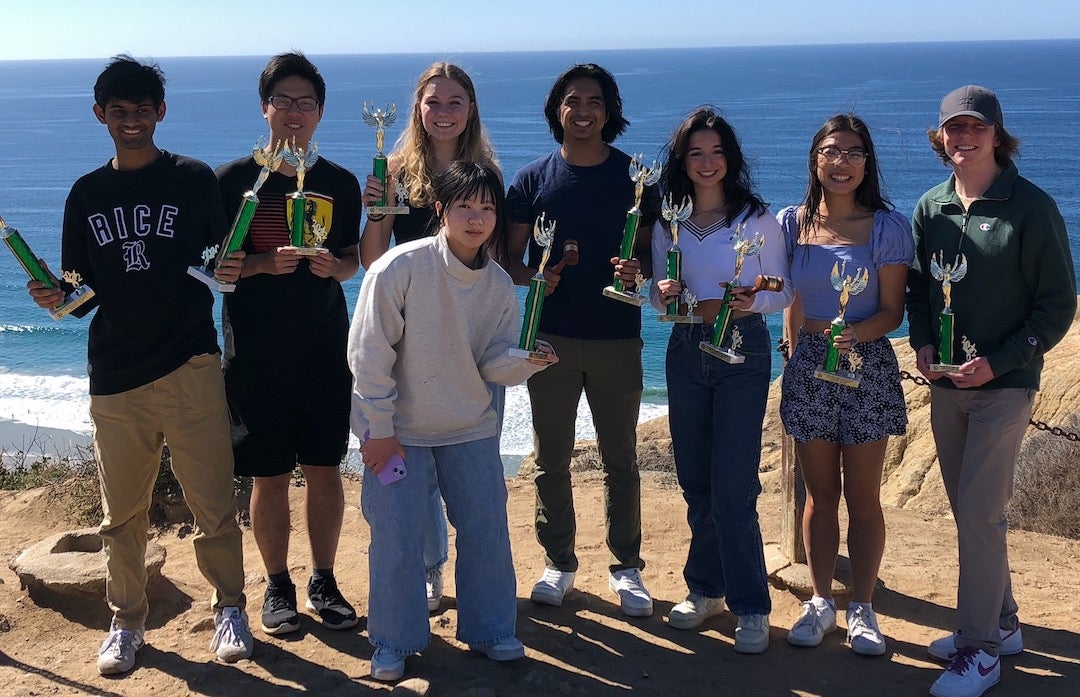 The past several months have been a whirlwind of success for Rice's George R. Brown Forensics Society, the university's award-winning student speech and debate team with a track record of racking up championships and awards by the dozens.
After tremendous success amid the height of the COVID-19 pandemic, including two national championships in as many years, the team's penchant for top-tier performances has continued this fall alongside a much welcomed return to in-person competition.
In April, Rice debaters Jacob Tate '22 and Maximus Renteria reached the final round of the National Parliamentary Debate Association National Championship Tournament and came out victorious, taking home the title in varsity debate.
It was the debate team's second national championship in as many years — in 2021, it won the sweepstakes national championship (awarded to the team with the highest cumulative score based on awards across all events). Rice has had its debate teams make it to the national championship final round in three of the last four years.
The fact that these wins came in the midst of the ongoing COVID-19 pandemic, when competitors had to make due with virtual events in a sport where the difficult act of making personal connections with judges had to all of a sudden be done through a computer screen, made them feel extra special.
"I'm most proud of our students' commitment to not only weather it, but to be excellent during it. We won a national championship in two different ways in two years in the most difficult circumstances imaginable," said David Worth, director of the George R. Brown Forensics Society and a senior lecturer within the School of Humanities.
After two straight years of almost completely remote, virtual competition, this fall the forensics society has finally returned to a mostly in-person slate of events. In late September, Rice hosted the first on-campus iteration of the Rice University Classic competition in two years, bringing around 100 guests to campus from schools across the country, as well 11 forensics society alumni who returned to volunteer as judges.
After the two separate tournaments that took place during the Classic on campus, Rice's speech and debate team made the trip to Portland, Oregon, for another national competition at Lewis & Clark College Oct. 8-9; across the three events, Rice students won 21 awards. The forensics society rounded out the semester with five more competitions that sent the Owls across the country to locales including Bowling Green, Ohio, San Diego and San Antonio. All told, the team brought home a whopping 90 awards this fall.
"The team features a mix of seasoned veterans and hard-working newcomers who are building meaningful relationships, continuing the team's culture of excellence and empowering individuals to find their voices as advocates," Worth said. "The team's accomplishments this semester show that, indeed, we are stronger together."