Successive waves of immigration from nearly two dozen North African, Western Asian and Middle Eastern countries have created many multiethnic Arab American communities in the U.S. since the late 19th century. The stories of how women in these early immigrant communities forged bonds will be the focus of a March 10 lecture by Sarah M.A. Gualtieri.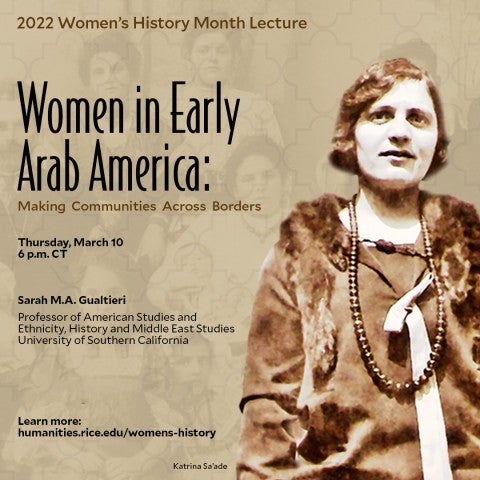 "Women in Early Arab America: Making Communities Across Borders" will be held at 6 p.m. via Zoom, hosted by Rice's Center for the Study of Women, Gender and Sexuality in collaboration with the Department of History and the Office of the Dean of Humanities. Gualtieri is a professor of American studies and ethnicity, history and Middle East studies at the University of Southern California (USC).
Conducting research in Arabic, French, Spanish and English, Gualtieri has traveled extensively in the Middle East and lived in the Syrian capital of Damascus for two years. Her first book, "Between Arab and White: Race and Ethnicity in the Early Syrian American Diaspora," examines the history of Arab racial formation in the United States with a particular focus on "whiteness," tracing how Arabs came to be officially classified as white by the U.S. government, and how different Arab groups interpreted, accepted or contested this racial classification over the course of the 20th century.
Gualtieri's second book, "Arab Routes: Pathways to Syrian California," uncovers the stories of Syrian, Lebanese and Palestinian migrants in Southern California, focusing on connections to and through Latin America and the multiethnic solidarities that emerge from them. At USC, she teaches undergraduate courses such as Women and Revolution in the Middle East, the Modern Middle East and Arabs in America, as well as several graduate seminars.
Her talk will be all the more timely while the Russian invasion in Ukraine presses on, displacing 1.5 million people as Ukrainians — mostly women and children — flee to nearby countries, said Fay Yarbrough, professor of history and associate dean of humanities at Rice.
"She'll be talking about women and immigration and community building, and I can't help but think in this crazy moment with Russia invading Ukraine that these exact same questions are at play here: questions about migration and bringing community with you and building it in a new place are really important," Yarbrough said.
These are the kinds of questions, Yarbrough said, that echo throughout history's innumerable migrations, forced or otherwise.
"Those are exactly some of the issues that I think she'll be addressing in her talk, because those are the moments when people make decisions about what's most important to them and what they need to rebuild somewhere else."
"Women in Early Arab America: Making Communities Across Borders," March 10, 6 p.m., Zoom. Free and open to the public. Register for link.