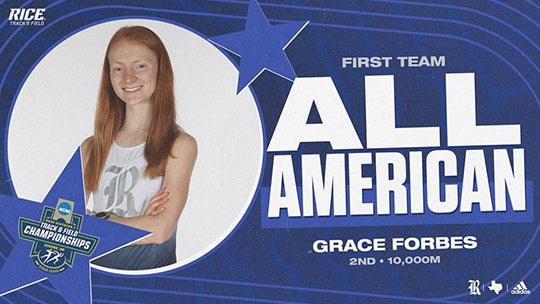 Grace Forbes' second-place finish in the 10,000 meters led a contingent of five Rice athletes at the NCAA outdoor track and field championships this week in Eugene, Oregon.
The sophomore ran a season-best time of 32 minutes, 48.07 seconds, which trailed only Mercy Chelangat of Alabama (32:37.08). It was the highest finish for a Rice woman at the meet since Allison Beckford and Alice Falaiye placed second in the 400-meter hurdles and long jump, respectively, in 2001.
The first-team All-American performance was the fifth of Forbes' Rice career across track and field and cross-country competition.
Fellow Owls Tara Simpson-Sullivan and Erna Gunnarsdottir turned in second-team All-American performances. Simpson-Sullivan, a sophomore, finished 14th in the hammer throw for her third career All-American performance across indoor and outdoor competition. Gunnarsdottir, a junior, placed 15th in the shot put for her second All-American honor.
"I'm very proud of Erna, Tara and Grace," Rice head coach Jim Bevan told RiceOwls.com. "All three are All-Americans and all gained experience and performed very well on the national stage."
On the men's side, sophomore Alex Slinkman placed 18th in the pole vault and senior James McNaney placed 23rd in the javelin.