Pomp and circumstance is a key component of any presidential inauguration, and music is no small part of that.
So when the organizers of the investiture ceremony for Rice University's eighth president, Reginald DesRoches, wanted a special piece of music to follow his inaugural address, they looked no further than Rice's own Shepherd School of Music.
"When we were approached about the possibility of one of our students writing an original piece for the inauguration, we obviously said yes immediately," said Shepherd School Dean Matthew Loden. "We're delighted to have the opportunity to showcase the talent of one of our students in this way."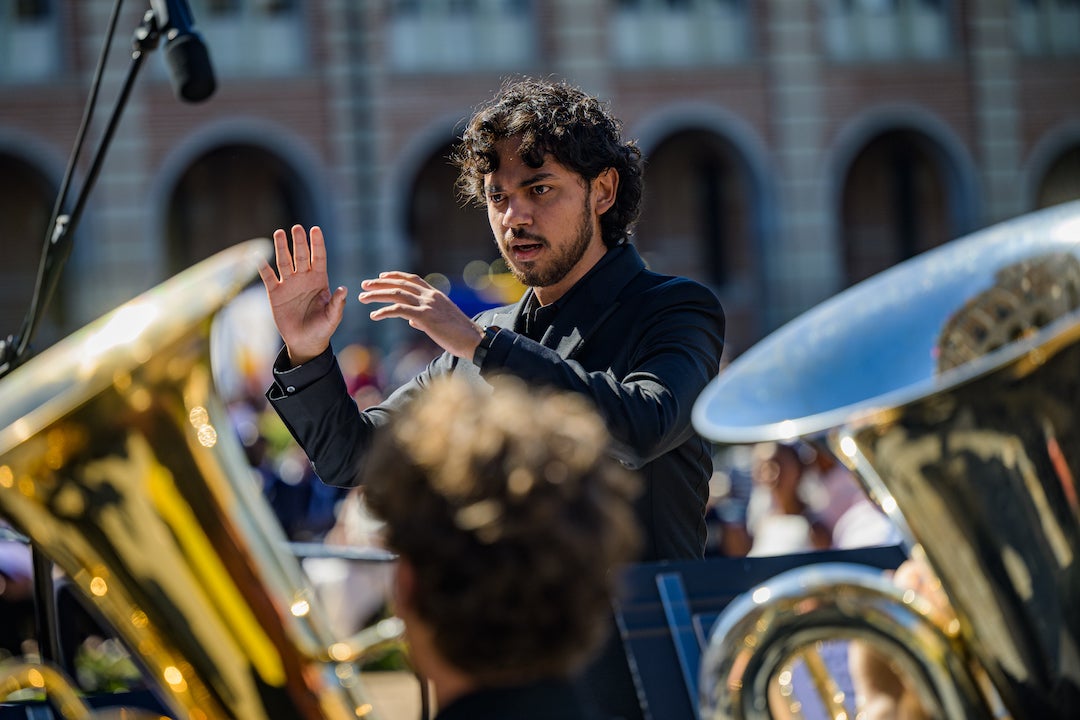 The investiture committee specifically hoped to find a composition student who shared DesRoches' commitment to service. When Loden and the Shepherd School Department of Composition faculty met to discuss who should be selected for the honor, they chose Alex Moreno-Gonzalez, a junior who is a student of Richard Lavenda.
"I can't think of a better or more beautiful way to honor such a historic occasion for the school than with creative work written and performed by our students," said Anthony Brandt, a member of the composition faculty who was Alex's teacher during his freshman year and notified him he was chosen for the special commission.
Originally from Canadian, Texas, Moreno-Gonzalez has been commissioned to write works for his hometown's Citadelle Art Museum as well as Rice Dance Theatre and the Moody Center for the Arts. He also spent part of the past summer at the soundSCAPE Composition and Performance Exchange in Bobbio, Italy.
He's passionate about bringing classical music to rural areas. Last year he helped facilitate a collaboration between the Shepherd School and his hometown to raise awareness about classical and contemporary music and orchestral instruments, as well as conduct student outreach and debut new works by him and his fellow students.
"Alex is a talented composer and an intelligent, mature young man, so my colleagues and I knew that he would be unfazed by this prestigious — and challenging — commission, and that he would write a piece appropriate for the occasion," Lavenda said.
Moreno-Gonzalez, who called it an "enormous honor" to receive the commission, studied existing fanfares and met with DesRoches and his wife, Paula, via Zoom on two separate occasions.
"It was important for him to learn about (DesRoches) and his life's story so he could create a fanfare not only for the ceremony but for the person," Lavenda said.
Moreno-Gonzalez's bold, regal fanfare, titled New Dawn, was performed by a double brass quintet.
"I chose the title because I think it beautifully encompasses this moment in the university's history and all the wonderful possibilities that lie ahead for Rice under the leadership of President DesRoches," he said.
"It was important for me to learn more about (DesRoches) and just observe how he interacts with people day to day," Moreno-Gonzalez continued. "And I think one of the most important parts of the interview was hearing more about his goals for Rice and his involvement and role in the wider Houston community. I wanted to incorporate the feeling of his intrepid vision for the university and also Rice's physical beauty and elegance. That's why I opened the piece with a very bold, powerful sound."
Moreno-Gonzalez also incorporated elements of DesRoches "thoughtful and caring personality."
"When I was speaking with President DesRoches, I got the sense from him that he doesn't stop — he's very driven," he said. "But I also observed his kind and considerate personality, which of course mirrors what we feel as members of the Rice community — which so deeply values its culture of care. So we move from this very bold, confident opening to a deeply expressive, mellow yet still fanfare-like melody."
Moreno-Gonzalez also sought to represent Rice's long-standing relationship with its home city of Houston.
"One of the things that really popped up is Rice's connection with NASA and space exploration," he said. "So this middle theme is a theme for President DesRoches, but also represents this relationship with the city and almost sounds like you're in a space or sci-fi movie, if that makes sense. It has a very atmospheric feeling."
In the piece's final section, Moreno-Gonzalez marries the themes of the previous sections to culminate in a "huge" ending.
Following DesRoches' inauguration speech, Moreno-Gonzalez conducted his classmates as they performed the world premiere of New Dawn.
"It was a wonderful, special moment," Moreno-Gonzalez said. "My classmates did such an incredible job — it's a very difficult piece, and I couldn't be more proud of them."
"The piece was everything a fanfare should be: celebratory, affirming, optimistic and joyous," Lavenda added. "And since Alex wrote it to be performed by 10 of the superb Shepherd School brass players, he knew that whatever he wrote would sound great — and it did!"
And in a day full of emotional moments for the newly inaugurated President DesRoches, he said finally hearing the piece written for him by Moreno-Gonzalez was enormously special.
"I was blown away listening to New Dawn for the first time," DesRoches said. "In just three minutes of stunningly beautiful music, Alex perfectly captured my aspirations for Rice, our university's relationship with Houston and the sense of community that makes this place so special. It couldn't have been more perfect, and is a beautiful memory both for me and my family."
More information on the Rice Shepherd School's Department of Composition is available online at https://music.rice.edu/departments-and-ensembles/composition-and-music-theory .