Evelyn Tang, an assistant professor of physics and astronomy and a member of Rice University's Center for Theoretical Biological Physics, has won a prestigious National Science Foundation CAREER Award.
The award supports early career faculty who have the potential to serve as academic role models and leaders in research and education. NSF gives only about 500 of the awards each year across all disciplines.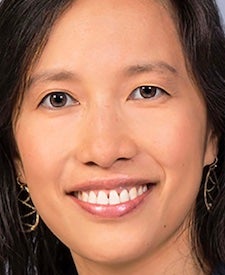 The five-year award of $650,000 will support Tang's investigation of topological invariants — properties of a space that don't change despite deformations — and how they apply to biological systems, as well as synthetic materials that mimic them, to better understand how and why life is so robust.
"When we think about the complexity of biology and health, really understanding what specific molecules do is not enough anymore," she said. "It's about how they act together. So I'm very interested in ideas about emergent functions: how things interact to produce what we see as biological outcomes or functions."
Tang said there's a dearth of flexible tools able to describe such complexity, and creating them is one focus of her work. One such tool could apply the principles of topology, the study of objects that can be deformed without losing their geometric structure. In her grant proposal, she used letters like O and D as examples of shapes "that can be transformed into each other without having to cross, cut or connect lines."
"We wonder what that has to do with real life, but scientists know these are very powerful tools, because they can categorize a lot of different properties," she said. "The hope is that because they can start to categorize things in a more abstract, very general way, they can be useful to think about why systems that look quite messy on the microscopic scale can give rise to functionality."
Tang came to Rice in 2021 after serving as a group leader at the Max Planck Institute for Dynamics and Self-Organization. Previously she was a postdoctoral fellow at the University of Pennsylvania.
She earned her Ph.D. at the Massachusetts Institute of Technology, a master of philosophy degree from the University of Cambridge and a bachelor of science degree from Yale University.
"I'm still exploring Rice and making connections, but I'm astonished at how supportive my colleagues have been," Tang said. "They do love to see exciting theoretical ideas being explored, even if we don't know whether or not they'll pan out.
"This is a good place for me to learn from these very successful people."
CAREER Award abstract

Image for download

https://news-network.rice.edu/news/files/2022/12/1205_CAREER-1-WEB.jpg

CAPTION: Evelyn Tang. (Credit: Rice University)
Related materials

Tang Research Group: https://emergence.blogs.rice.edu

Center for Theoretical Biological Physics: https://ctbp.rice.edu

Department of Physics and Astronomy: https://physics.rice.edu

Wiess School of Natural Sciences: https://www.rice.edu

About Rice

Located on a 300-acre forested campus in Houston, Rice University is consistently ranked among the nation's top 20 universities by U.S. News & World Report. Rice has highly respected schools of Architecture, Business, Continuing Studies, Engineering, Humanities, Music, Natural Sciences and Social Sciences and is home to the Baker Institute for Public Policy. With 4,240 undergraduates and 3,972 graduate students, Rice's undergraduate student-to-faculty ratio is just under 6-to-1. Its residential college system builds close-knit communities and lifelong friendships, just one reason why Rice is ranked No. 1 for lots of race/class interaction and No. 1 for quality of life by the Princeton Review. Rice is also rated as a best value among private universities by Kiplinger's Personal Finance.