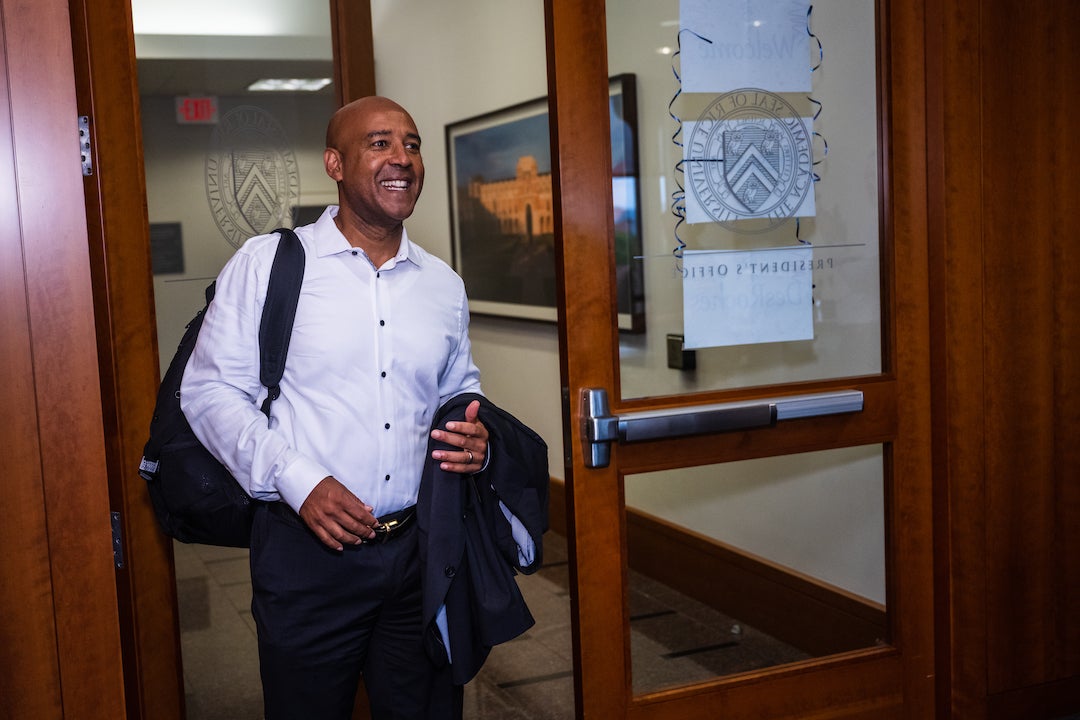 Reginald DesRoches started his first day as Rice University's newest president the same way he starts most Fridays: with a run around campus, on this particular dewy Houston morning accompanied by his wife Paula and daughter Shelby, a Rice senior.
Later, just as he has during his term as provost, he strolled into Allen Center. But on this Friday, he walked in as President DesRoches.
Aside from the applause from grinning colleagues, the flurry of congratulatory emails and text messages and a bit of jet lag after his flight back from the Rice University Paris Center ribbon cutting the day before, it mostly felt like just another day inside the hedges for DesRoches.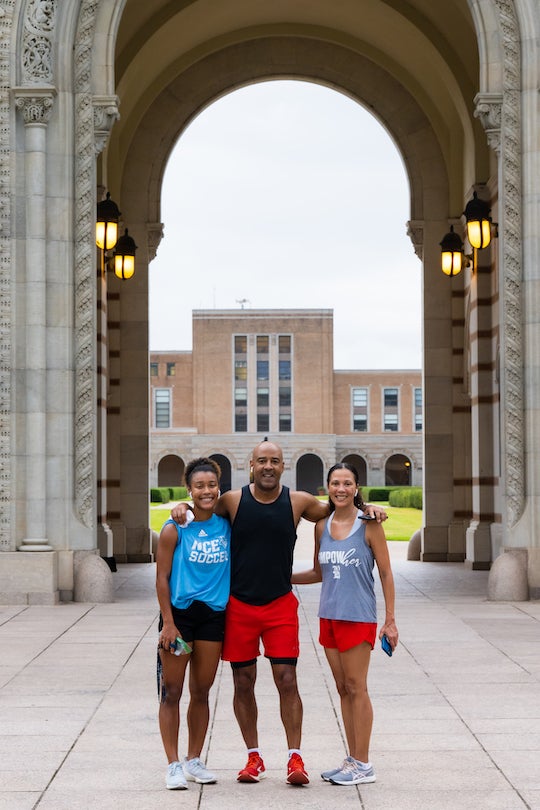 "In some ways it didn't feel any different," said DesRoches. "But in some ways, it did — mostly because I had probably two or three dozen texts and emails wishing me well," he said.
"It felt great," he said, smiling. "I mean, obviously, I've known about this for more than half a year, so I knew this was coming, but just to have it be here and to get ready to jump in and start is really exciting."
In November 2021, Board of Trustees Chairman Rob Ladd officially announced that DesRoches, then Rice's provost, had been chosen to succeed Leebron in the summer of 2022.
DesRoches assumed Rice's presidency July 1, the fifth anniversary of the renowned civil engineer's arrival on campus to lead the George R. Brown School of Engineering, and two years after he was named provost. As Rice's eighth president, DesRoches is also the school's first Black president and the first immigrant to hold the position. A full slate of formal investiture events for DesRoches will take place this fall.
He assumed office with a heartfelt endorsement from his predecessor. A day earlier, departing Rice President Leebron sent out a final message on behalf of himself and wife Y. Ping Sun, thanking the entire Rice community for its support throughout the "exciting, challenging, and joyous 18 years" of his tenure and offering his best wishes to his successor.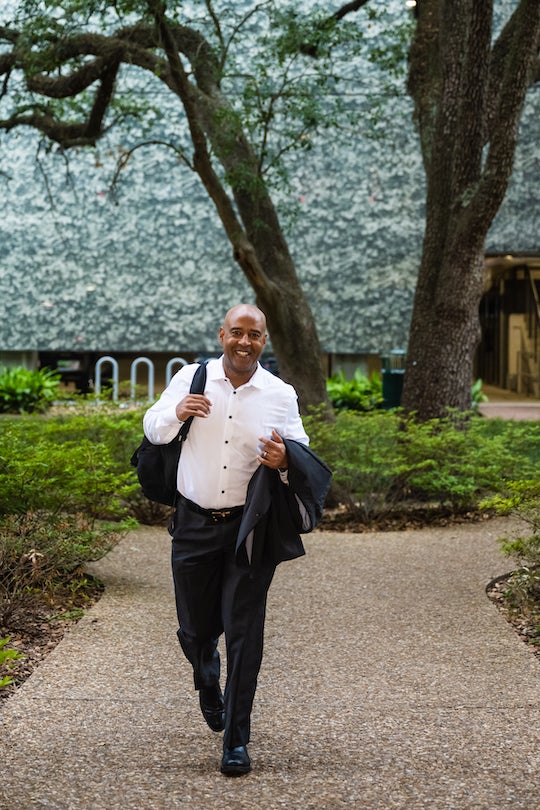 "I feel very fortunate not only in looking at the past, but toward the future as well," he continued. "President Reginald DesRoches was a wonderful choice and is extremely well positioned to bring Rice to new levels of achievement. Ping and I want to extend our warmest welcome and congratulations once more to Reggie and Paula, and wish them well both professionally in their achievements and personally in the years ahead."
In DesRoches' first message to the Rice community Friday morning, he thanked Leebron "for his exceptional leadership over the past almost two decades."
"I wish him and Ping, who have been so supportive of me and my family, the best in their future endeavors," DesRoches wrote.
"It feels great," DesRoches said of taking the helm at such a pivotal moment in Rice's history. "President Leebron put us in a great position. We have lots of work to do, but we're very poised to take the university to the next level of excellence and impact."
With a hot cup of coffee, DesRoches settled down at his desk, ready to begin a day packed with meetings with students, faculty and staff.
First, he hosted a virtual welcome meeting for new international undergraduate students, speaking to them from his office via Zoom. "I want you to know that we consider it incredible to have you at Rice and want to ensure you feel included and supported while you are here," he told the 161 new Owls from around the globe.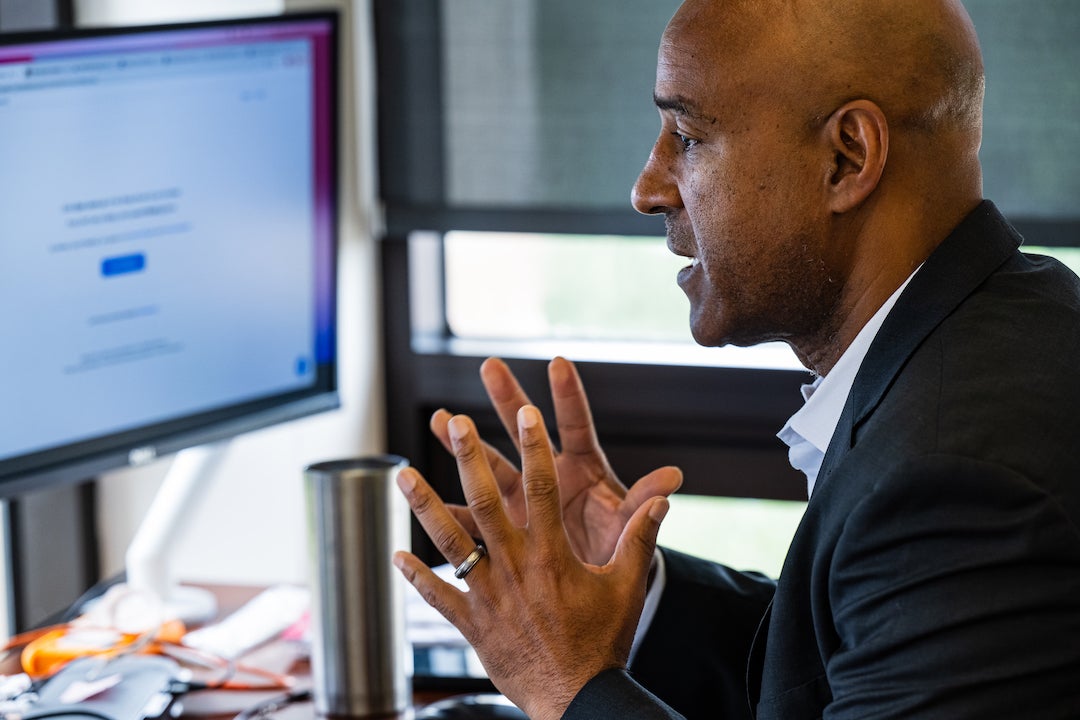 Later, DesRoches headed to lunch in the renovated former Hanszen College magister's house, joining Housing & Dining staff, student leaders helping out with on-campus summer conferences, and members of Rice's Emergency Medical Services team. For dessert, Rice's new president swung by the Registrar's Office to share a few cookies with department staff.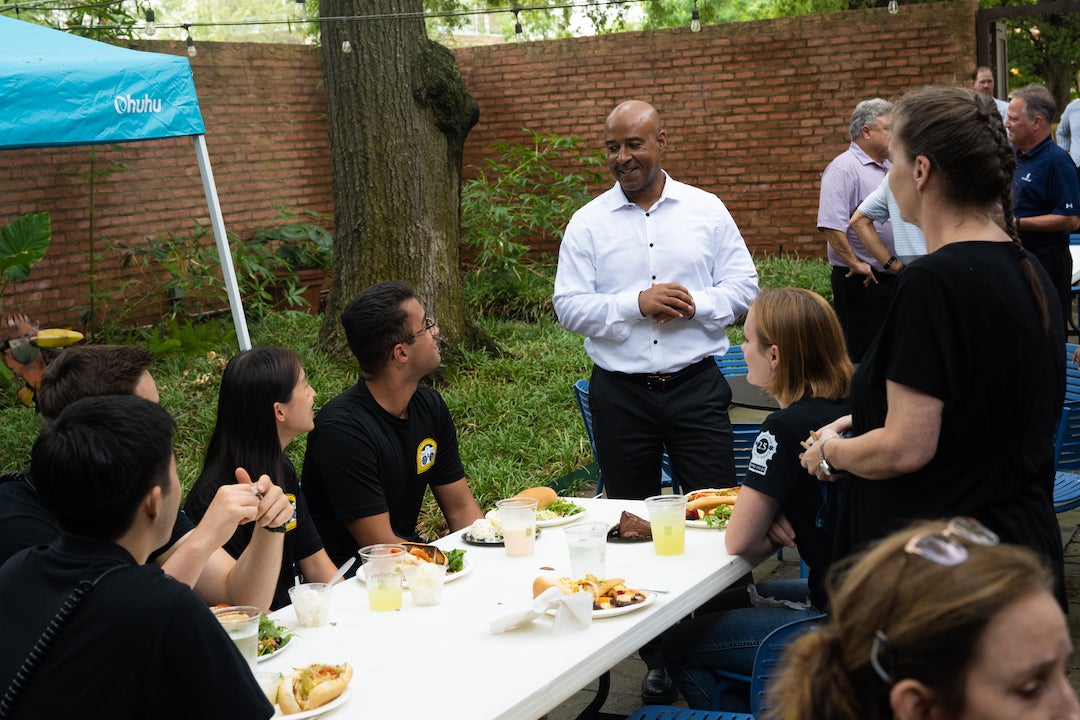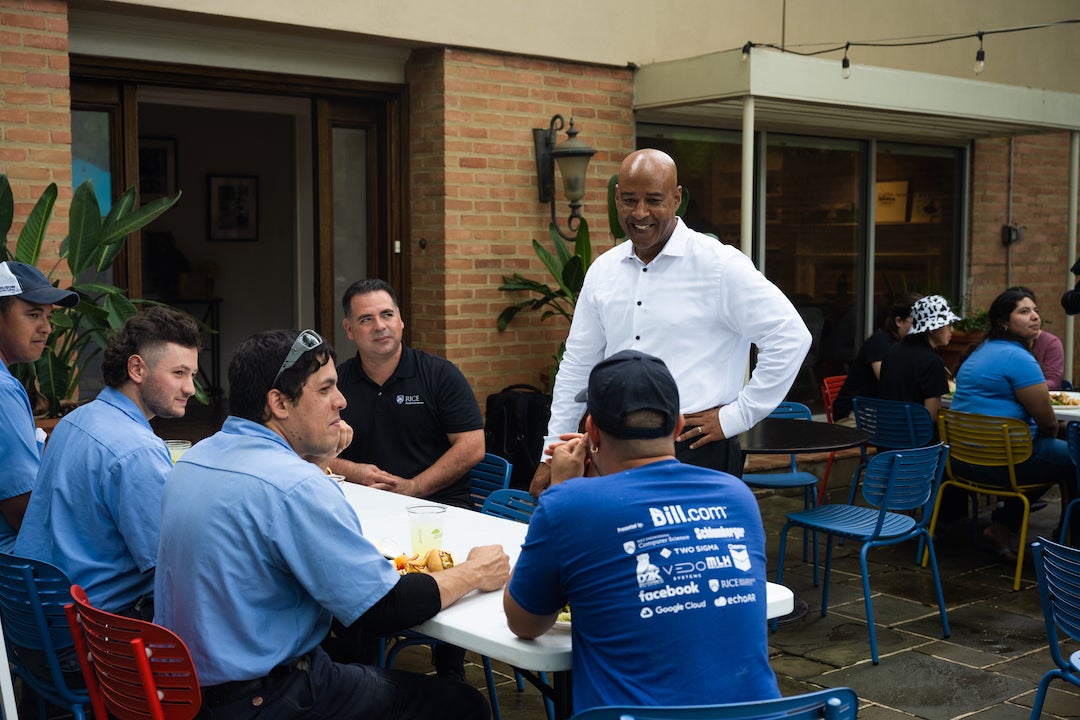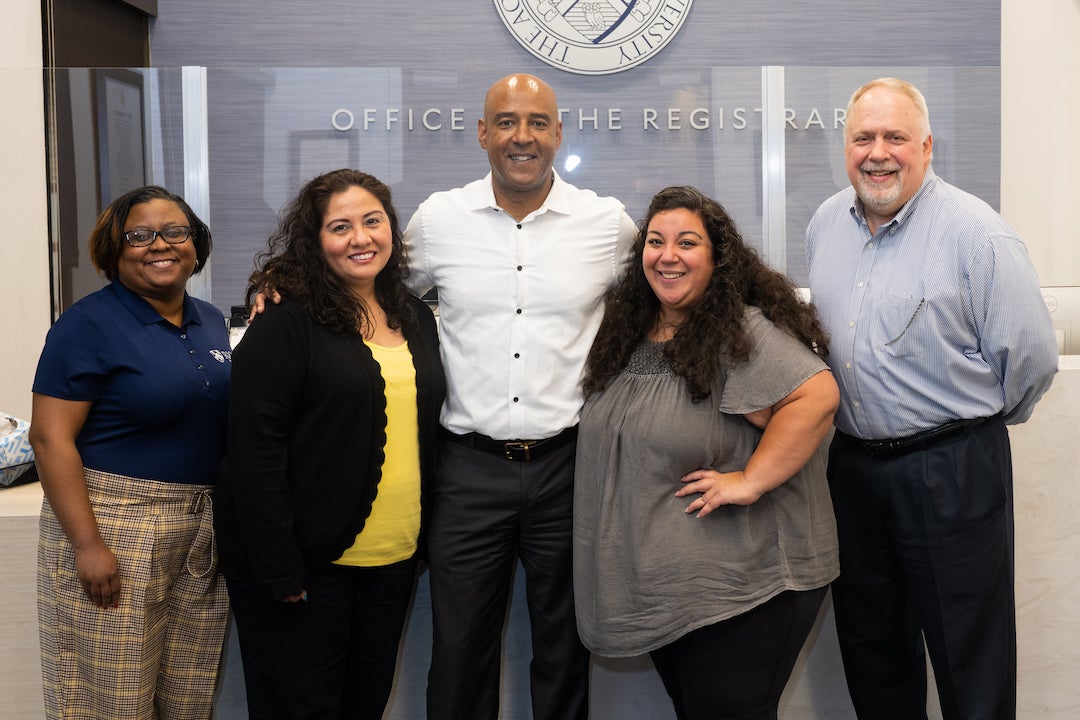 The new president chatted over coffee at Brochstein Pavilion with members of the Rice community, followed by libations at Valhalla with an assortment of students, staff and faculty from nearly every corner of the university. After all of his business on campus was done, DesRoches planned to visit his father, who just turned 90 and recently relocated to Houston.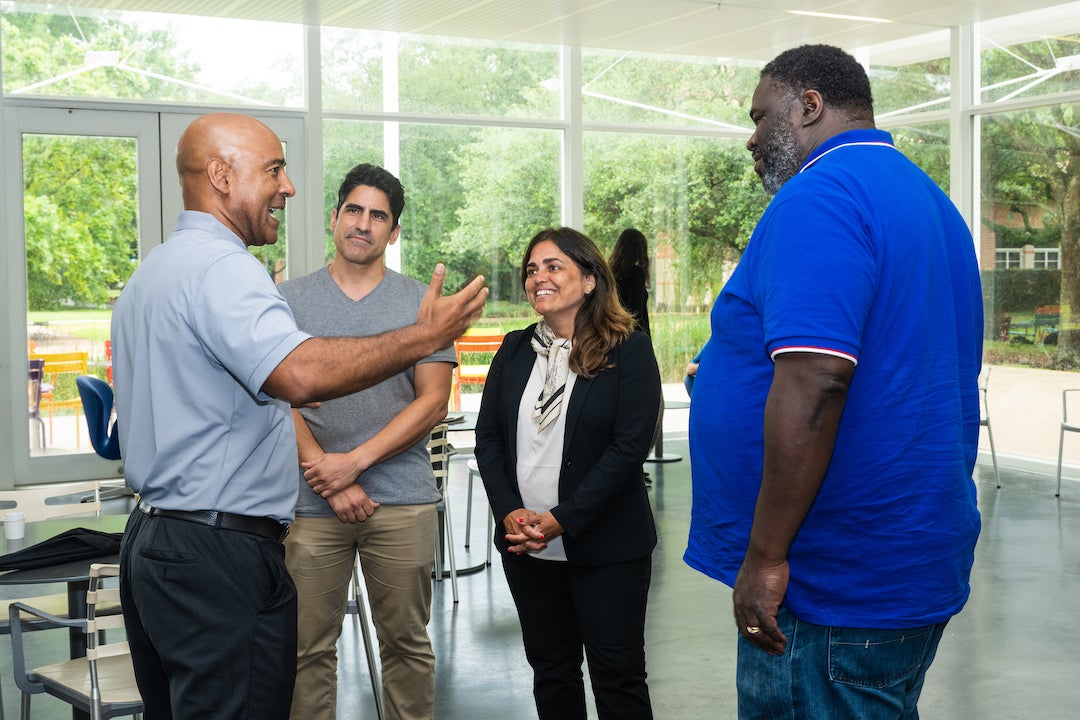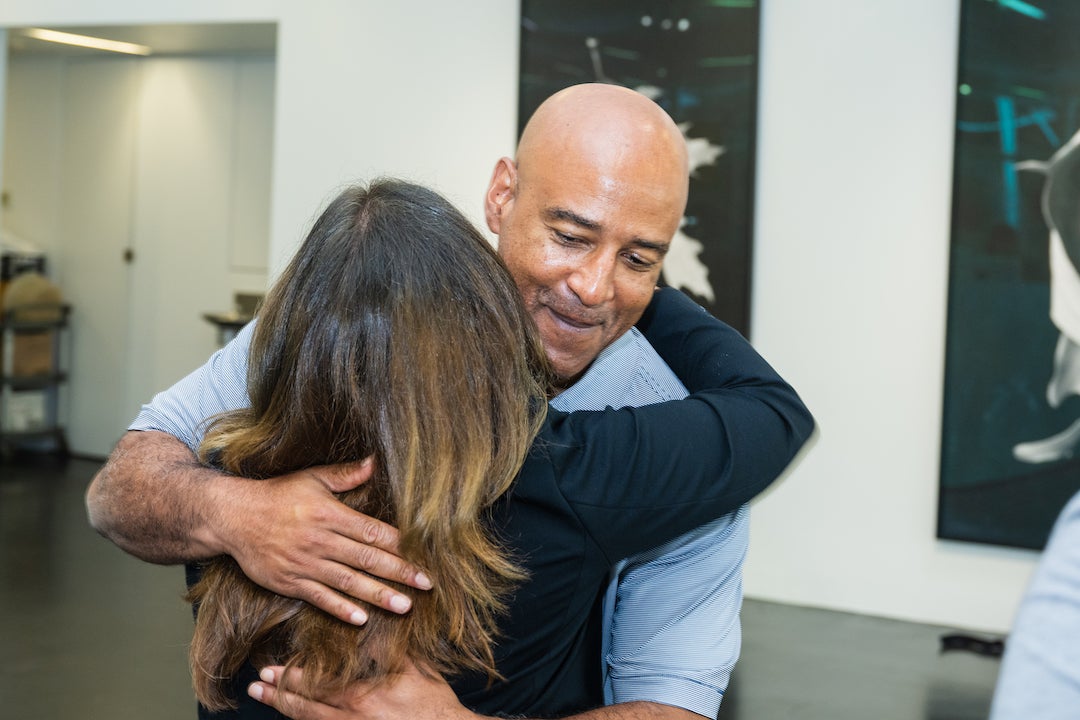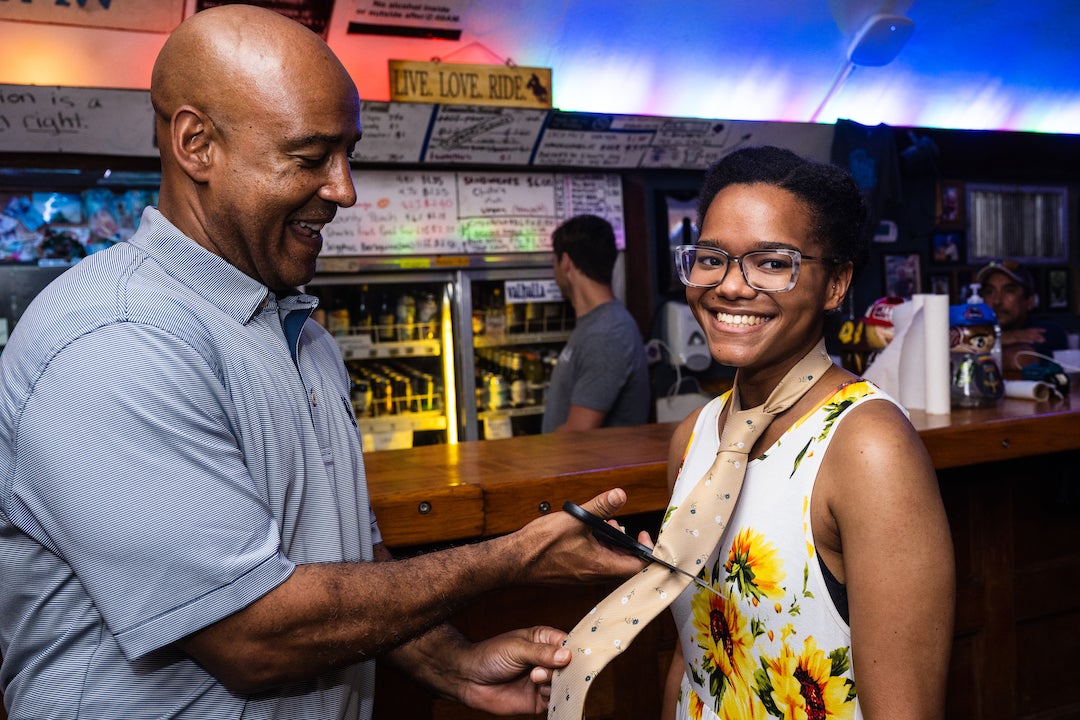 Throughout his busy first day in the president's chair, DesRoches said he often thought back to the mentors and colleagues whose guidance helped propel him into his prestigious post.
Chief among them were his parents, who paved the way to a brighter future for DesRoches and his siblings by moving their family from Port-au-Prince, Haiti to Queens, NY; Ruth Simmons, president of Prairie View A&M University, former president of Brown University and the Ivy League's first Black president; Gregory Fenves, president of Emory University and DesRoches's Ph.D. advisor at the University of California, Berkeley; and Gary May, chancellor of the University of California, Davis and a close friend of DesRoches since the duo's days as graduate students in Berkeley.
Looking ahead, DesRoches highlighted the leadership traits he hopes embody as he takes Rice to greater heights: honest, thoughtful listening, with a healthy dash of courage. "One of the things I think is important for leaders is being willing to make tough decisions," he explained, "but also listening to the various groups that are a part of this community."
Rice's groundbreaking president plans to keep one particular bit of advice top-of-mind.
"Ruth Simmons has always told me 'Just be yourself. Whatever's gotten you here clearly has worked, and make sure you don't change what makes you, you.' I'll keep thinking about that as I move forward," he said.