Adopting the tenor of President John F. Kennedy's "moon shot" speech, Secretary of Energy Jennifer Granholm took the occasion of her visit to the Ion to announce the government's latest "Earthshot" initiative, to focus on enhanced geothermal energy (EGS).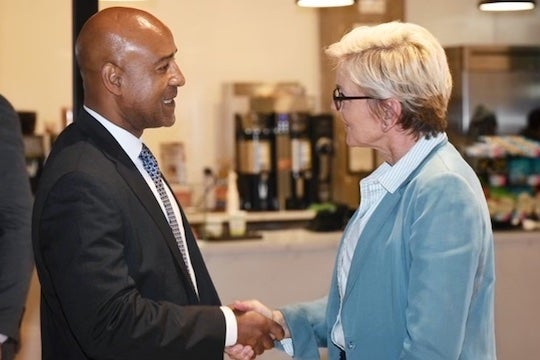 Granholm and Geraldine Richmond, the under secretary for science and innovation at the Department of Energy (DOE), came to the Ion on Sept. 8 for a roundtable discussion about the advancement of geothermal as part of the United States' drive to achieve 100% renewable energy by 2035.
Geothermal energy uses hot water from deep below the ground to run turbines that deliver electricity on a large scale, and can provide efficient heating and cooling to homes on the small scale.
The latest Earthshot follows similar announcements promoting the advance of hydrogen as an energy source, the removal of carbon dioxide from the air and from point sources and the development of  "utility-scale" energy storage. 
Granholm said the government's latest "stretch" goal, with new support from the Inflation Reduction Act, is to reduce the cost of geothermal energy by 90% to $45 per kilowatt hour over the next 10 years. 
"There's those around the table who know a whole lot about that, and who can talk honestly about what the barriers are that we've got to address," she said.
Rice President Reginald DesRoches welcomed the Biden administration representatives to the Ion, developed by Rice to serve as a hub of innovation for Houston. 
"EGS as an issue of renewable energy is of great interest to Houston and to Rice, both of which are well-positioned and equipped to tackle some of today's biggest energy challenges," he said.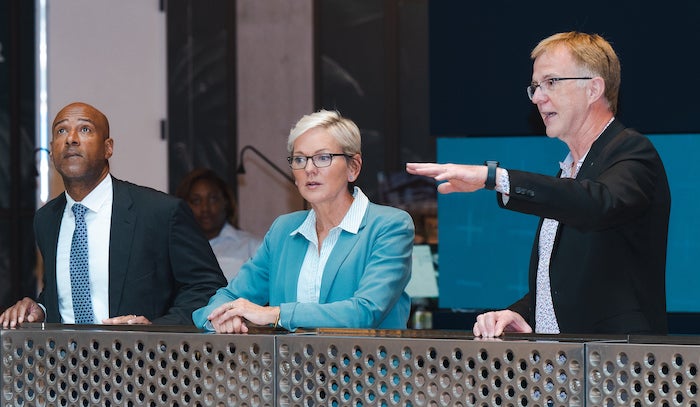 "Rice is consistently leveraging its core resource strengths and engineering in science and policy and its location in the U.S. energy capital to find solutions to some of the world's biggest problems."
The officials' visit gave guests from academia and the energy industry the opportunity to address their concerns and present ideas directly to the administration. 
Among them was Rice's Jonathan Ajo-Franklin, a professor of Earth, environmental and planetary sciences who is developing fiber optic monitoring systems for the DOE's Frontier Observatory for Research in Geothermal Energy (Utah FORGE) project. 
He noted that DOE's 17 national laboratories are "a natural collaboration and meeting point for scientists from industry and academia.
"Right now, I bring in graduate students who really don't know very much about the national lab system and DOE overall," Ajo-Franklin said. "I think there's a real opportunity there to have a more structured internship in geothermal to move more students in that direction."
Malcolm Ross, an adjunct professor at Rice, said his students preparing for a career in oil and gas often aren't aware of careers in geothermal, but it's a viable "plan B."
"Part of the process now is even just getting it on students' radar," he said. 
Many drew parallels between the oil and gas industry and geothermal, noting that those who dig wells for the first two are well-positioned to work in geothermal once they gain the necessary risk tolerance to adapt their technologies.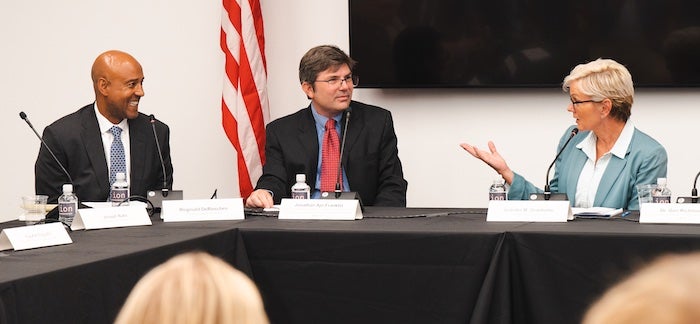 "Multistage hydraulic fracturing has really transformed the (oil and gas) industry and the global energy mix," said Mark McClure, cofounder and CEO of ResFrac. "The situation in geothermal is very analogous. 
"We have enormous geothermal resources in the United States, but they can't be produced economically unless we do something extra to get higher flow rates," he said. "The technology that has transformed the shale industry will work for the same reasons for geothermal. And that's the huge opportunity."
Richmond asked John McLennan, an associate professor of chemical engineering at the University of Utah, how to speed up deployment of geothermal.
"I think the obvious is, where possible, stay the course," he said. "Endurance is absolutely necessary. The two things that come out of this conversation that are important are, certainly, the research, but also the communication and outreach, which are important to the public sector.
"Enhanced geothermal becomes a personal issue if someone wants to build a plant in your backyard, and these people have to appreciate that it can be de-risked, that microseismicity … is not going to be a substantial issue."
Granholm acknowledged the support of Ramamoorthy Ramesh, who joined Rice this year as vice president for research. "Ramesh was with the Department of Energy when we lobbed the 'SunShot,'" she said. "And that goal was a 90% reduction in the cost of solar panels."
Granholm said of the new initiative, "It's really modeled after Ramesh's work that these Earthshots are in place to reduce the costs. So my hat's off to you and Rice for having snagged such a great leader."