HOUSTON – (Feb. 17, 2022) – A three-pronged attack on solid cancer tumors is the goal of a Rice University study that has won the support of the Cancer Prevention and Research Institute of Texas (CPRIT).
The lab of bioengineer Gang Bao of Rice's George R. Brown School of Engineering won a 3-year grant for more than $1 million to develop a strategy that combines magnetic nanoparticles, free radical generation and immune checkpoint blockade (ICB) therapy to kill cancer cells.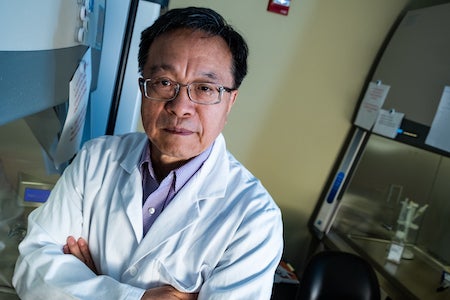 Bao and his lab are gathering evidence that ICB therapy, which employs inhibitors to help the immune system recognize and attack cancer cells, can be enhanced by a one-two punch of magnetic iron oxide nanoparticles with attached small molecules known as AAPH. ICB therapy was developed by James Allison of the University of Texas MD Anderson Cancer Center, who won a 2018 Nobel Prize for his work.
The compound in development at Rice can be injected at the site of a tumor. When applying a rapidly alternating magnetic field, the nanoparticles generate heat to increase the local temperature to 45 degrees Celsius (113 degrees Fahrenheit), enough to kill cancer cells in the immediate vicinity. At the same time, the decomposing AAPH releases free radicals that can enhance the eradication of tumors.   
"By combining all three modalities, we hope to increase the efficacy of cancer therapy to be much better than the checkpoint blockade alone," Bao said. 
The technique of synthesizing and applying magnetic nanocrystal clusters also happens to be the topic of a new review paper led by Bao, Qingbo Zhang, an assistant research professor of bioengineering, and postdoctoral researcher Linlin Zhang, published this week in the American Chemical Society journal Industrial and Engineering Chemistry Research.
Bao anticipates working with medical device manufacturers to design an appropriate magnetic device, perhaps a retrofit of common magnetic resonance imaging (MRI) scanners, to apply an alternating magnetic field (AMF) to cancer patients. 
"To eradicate tumors deep in the body tissue, like the liver or pancreas, we may need a large device like an MRI scanner but with a different set of coils to apply an AMF," Bao said. "By direct injection we can limit the generation of heat and free radicals only in the tumor to avoid side effects.
"We need to do more mechanistic and small animal studies, but if we're successful, I'm pretty confident we could have a strong application for a clinical trial," he said. 
The grant is one of 74 awarded by CPRIT this month. To date, CPRIT has awarded $3 billion in grants to Texas research institutions and organizations through its academic research, prevention and product development research programs.
Image for download: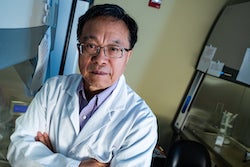 https://news-network.rice.edu/news/files/2022/02/0221_CPRIT-1-web-.jpg
CAPTION: Gang Bao. (Credit: Jeff Fitlow/Rice University)
Located on a 300-acre forested campus in Houston, Rice University is consistently ranked among the nation's top 20 universities by U.S. News & World Report. Rice has highly respected schools of Architecture, Business, Continuing Studies, Engineering, Humanities, Music, Natural Sciences and Social Sciences and is home to the Baker Institute for Public Policy. With 4,052 undergraduates and 3,484 graduate students, Rice's undergraduate student-to-faculty ratio is just under 6-to-1. Its residential college system builds close-knit communities and lifelong friendships, just one reason why Rice is ranked No. 1 for lots of race/class interaction and No. 1 for quality of life by the Princeton Review. Rice is also rated as a best value among private universities by Kiplinger's Personal Finance.