A rare art collection featuring some of the most famous cartoon characters in American history has been acquired by Rice University's Comic Art Teaching and Study Workshop (CATS) within the School of Humanities' Department of Visual and Dramatic Arts.
The 14 pieces donated by Lewis and Vera Kaminester include a three-panel Mickey Mouse comic strip by Walt Disney, a Bil Keane "Family Circus" illustration and multiple works from Chic Young's famed "Blondie" series.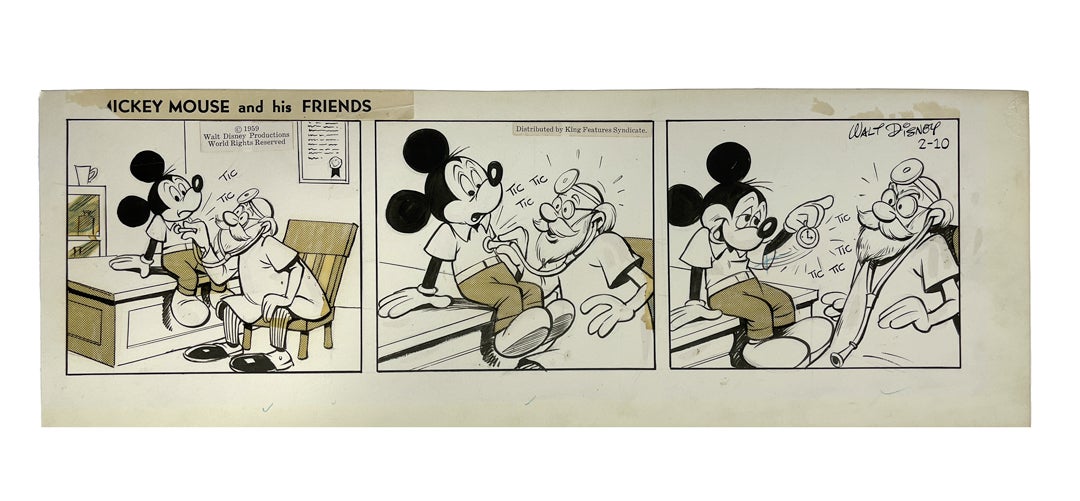 The newly acquired collection housed within the Woodson Research Center in Fondren Library is valued at just shy of $140,000 according to Christopher Sperandio, CATS founding director and associate professor of painting and drawing, who was thrilled at the prospect of incorporating them into the program.
"It's more than a feeling: I know that students get more benefit from looking at original things than they do looking at a picture on Facebook," Sperandio said. "Looking at original drawings is really the most helpful instruction."
In preparation for a planned public exhibition in the months ahead, Sperandio enlisted the help of Rice undergraduates Irene Wang, Jenn Nguyen and Sophia DeLeon-Wilson, all members of the Fondren Fellows program. The group's most recent task related to the project was carefully digitizing the works with the Woodson's massive industrial scanner. The next step will be to place the digitized pieces into the Woodson's database with the goal of making the collection viewable online in the future.

These latest donations add to the ever-growing CATS archives, which include one of the largest private collections of Mexican comic art in the United States as well as dozens of Soviet-era East German comic books, comics from the Cultural Revolution in China and Edo-period Japanese woodblock prints.
Sperandio hopes that getting up close and personal with these newly acquired original artworks will remind Rice students that their artistic heroes were humans like the rest of us.
"It's not something that's made by machines," Sperandio said. "It's made by people, and they spill coffee and they make mistakes, which is what I love.
"It's a great help for the students to realize that the people they admire were just people too — they might produce something great, but they're not perfect. It's good to knock the pedestal down a little bit," he said.