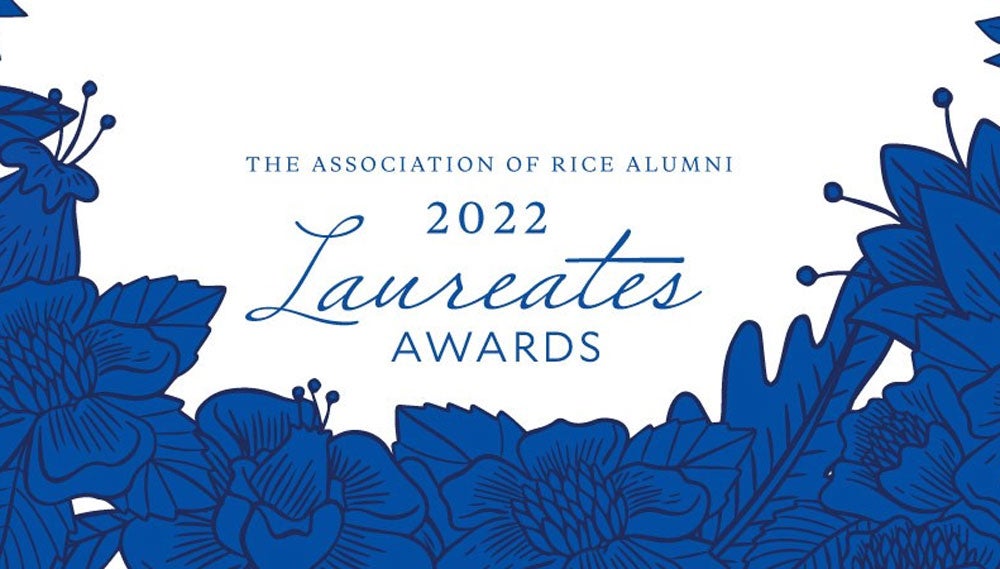 At the Association of Rice Alumni's 2022 Laureates Awards ceremony May 7, the group bestowed its highest honor — the Gold Medal Award — to Rice Architecture's John Casbarian '69 '72 and Janice Doty '60. Rice President David Leebron and wife Y. Ping Sun were also awarded the ARA's Gold Medal for their 18 years of service to the university.
The annual ceremony also honored several prominent alumni with the Distinguished Alumni Award, several members of the Rice community with the Meritorious Service Award, and two young alums with the Young Alumni Builders Award.
Gold Medal
John Casbarian '69 '72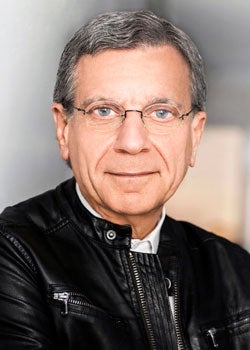 Casbarian's mark on the School of Architecture is immeasurable. Over the course of five decades, the school's dean emeritus, Henry and Albert K. Smith Professor and director of external programs has helped push it into the uppermost echelons of architecture programs across the globe.
The Baker College alumnus joined the Rice faculty in 1973. That same year, he co-founded the now acclaimed firm Taft Architects, where he still serves as partner. During his time as associate dean of the School of Architecture from 1997 to 2009, Casbarian in 2002 launched the Rice School of Architecture Paris, which has now evolved into the anchor of the universitywide Rice Global Paris program. Casbarian also expanded the school's Preceptorship Program, which lets Rice architecture students take a yearlong break from their on-campus studies to work in top-ranked architecture firms around the world.
Casbarian served as dean in 2009 and was named interim dean in 2019, leading the school through the global pandemic's first two years. An active participant in residential college life, Casbarian served with Natalye Appel '80 as a magister of Lovett College. He's also served on the Rice Design Alliance Advisory Board and was an inaugural member of the Faculty Senate. As one nominator wrote, "John's devotion to Rice has spanned eras and many deans. He is the bedrock of the Rice School of Architecture."
Janice Doty '60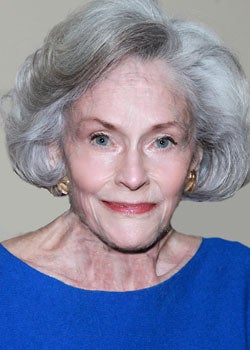 A tireless advocate for Rice's mission of teaching, research and community outreach, Doty studied economics at the university before beginning a long tenure as a top executive at IBM, working in areas including marketing, sales, employee relations, executive recruiting and real estate development.
Doty served as an alumni trustee on the Rice Board of Trustees and has been a member of the Association of Rice Alumni Board of Directors, the ARA's Laureates Committee, the Rice Annual Fund Class Giving Committee, the Centennial Campaign and the Centennial Commission. She's a devoted volunteer with Rice's New York City Regional Alumni Group and Rice Alumni Volunteers for Admission. Doty also currently serves on the School of Humanities Board.
Her reputation for generosity can be seen through her ample philanthropic support of Rice institutions, from the schools of Humanities and Natural Sciences to Wiess College, undergraduate scholarships and the Rice Annual Fund. Doty received the ARA's Meritorious Service Award in 2011; one nominator aptly named her an "ambassador extraordinaire and champion for Rice."
David Leebron and Y. Ping Sun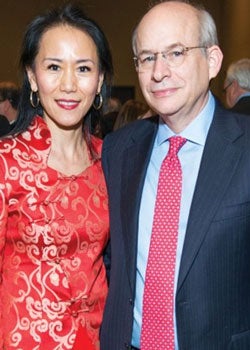 Leebron and Sun have led the university through nearly two decades of unprecedented growth, ensuring the school's rank as a top-tier institution of higher learning and strengthening Rice's relationship with Houston and the world.
After arriving at Rice in 2004, Leebron quickly engaged the Rice community and enlisted it in developing the Vision for the Second Century strategic plan. The second-longest-tenured Rice president after the school's first, Edgar Odell Lovett, Leebron grew the student body by nearly 70% with a concerted, successful focus on bringing more international students and students from underrepresented minority groups to campus. He helped raise over $2.5 billion to support the university's mission, made a Rice education even more accessible through the Rice Investment and fostered the development of nationally ranked leadership, entrepreneurship and student life initiatives.
Leebron also substantially expanded Rice's research endeavors and grew the school's relationship with the Texas Medical Center, all while overseeing the physical transformation of campus with dozens of new buildings, from residential colleges to public art, research facilities and the soon-to-be-constructed Moody Center for Student Life and Opportunity. The recently completed Ion and the innovation district it anchors are yet another example of Leebron's efforts to strengthen Rice's relationship with the city of Houston.
Sun, the Rice University Representative and one of the school's most celebrated ambassadors, has served as a mentor to countless students over the years while forging key Rice partnerships with local and international organizations. Sun earned a reputation for fostering deep connections with and among the Rice community through the countless events she's hosted over the years, and her service on the Kinder Institute for Urban Research's advisory board and as honorary co-chair of Rice's Baker Institute Roundtable left a lasting mark on the university.
She's worked on numerous boards across the city to incredible impact, such as the those of Texas Children's Hospital, the Asia Society of Texas Center (as board chair), the Barbara Bush Foundation, Hermann Park Conservancy, Teach for America Houston, the United Way of Greater Houston and the Colonial Williamsburg Foundation. Sun's extensive community service has been heralded by many organizations, including the Greater Houston Partnership and Teach for America. She's been named one of Houston Woman Magazine's 50 Most Influential Women, an ABC 13 Woman of Distinction and one of the National Diversity Council's Powerful and Influential Women of Texas.
Distinguished Alumni Award
Susan Barnes '70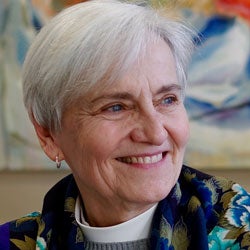 A world-renowned art historian, author and Episcopalian pastor, Barnes received her bachelor's in art history from Rice in 1970. She then served as associate curator of exhibitions for the university's Institute for the Arts, led by Houston arts legend Dominique de Menil. Barnes became a global authority on the work of Flemish painter Anthony van Dyck while she earned her M.A. and Ph.D. in art history from New York University. Barnes also served as vice president and chief operating officer of the Menil Foundation and as chief curator of the Dallas Museum of Art. She is a fellow of the American Leadership Forum, Houston, and of the Philosophical Society of Texas.
Barnes was ordained in 2001 after earning her Master of Divinity degree at the Episcopal Seminary of the Southwest. She led multiple humanitarian missions as associate rector at St. Matthew's Episcopal Church in Austin, Texas, including U.S hurricane and flood relief efforts and medical missions in Central America. She moved to Minneapolis in 2018 to serve as rector of St. John the Baptist Episcopal Church, and now volunteers with social and racial justice organizations in retirement in Newport, Rhode Island. Heralding Barnes, one nominator wrote that "she has fulfilled the highest aspirations Rice University can have for its former students."
Julian Duncan '99 '06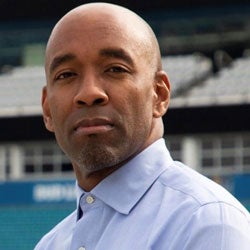 A global titan in sports marketing, Duncan — chief marketing and strategy officer for the Houston Rockets — has elevated the reputation of Rice University athletics and Houston sports alike.
At Rice, Duncan was a member of Will Rice College and a student athlete on the football team. He double-majored in sports management and English, and upon graduation moved abroad to play football in NFL Europe and the Canadian Football League. Duncan later returned to Rice to earn his MBA.
Over two decades in sports marketing, Duncan has worked with global sports brands including Nike and Under Armour; organized campaigns with celebrities including Dwayne "The Rock" Johnson, Stephen Curry and Serena Williams; and executed innovative marketing experiences at New Jersey's MetLife Stadium and in New York's Times Square. He previously served as global brand director of the LeBron James Brand and as chief marketing officer for the Jacksonville Jaguars.
Duncan is passionate about increasing minority participation in marketing, a goal he works toward through his service on the Marcus Graham Project's advisory board. He also co-founded the Monday Night Mentorship Collective, which provides mentoring to young people from racial and ethnic minorities pursuing marketing careers.
Barney Graham '75 and William Gruber '75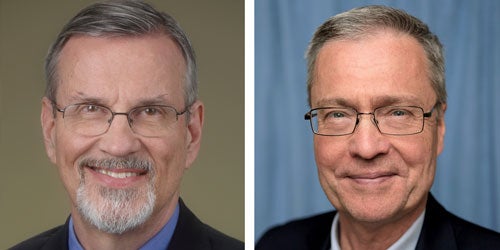 Graham and Gruber spearheaded the development of two COVID-19 vaccines, saving countless lives the world over. Former roommates at Will Rice College, Graham and Gruber both began their scientific careers while students at Rice.
Graham, who earned his bachelors in biology at Rice, an M.D. from the University of Kansas and a Ph.D. in microbiology and immunology from Vanderbilt University, is a renowned virologist and the former deputy director of the National Institutes of Health's Vaccine Research Center. Gruber studied mathematics at Rice, and after graduating earned his M.D. from Baylor College of Medicine. He now serves as senior vice president of Pfizer's Vaccine Clinical Research and Development team.
In January 2020, the two men put their decades of innovative research on respiratory diseases to use in figuring out how to fast-track viable vaccines for COVID-19. Graham, who was studying coronaviruses and working with mRNA company Moderna, and Gruber, who was working on an mRNA influenza vaccine with Pfizer partner BioNTech, quickly pivoted their efforts and ultimately produced the first two coronavirus vaccines to hit the market. The Moderna and Pfizer vaccines were approved for emergency use by the U.S. Food and Drug Administration in December 2020 and have since inoculated millions globally.
In 2021, Graham was named a Time Hero of the Year, and Gruber received the Clinical Research Forum Award for Extraordinary Impact on Health.
Sunit Patel '85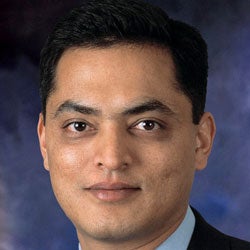 Patel, a skilled financial leader in the telecommunications industry who's worked with multiple Fortune 500 companies, has successfully completed several hundred billion dollars worth of mergers, acquisitions and financings throughout his career.
Patel was a member of Wiess College, the Marching Owl Band and Indian Students at Rice. An economics and chemical engineering double-major, he later became a Chartered Financial Analyst.
Patel's executive leadership experience includes his time as treasurer of MCI WorldCom (later acquired by Verizon), and as treasurer and financial officer of MFS Communications. As chief financial officer at Level 3 Communications, Patel helped the company outperform rivals and guided the company's mergers with Genuity, Wiltel, Broadwing, Global Crossing, Time Warner Telecom and CenturyLink. Recently, Patel served as executive vice president of merger and integration at T-Mobile, leading the company's efforts to integrate Sprint into the business. He joined consumer technology company Ibotta as chief financial officer in 2021 and now leads the company's finance, account and investor relations efforts. Patel continues to serve Rice as chairman of the Engineering Advisory Board, and is also on the board of the Stanford Institute of Economic Policy and Research.
Benjamin Rhodes '00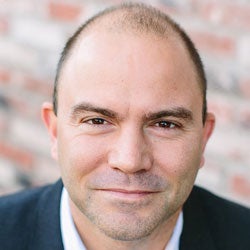 Rhodes is a political speechwriter, spokesman and strategist who advised on matters of national security and foreign policy as part of former President Barack Obama's administration. Today, he continues to share his wisdom as a bestselling author, commentator and host of the "Pod Save the World" podcast.
After double-majoring in English and political science at Rice, Rhodes earned his MFA in creative writing from New York University. He then served as assistant to former U.S. Rep. Lee Hamilton, where he was instrumental in drafting the Iraq Study Group Report and the 9/11 Commission recommendations.
Rhodes joined Obama's presidential campaign in 2007 and later served as a speechwriter, crafting forward-thinking speeches including the national security and foreign policy text of eight consecutive State of the Union addresses, as well as Obama's "A New Beginning" speech in Cairo. One of Obama's closest confidants on international policy, Rhodes guided the reestablishment of diplomatic relations between the U.S. and Cuba. He is author of two New York Times bestsellers: "The World As It Is: A Memoir of the Obama White House" and "After The Fall: Being American in the World We've Made."
Meritorious Service Award
Doyle Arnold '70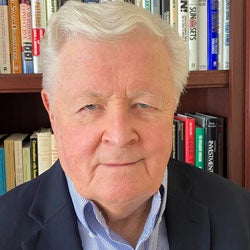 Arnold has served Rice for decades through numerous prominent volunteer leadership roles. After graduating from Rice with a bachelor's in economics, Arnold served in the U.S. Navy before earning his MBA from Stanford University. A successful financial executive, Arnold has applied his skills to advancing the impact and reputation of Rice's School of Social Science.
Since 2007, he has served on the Social Sciences Advisory Board — currently as chair — where he restructured the board and committees to create a more effective support system for the school. As a member of the Rice Initiative for the Study of Economics Council, Arnold initiated and endowed a new lecture series for the Rice community that has featured 10 Nobel Prize winners. He also played an integral role in raising funds for Kraft Hall.
In 2011, Arnold joined the Association of Rice Alumni board and was later elected alumni trustee for the Rice Board of Trustees, where he chaired the Finance Committee. He served on the provost's outside review committee of the Jones Graduate School of Management, the Rice Management Co. board, his Rice Annual Fund Class Giving Committee (including as co-chair of his class's record-setting Golden Reunion gift campaign), and is a Rice Alumni Volunteer for Admission. "He has always made Rice the primary object of his efforts," wrote one nominator, "and Rice has been all the better for it."
Kathy Duplessis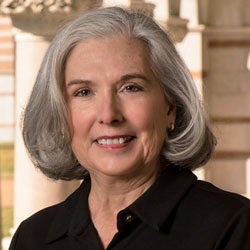 Duplessis, retired director for development for parents and families, cultivated long-lasting relationships between Rice and its constituents around the world. Her efforts elevated the parent experience, raised substantial support for programs across campus and ultimately created a stronger, more connected Rice community.
Her decadeslong career with Rice began in 1995. She served in the Office of the Treasurer, the Department of Science and Engineering, Rice Athletics and eventually Development and Alumni Relations. A proud parent of a 2007 Rice graduate, Duplessis offered a unique perspective that fundamentally enhanced the way the university stewarded parents and families. She formed the Parent and Family Council — now the Rice Family Fellows program — and curated numerous events and volunteer opportunities for parents and family members. Duplessis also served as a college associate at Wiess College.
"She raised awareness that the goal of Rice and Rice parents is mutual: that we continue to support, nurture and invest in our children's futures," one nominator wrote.
Steven Lewis
For 25 years, Lewis has dedicated his creativity and intellectual spirit toward growing Asian studies at Rice, providing students with invaluable hands-on experience in public policy research and serving as a mentor to countless students.
Lewis joined Rice in 1996 as a lecturer in political science, becoming a Baker Institute for Public Policy research fellow in 1997. In 2004, Lewis was named a professor in the practice of humanities. He's taught courses on Asia for the Asian Studies and Politics, Law and Social Though programs within the School of Humanities, and social sciences courses as part of the Department of Political Science and the Master of Global Affairs program.
In 2008, Lewis helped found the Chao Center for Asian Studies, and now serves as director of undergraduate studies for the new Department of Transnational Asian Studies. At the C.V. Starr Transnational China Fellow at the Baker Institute, he conducts vital research, organizes international conferences and strengthens Rice's global visibility and impact.
Lewis also serves as faculty adviser for the Jesse Jones Leadership Center Summer in D.C. Policy Research Internship Program at the Baker Institute, which enables students to gain experience with government agencies and think tanks. An eager and willing mentor, Lewis has helped numerous students prepare for academic fellowships, advised many student organizations and served as a faculty associate for both Hanszen and McMurtry colleges. "For decades, Steve has done much of what he has done simply out of loyalty to Rice and a fierce devotion to our students," wrote a nominator.
H. Albert Napier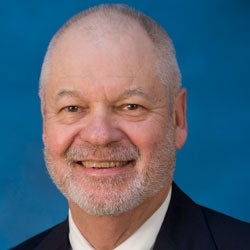 The late Napier, a longtime professor in the Jones Graduate School of Business, trained a generation of entrepreneurs, establishing Rice as a national hub for entrepreneurship innovation.
Hired in 1982, Napier rose through the ranks of the business school from lecturer to associate professor to tenured professor of management. Known for his boundless optimism, constant encouragement and sage wisdom, Napier co-founded Rice's graduate entrepreneurship program, which would grow into the top-ranked program of its kind in the country. Through his work with the Rice Entrepreneurship Organization, the OwlSpark Accelerator, the Rice Alliance, the Rice Business Plan Competition and other groups, Napier also helped foster and accelerate numerous business ideas among students and alumni.
Namesake of the Napier Rice Launch Challenge — a pitch competition for students and alumni that offers up to $75,000 in funding for the victors — Napier is also a three-time recipient of Rice's Award for Teaching Excellence and is well-known by many Rice alums for his one-liners and bits of wisdom dispensed in his popular Life of Meaning class. Napier retired in 2017 as professor emeritus and director of the Center of Management and Information Technology.
Umbelina Oliveira-Cantú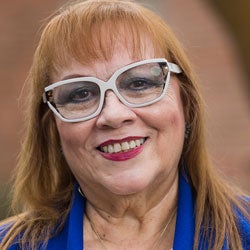 Oliveira-Cantú's decadeslong career at Rice left an unforgettable mark on the Department of Physics and Astronomy, fostering its growth into the university's largest department. She began her 44-year Rice career in 1977 as secretary of the department, then known as the Department of Space Physics and Astronomy. Over the years she applied her excellent organizational skills, keen attention to detail and innovative ideas in a wide variety of roles, including administrator, graduate student coordinator, events and public affairs director and conference coordinator.
Oliveira-Cantú also supported students' involvement with the National Science Foundation's Solar, Heliospheric and Interplanetary Environment (SHINE) workshop while working with the Rice Space Institute, where she also served as administrator to the director. She retired last July as departmental operations administrator for the Department of Physics and Astronomy.
Affectionately known as "Mama Umbe" across campus, Oliveira-Cantú was a warm, welcoming presence for Rice students and an endless font of support and encouragement to all. She's served as an associate for Martel College since its inception in 2002, and remains a community associate to this day. One nominator called her a "surrogate parent," while another heralded the way she worked "above and beyond the call" with "a personal touch that built a familial atmosphere.
Young Alumni Builders Award
Justin Allen '12
An enthusiastic Rice advocate, Allen is a third-generation Owl. He grew up hearing stories about the university from his father Wade Allen '80, grandfather Frank Allen '51 and grandmother Doris Allen '51. A member of Sid Richardson College and the Rice football team, Allen earned his bachelor's in sport management in 2012. He now serves as vice president of sales and marketing at Petroleum Machinery Inc.
Allen has led by example in building a stronger alumni community, taking every opportunity to promote alumni events in the U.S. and internationally, generating financial and fan support for Rice Athletics, and mentoring current student athletes and recent grads. Allen established and chaired the Rice Football Alumni Gulf Offshore Fishing Trip in 2015, served as a "Resumayhem" volunteer with the Center for Career Development and co-chairs the Rice Football Alumni Tailgate group, which he founded. "Justin is the quintessential Rice brand ambassador, both in action and in words," wrote a nominator.
Dr. Hashim Zaidi '11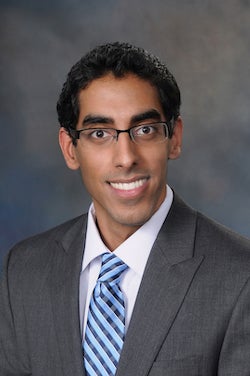 Both before and after his time at Rice, Zaidi has dedicated his time to mentoring the next generation of Rice-educated doctors and physicians. A member of Will Rice College, Zaidi was an active member of Rice University Emergency Medical Services (REMS) starting as a freshman. Upon earning his advanced EMT certification, he was selected to serve as an "in-charge" supervisor, an honor only given to a handful of REMS members each year. As REMS captain his senior year, Zaidi helped grow REMS by 15% and secured a $300,000 grant for a 10-year education fund.
Zaidi remained actively involved with Rice while he earned his M.D. at Baylor College of Medicine and while completing his emergency medicine residency at Northwestern University. From afar, he mentored REMS student volunteers, taught Continuing Medical Education (CME) classes over Zoom and helped train new in-charges. Zaidi returned to Houston in 2020 as an assistant professor of emergency medicine and emergency medical service at UT Health Houston. He now serves as medical director for the Harris Health System EMS and Transfer Center, and continues to teach CME classes and train REMS members. In 2021, Zaidi took on the role of associate medical director for REMS, developing protocols and providing medical oversight for the organization.
"Giving back to REMS truly brings him joy, and his passion for teaching and mentorship is contagious," one nominator wrote. "Hashim has been and continues to be a role model for hundreds of REMS students and alumni."