The Betty and Jacob Friedman Holistic Garden has been replanted in a new location on the Rice University campus, just north of the Gibbs Recreation Center in between the basketball courts and O'Connor Field.
The garden's former home was the corner of College Way and University Boulevard. In its new digs, sustainable agriculture includes beds for fruit, large vegetables and small vegetables, and a high-density fruit orchard. The demonstration garden also contains a French intensive garden, an African keyhole garden, a square foot garden, a circle garden bed, a container garden and espalier.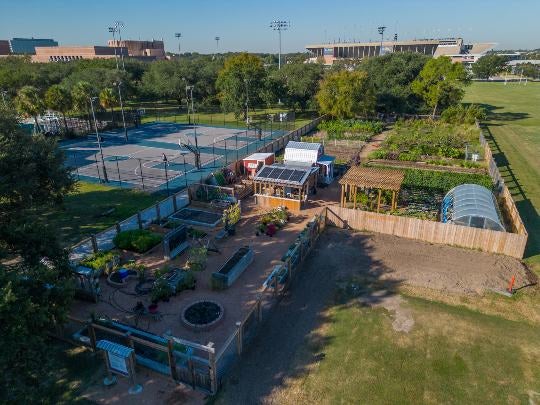 To buttress the garden's usefulness, the structures and facilities include a pergola, a storytelling area, tools designed for people of all abilities, red barn storage, an outdoor kitchen, a chicken coop, a compost station and a tool-washing station.
The new location is nearly identical in size to its previous home, but with a reduced walkway that allows for more plants and a greater diversity of plants.
"The garden has some key points because it serves several functions here at Rice," said Joseph Novak, faculty lecturer and the garden's director.
"In my class, Environmental Sustainability: The Design and Practice of Community Agriculture, our students range from engineering to biomedical sciences to social sciences (majors). This garden illustrates the importance of gardening to a broad range of industries."
Faculty, staff, students and volunteers care for the plants, produce and animals at the garden, which serves as a model sustainable farm and educational hub for the Rice community, local gardeners and urban farmers, Novak said.
Food grown in the garden provides fresh, locally sourced produce at fair prices for campus serveries. In addition, the garden's citizen science projects bring community members to campus to share data about their own gardens. And Rice garden staff help analyze and distill that information into publicly available educational resources.
Novak emphasized that gardening can be therapeutic for Texas Medical Center patients, provide challenging design quests for engineers and civil planners and demonstrate the power of shared activity in local communities.
The perimeter of the new holistic garden is lined with native species for pollinators like butterflies, bees and birds.
"We're trying to show people in neighborhoods that you could slowly convert your garden to include native plants," Novak said. "It is easier and cheaper, and the plants serve a function for the local ecosystem."
Volunteer hours are Wednesdays from 4-6 p.m. and Sundays from 10 a.m.-2 p.m. Novak pointed out that the act of gardening provides multiple health advantages.
"Research shows that people who are gardeners tend to live longer than the general population, have less major chronic disorders, are able to work later in life and have less dementia," Novak said.
Jade Hagan, garden manager, and Novak will soon offer a course in partnership with the Lifetime Physical Activity Program to teach gardening wellness.
Next year, the initiative will offer an internship that will provide selected Rice undergraduate and graduate students an opportunity to conduct hands-on research in sociohorticulture, a concept that refers to the social, environmental and health benefits of gardening. Interns will work 15-20 hours per week from May 15 to July 21and earn up to $2,000.
The internship is geared toward students with interests in ecology, environmental studies, nutrition and public health, urban planning, cooking and food education, science education, food policy and economics, food writing or photography, food business and entrepreneurship, or food and environmental justice.
The priority deadline is Feb. 17, and applications will be accepted through March 17. To apply, candidates should email a cover letter indicating interest in the program and how it relates to their academic or career pursuits, a résumé or CV and three references to Hagan at garden@rice.edu.
Established in 2018, The Betty and Jacob Friedman Holistic Garden was named in honor of the Friedmans' generous bequest through the Houston Jewish Community Foundation. For more information, visit garden.rice.edu.