It's a long drive, but a business major at Rice doesn't mind hitting the road every week to play the organ at a church in The Woodlands.
Bruce Xu '24 came to Rice to study in the Shepherd School of Music but he's since switched to the new undergraduate business major from the Jones Graduate School of Business. Performing at The Woodlands Community Presbyterian Church helps him not only maintain his musical talent, but also play his part in the Greater Houston community.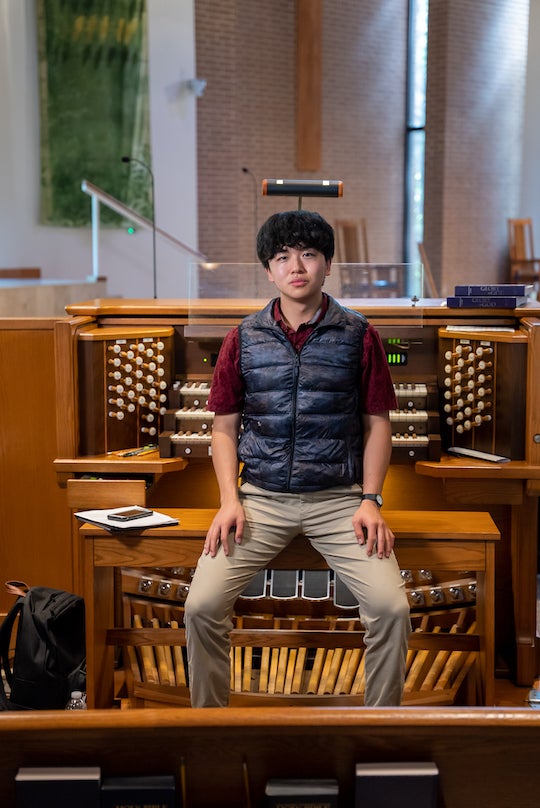 "Everybody knows that Rice students — the organists — are top-notch, and so that's usually the first place I go when I'm looking for someone to fill in," said Jonathan Aigner, director of music at the church, who chose Xu from a group of musicians who auditioned. The church's full-time organist is nearing retirement.
"I was expecting a really good freshman organist, and what I heard was a very capable, sensitive musician that plays way beyond his years," he said.
Xu, who has won 15 international and national competitions -- including two just this past summer -- said playing at the church "allows him to get out of the hedges on a regular basis."
"It's been a pleasure getting to know some of the members here," Xu said. "I feel like this church really prides itself in its community outreach efforts. Certainly, I think it has a great effect on me and makes me improve my character as well, and my levels of empathy and altruism."
Pipe organ players are a dying breed as more churches move to ensembles, said Pastor David Jones.
"That's a gift," he said. "And I hope we hold onto it as long as possible."
Watch here: https://www.youtube.com/watch?v=i2_NS0c6-HI