The Rice men's and women's basketball teams went a combined 3-0 over the weekend.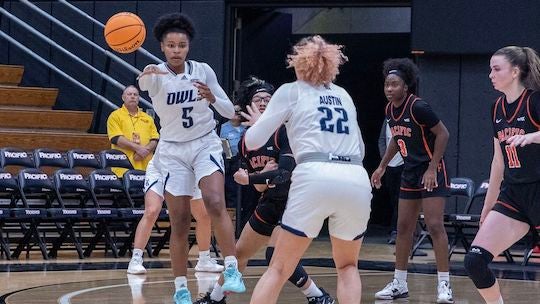 The men won a pair of games at Tudor Fieldhouse, beating Georgia Southern University 88-71 Nov. 18 and taking down Western Michigan University 96-88 the next day in the Owl Invitational. Alem Huseinovic's career-high 24 points and a 19-2 closing run pushed the Owls (3-2) past the Eagles in the first game, while Travis Evee scored 12 of his 31 points during a late 17-7 run against the Broncos.
The women were victorious in California, beating the University of the Pacific 89-79 for their fourth straight win to begin the season. Ashlee Austin scored 18 points to lead the Owls, who were coming off a 77-64 victory over Saint Mary's College Nov. 16.
The men are in action again at 7 p.m. Nov. 21 against Houston Christian University, also part of the Owl Invitational. The women next face Texas Southern University in a road game at 2 p.m. Nov. 23.
For more, visit RiceOwls.com.