To understand why Statistics' Philip Ernst won this year's George R. Brown Prize for Excellence in Teaching, Rice's top teaching award, one need only read a few of the student comments in anonymous evaluations of his STAT 310 course.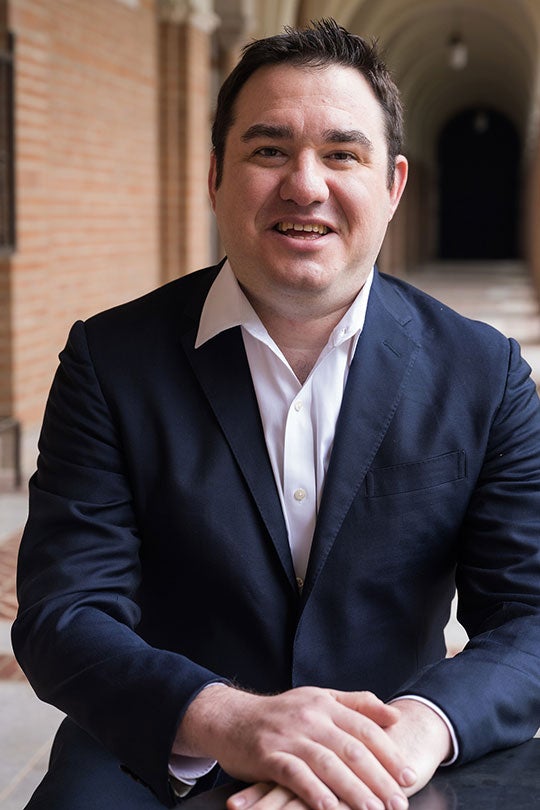 Dr. Ernst, I am a better person having met you. Thank you for everything.

One of the best teachers you will have in life, not just at Rice. He's beyond amazing.

He made statistics fun to learn!

Ernst is awesome in every possible way.

... he always says things like, 'I don't know, my teaching isn't THAT great,' when it is, of course, borderline magical.
To fully appreciate Ernst's accomplishment, consider that the Brown Prize is given to one faculty member a year based on votes cast by Rice alumni two, three and five years after graduation, and Ernst won the vote for teaching "a calculus-based course in statistical theory" for engineering majors. He is the first winner from the Department of Statistics in the Brown Prize's 56-year history .
Ernst will receive the prize at the Center for Teaching Excellence's University Awards Ceremony and Reception April 26 at Duncan Hall's McMurtry Auditorium. Students, faculty, alumni and staff are encouraged to attend the 3 p.m. ceremony and 5 p.m. reception, which will be held in person for the first time since 2019.
Ernst, who will become a full professor July 1, arrived at Rice in July 2014. It was his first job in academia, and though he'd taught a summer course in graduate school, "Introduction to Probability and Statistics" would be the first full-semester course of his teaching career.
"I was a little bit worried about teaching STAT 310 because I had heard it was tough course to teach effectively," he said.
Ernst asked for advice from David Scott and Rudy Guerra, longtime statistics faculty who'd previously taught the course, and he began preparing months in advance of his first class in January 2015.
"I put in at least seven to eight hours of preparation for each lecture," Ernst said. "I carefully wrote out exactly what I was going to do and how I was going to do it. Some of the concepts in STAT 310 are pretty tough, and I put a lot of thought into how to explain the concepts in a way that would not be daunting or intimidating for someone who had never seen them."
Ernst said his approach was to imagine he was learning about each concept for the first time.
"I took myself out of my 37- to 38-year-old mindset and said, 'What happens if I were 18 again and seeing this for the first time? How would I perceive this?'" he said. "If you don't take yourself out of your current mindset and pretend that this is the first time you're seeing this, you can really miss the student audience. I think that's the most important thing I did."
For each lecture, he would start with an outline and develop detailed notes. He stopped short of writing an exact script but spent hours ensuring concepts were understandable and illustrated with examples that would appeal to students.
"You have to explain things in multiple ways and have examples for all types of learners," he said. "You have to make the logical connection from one concept to the next, and you only can do that well if you plan out each lecture in advance."
Ernst said he improvised the first time he taught the course in spring 2015, altering lectures based on feedback students offered in class and surveys. Based on their comments in course evaluations, students noticed and appreciated Ernst's flexibility in class. He also made a big impression by memorizing each of their names during the first week of class. But the most consistent theme in students' comments was that Ernst cared how they were doing and bent over backwards to make himself available to help outside of class.
Ernst has a gift for understanding where people are confused and he will teach you in multiple ways until it clicks…

I was struggling to understand the material and Dr. Ernst somehow realized this and pulled me aside at the end of class so that he could clear up my confusion.

He always made sure he was available for as many people as possible to come to his office hours and would hold long review sessions before homeworks and exams.

He put so much effort into the class and paid so much attention to each individual, ensuring no one got left behind.

Genuinely cares that his students understand the material and do the best they can. He would probably come to your college commons at 9 p.m. and help you solve your homework problems.
"I love teaching in the sense that I saw very quickly that I was really making an impact on the students' lives," Ernst said. "When you're invested on a certain level, the students realize how invested you are, and they pay it back to you."
Ernst said he is also motivated to present both his discipline and academia in the best possible light.
"You might only have one chance to make it or break it with these students and really give them a positive impression of your field," he said. "And Rice students don't just want an easy course. They want to learn. You don't make it or break it by having an easy course. You definitely want to strike the right balance, where it's hard, and they think a lot, and they learn a lot, and they feel good at the end of it.
"It can be very emotional," he said. "Because you never know how you're really going to impact someone. Making the course accessible to someone and helping them through the course might give them confidence that changes their entire life. Some students have told me that's been the case with them. Like, 'If I can do this, I can do anything I want,' or 'If I can do this, I can pick this major that I never thought was accessible,' or 'If I can do this, I can deal with challenges in life that are completely unrelated to academia.'
"The fact is that these students are ... ," Ernst said, pausing. "They're not my children, but I'm responsible for them in some way. I am responsible for their education, and for them being successful students at Rice. That's a responsibility that I take seriously."
A STAT 310 course evaluation in late 2018 summed up the experiences expressed in many others:
Once in a while, you have the opportunity to take a course with someone truly magical. Dr. Philip Ernst is one of those people. Never will you meet another professor of his stature who cares so much about individual students and the delicate process of teaching undergraduates. The first week of class he memorizes everyone's names in front of you in about 5 minutes. 49 kids. Done. He's a casual genius and incredibly humble, which leads to many unintentionally humorous moments of him describing some accomplishment of his as if it's nothing, yet the entire class is like WHAT. He practiced his lectures in front of the mirror for 10+ hours before teaching the course. Have you heard of that EVER? He's polite, intelligent, charismatic, and empathic. He's an excellent lecturer and even better person. Truly a remarkable experience to have had a class with him, and I am blessed to have had the opportunity to meet such a man.