HOUSTON – (May 18, 2022) – Applications are open through May 31 for the second cohort of the Rice Alliance Clean Energy Accelerator, which helps seed-stage startups refine and grow their sustainable and energy-transition technology solutions.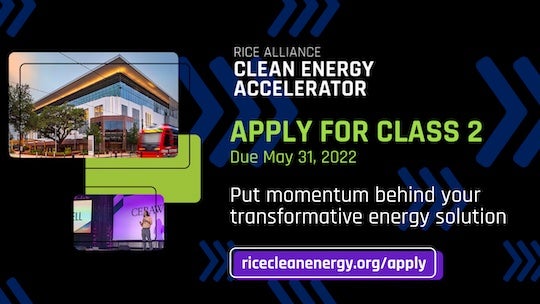 The equity-free, no-cost accelerator helps chosen startups achieve technical and commercial milestones by fast-tracking development and expanding their reach through building their brands, perfecting their pitches, sparking investment opportunities and developing their networks. Class 2 will receive 10 weeks of hybrid programming, from Sept. 7 to Nov. 18, most of which is virtual. There will be three opportunities for participating startups to visit Houston, including Demo Day on Nov. 17.
"We're building on the success of Class 1, which included 12 startups advancing solutions in energy efficiency, waste heat to power, wind, hydrogen and biomass," said Kerri Smith, executive director of Rice Alliance Clean Energy Accelerator. "With an eye toward expediting growth, reducing risk and accelerating market adoption, the summer program helped founders better position themselves and their startups for success."
Several companies in the first class garnered grants, partnerships or investments.
Renewell Energy, which repurposes oil and gas infrastructure into flexible energy storage, in partnership with the National Renewable Energy Laboratory, won a grant from the Department of Energy's Advanced Research Projects Agency-Energy OPEN21 fund. SeebeckCell, which converts heat waste into storable electrical energy, joined Chevron Technology Ventures' Catalyst Program. Criterion Energy Partners, a geothermal energy company founded by Rice Business MBA alumni, acquired a strategic investment from Patterson-UTI Energy.
"Since the program we've been able to really establish wonderful relationships in the U.S., including some of our first pilots in the U.S., and that was a direct result of the Clean Energy Accelerator and the network that we got introduced to," said Class 1 participant, Liz O'Connell, President and Co-Founder of Arolytics, an emissions management company based in Canada.
Startups can apply here. Learn more about the accelerator at https://ricecleanenergy.org/apply, or attend the virtual information session May 24 by registering here.
The Rice Alliance for Technology and Entrepreneurship provides access to mentors, resources, talent, potential customers, industry leaders, potential pilots, field trials and demonstration projects as well as technical and commercial expertise. It has two decades of experience supporting startups; more than 960 energy tech ventures have participated in its array of programs and raised more than $6.6 billion in funding.