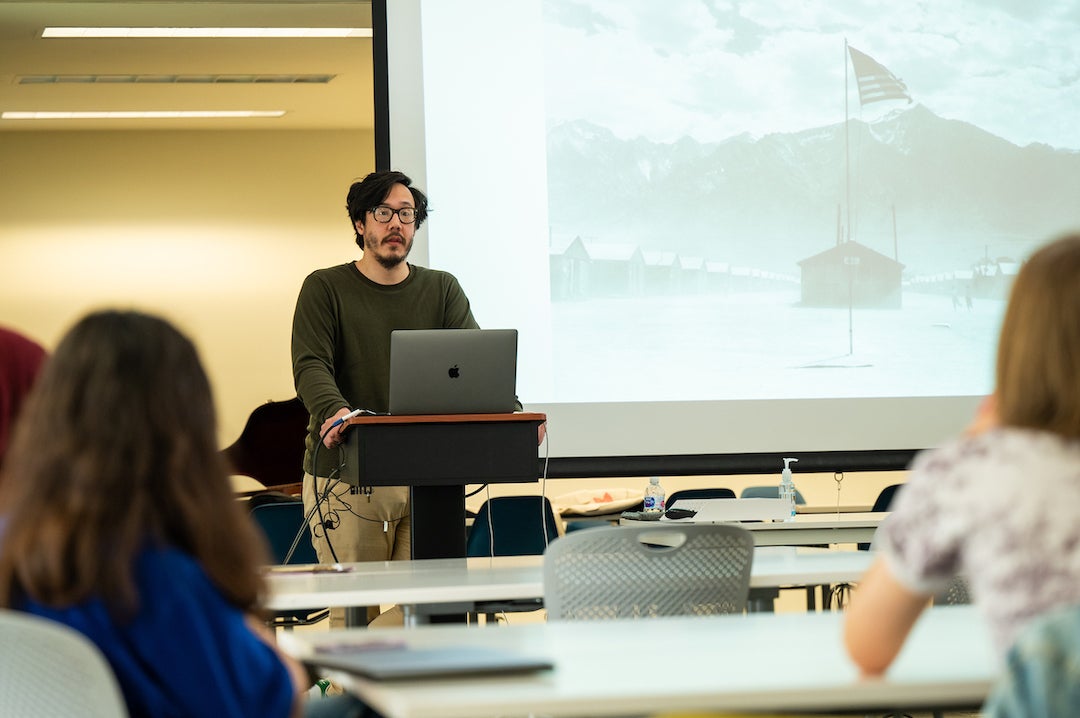 A Ph.D. dissertation doesn't always have to be a paper, as demonstrated by ethnomusicologist Julian Saporiti and his Portland, Oregon-based music and multimedia project, No-No Boy. Their album "1975" served as part of Saporiti's dissertation, a process he explained to a crowd in Herring Hall during an Innervations workshop March 3.
Saporiti was introduced by Kirsten Ostherr, director of the Program in Medical Humanities and the Gladys Louise Fox Professor and Chair of the Department of English. His presentation, "Anything but a Paper: Transforming Research into Song and Film," opened with a few moments of quiet contemplation and a brief discussion of the importance of deep listening, as coined by Pauline Oliveros — not only on his work, but on any humanistic endeavors.
The historian and musician talked about discovering and retelling the stories of Japanese American jazz musicians held in U.S. internment camps during World War II. He went so far as to record the ambient noises at these "War Relocation Centers" in order to recreate soundscapes as they might have been in 1943, and tracked down former detainees to record their songs and stories for his research.
The resulting music and film pieces, such as "A Place Called Home" and "Minidoka," bring to life long-buried pieces of American history while showing that scholarship comes in many forms.
The Innervations series is sponsored by the Medical Humanities Program and the Humanities Research Center in collaboration with Humanities Texas, the UTHealth McGovern Medical School, the McGovern Center for Humanities and Ethics, the Baylor College of Medicine Center for Medical Ethics and Health Policy and its Narrative Medicine Program, the University of Houston Medicine and Society Program, Texas Woman's University, Inprint and the John P. McGovern Museum of Health and Medical Science.