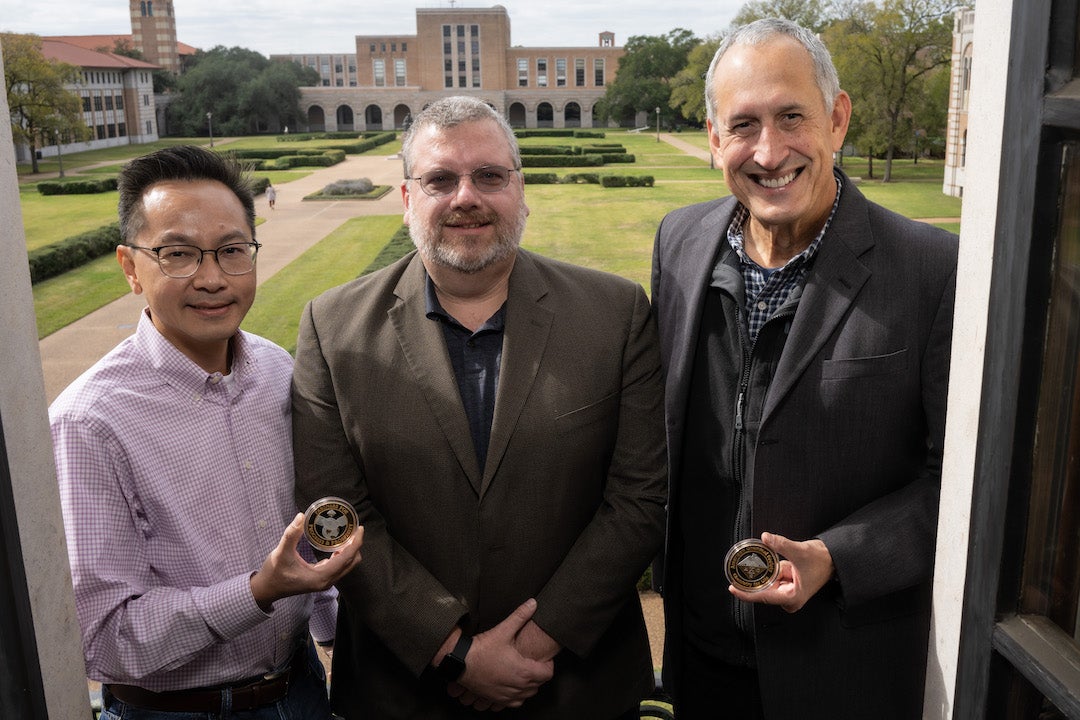 From left, Michael Wong of Rice, Mike Reynolds of Shell and Pedro Alvarez of Rice display medals given to them as winners of the American Chemical Society Southwest Regional Partners in Progress & Prosperity Award. 
The collaborators were honored this month at the group's annual meeting in Baton Rouge, Louisiana, for their groundbreaking work on remediation of produced waters used in oil and gas production, as reflected in a review paper published by the journal Water Research in April 2020 and followed by four more papers that advanced the research. 
Wong is chair and a professor of chemical and biomolecular engineering, the Tina and Sunit Patel Professor in Nanotechnology and a professor of chemistry, materials science and nanotechnology and civil and environmental engineering.  
Reynolds is a principal scientist in catalysis at Shell and an adjunct professor of chemical and biomolecular engineering at Rice.
Alvarez is the George R. Brown Professor of Civil and Environmental Engineering and director of the National Science Foundation-backed Nanotechnology Enabled Water Treatment Center (NEWT). 
"Shell was one of the original member companies of NEWT, and when Mike came on board he said the company had a real interest in water and interacting with students to get them to learn more about water issues," Wong said. "I'm interested in solving interesting technical problems."
That naturally led to the collaboration fomented during an industry workshop Wong hosted at Rice.
"We appreciate that ACS recognizes these industrial and NEWT collaborations that are important to accelerating innovation," Alvarez said. "In this case we had an opportunity to provide stewardship to the research community and to practitioners about what paradigms we need to rethink. In this case it was about fit-for-purpose treatment to enhance beneficial disposition of water."
The ACS award celebrates successful partnerships between two or more organizations, including industry, academia, government and small business that made an impact within the region.
Photo by Jeff Fitlow